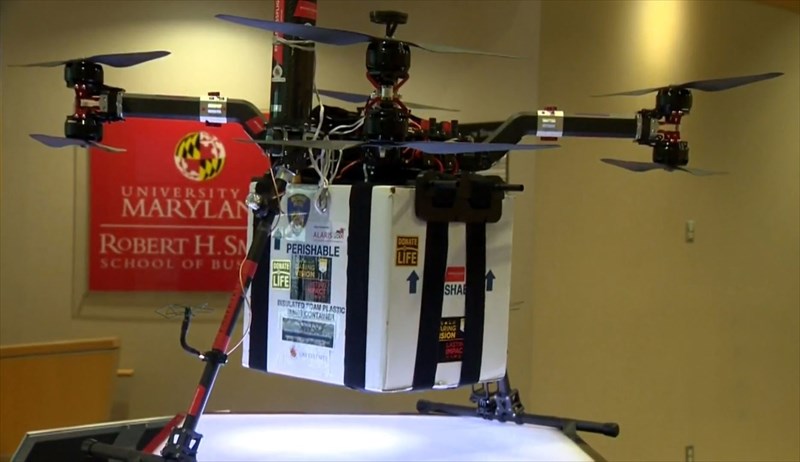 The University of Maryland's Schools of Medicine and Engineering made history last week when they undertook the first-ever delivery of an organ for transplantation purposes using a drone1.
This collaborative multidisciplinary effort which involved transplant physicians and researchers as well as aviation and engineering experts, culminated in a successful kidney transplant and has pioneered what could be the next wave in organ delivery.
After undergoing a successful transplant at the University of Maryland Medical Center, organ recipient, 44 year old Trina Glipsy of Baltimore who has been on dialysis since 2011 has since been discharged. As the first person to ever receive an organ delivered by drone, she marvelled at the amazing feat, saying that a few years ago this wasn't even something one would think about.
Given the success of this feat, unmanned aircraft could soon become the fastest, safest, least expensive and most efficient way of beating the organ transplant clock, helping to save lives in the process.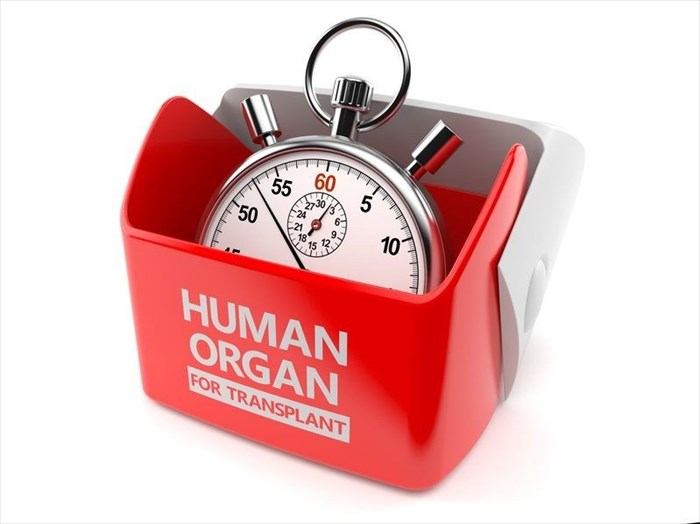 Why time is of the essence when it comes to organ transplants
Due to advancements in medical technology and improved preservation techniques, organs can be transported across great distances to reach their recipients. There is, however, still a clock on their viability and the faster an organ is transplanted, the better the chances of success.
According to the organ and tissue donor network, Gift of Hope, preservation times before transplant are as follows2:
Heart: 4 to 6 hours
Lung/s: 4 to 6 hours
Pancreas: 12 to 24 hours
Liver: up to 24 hours
Kidney/s: 48 to 72 hours
Cornea: 5 to 7 days
Bone, heart valves, skin and saphenous veins (i.e. the large, superficial vein of the leg): 3 to 10 years.
Organs that generally save lives, like hearts, lungs, kidneys and livers with short preservation lifespans need to be moved fast.
The traditional organ donation process
Traditionally, the delivery of an organ from a donor to a recipient has a number of moving parts and this can be a time-consuming process. One of the most vital, yet complex steps in this multi-phase process is the transportation of the organ. This often takes place over great distances and currently, medical teams rely heavily on chartered or commercial flights, both of which are subject to delays and mishaps.
When one considers that over one hundred thousand people are currently awaiting organ transplantation and one is added to the waiting list every 10 minutes, yet only around 32% receive transplants and 20 people die awaiting transplants each day in the United States3, it becomes evident just how precious organs really are.
Yet, according to data from the United Network for Organ Sharing (UNOS), the organisation that manages the organ transplant system in the United States, approximately 1.5% of donated organs do not reach their intended destinations. It has been reported that organs have in fact, even been left on planes. In addition, almost 4% experience unanticipated in-transit delays of two hours or more. This, when time really is of the essence. In some circumstances extended delays completely destroy the organ's viability.
How drones may be the answer to organ transportation
When confronted with the many challenges involved in the organ transportation process, the researchers involved in the project theorised that a drone could help to solve some of the transportation issues while also eliminating a great deal of the human error involved.
The project required a custom-built drone that was specifically designed to transport and unaccompanied organ for human transplant. This required it to meet stringent technical and medical as well as regulatory requirements.
These were not the only requirements, however. The team soon realised that there were a number of unmet needs when it came to tracking the whereabouts of an organ as well as its health during transit.
According to the project's leader, Dr Joseph Scalea, medical doctor, assistant professor of surgery, and transplant surgeon, traditionally all organs are unmonitored during flight. A fact that Dr Scalea finds unacceptable, insisting that real-time monitoring is a critical factor and should be performed. A feat which the team endeavoured to achieve during this project.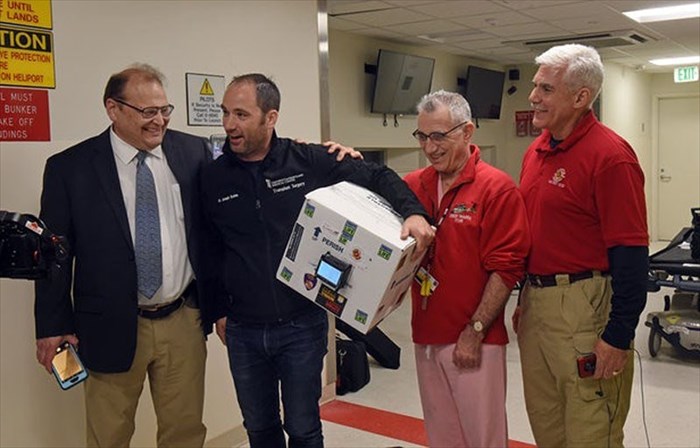 Some of the ecstatic team members after the successful flight
Organ tracking & drone design
To meet Dr Scalea's organ tracking requirements, the team partnered with medical technology companies to develop the HOMAL (Human Organ Monitoring and Quality Assurance Apparatus for Long-Distance Travel). This technology measures a variety of vital factors including:
Location via GPS
Temperature
Barometric pressure
Altitude
Vibration
All of which are important for a drone (aka an unmanned aircraft system – or UAS) that would be carrying precious cargo but would not enjoy the benefit of a pressurised cabin like standard aircraft. These measurements were sent directly to a smart phone used by transplant personnel who could then monitor the organ's whereabouts and health during the flight.
In keeping with the Hippocratic Oath principles of 'do no harm', the engineers involved also ensured that the protype was equipped with numerous safeguards. These included dual batteries, and various backup elements such as a power distribution board, motors and propellers as well as a parachute recovery system for use in the event that the drone failed.
As an added precaution, during the maiden test flight, the Baltimore Police Department stopped all traffic along the flight path. The drone followed an automated course, flying at around 400 feet and the pilots in charge maintained radio contact and a visual line of sight for the duration of the almost 10 minute flight which was hailed a success when it culminated in a viable kidney transplant.
While the project is considered a 'proof-of-concept' at this stage, those involved in the facilitation of organ transplants are optimistic that it may, in future, be the answer to addressing the time and safety challenges they face when it comes to transporting organs.

References

1. Seiler B. University of Maryland's Schools of Medicine and Engineering First to Use Unmanned Aircraft to Successfully Deliver Kidney for Transplant at University of Maryland Medical Center. Umms.org. https://www.umms.org/ummc/news/2019/pioneering-breakthrough-unmanned-aircraft. Published 2019. Accessed May 3, 2019.

2. How long can organs and tissue survive before transplantation? » Gift of Hope. Gift of Hope. https://www.giftofhope.org/faq-items/how-long-can-organs-and-tissue-survive-before-transplantation/. Accessed May 3, 2019.

3. Organ Donation Statistics | Organ Donor. Organdonor.gov. https://www.organdonor.gov/statistics-stories/statistics.html. Accessed May 3, 2019.