What if you could prevent the development of painful, and sometimes sickening, migraines with just a few dosages of medication per year? Medical science has asked this question and come up with another promising answer… Eptinezumab.
At this stage, Eptinezumab is an investigational drug (classed as a monoclonal antibody) which has shown some very promising risk reducing results in phase 3 clinical studies.
**MyMed Memo: Generally clinical trials are conducted in phases from 1 to 3 (there are occasionally phase 0 trials and phase 4 trials are conducted after licensing). Only a third of all drugs make it to phase 3 clinical trials.
Biopharmaceutical company, Alder BioPharmaceuticals® has been in the process of developing this novel therapeutic monoclonal antibody as a way to potentially prevent the onset of, (often) debilitating migraines. In a press release published on 20 June 2018 (1) the company announced that research representatives will be presenting updated findings from two phase-3 clinical trials (PROMISE 1 and PROMISE 2) at the AHS (American Headache Society) annual scientific meeting, to be held at the Marriott Marquis in San Francisco (28 June – 1 July 2018).
Eptinezumab is the biopharmaceutical company's leading investigational drug candidate for the prevention of migraine and has already been reported to function as a potential prophylactic (preventative measure) for individuals who suffer from chronic migraines.
For Alder, one of their core missions is to make significant advancements regarding migraine treatment so that the adverse impact on a sufferer's quality of life is considerably reduced. As anyone who suffers from chronic migraines will know… this condition can be quite debilitating, having an adverse effect on overall lifestyle and day-to-day function.
The core business of Alder BioPharmaceuticals® is to 'discover, develop and commercialise' novel therapeutic antibody treatment options. Should Eptinezumab make it past its current late stage clinical study and receive the stamp of approval, it will be one of the first-to-market infusion medications for the therapeutic prevention of migraine (in adults). Erenumab (Aimovig™ by Amgen and Novartis), a similar type of drug received FDA (U.S. Food and Drug Administration) approval in May 2018. Others on the horizon include Galcanezumab (Eli Lilly and Co) and Fremanezumab (Teva Pharmaceuticals) – both of which are currently under review by the FDA.
In the lead up to the AHS annual meeting, some details have already been publicly shared regarding the efficacy findings of the trials, and it would seem that Eptinezumab is promising indeed. Large percentages of the patients studied showed positive risk reducing results, making the drug a potentially significant treatment option.
Defining chronic migraines
Migraine is estimated to affect around 1 in 10 individuals across the world. (2) Global prevalence has seemingly increased in recent years, with females, urban residents and students among the highest affected populations.
Neurological abnormalities (including the dilation and constriction of blood vessels) are believed to be one of the primary reasons migraines occur. Genetic mutations may influence these neurological abnormalities, stimulating intense pain in a specific area in the head. Pulsating pain as a result of a migraine can last anywhere between 4 and 72 hours if left untreated. Many sufferers experience additional symptoms such as nausea and vomiting too. Sensitivity to sound and light are also common. Visual disturbances often precede migraine where aura develops (migraine headaches accompanied by sensory disturbances). Such disturbances include a transient loss of vision, flashing lights or zigzagging lines in the visual field.
Typically, migraines are unpredictable but when they do occur, their impact is acute and directly affects a person's ability to function normally. Triggering factors like stress, anxiety, hormonal fluctuations and even flashing or bright light exposure play a role in bringing on a migraine.
Chronic conditions (defined as experiencing headache for more than 14 days in a month, some of which are classed as migraine) can last for years, often fluctuating between periods of more frequent migraine attacks and times of respite. Some chronic suffers experience migraines for much of their lifetimes without effective relief. Increased sensitivity to migraines can result in attacks experienced just about daily for some individuals.
There is no formal way to cure migraine. This is largely because much about the pathophysiology of the condition is yet to be completely understood.
Preventative treatments (involving medication use) are only seemingly making strides more recently. It is estimated that a considerable number of chronic migraine sufferers will elect to discontinue preventative medication use within 6 months to a year due to the adverse side-effects experienced which eventually become intolerable. The discontinuation rate of these medications displays a lack of efficiency in fulfilling the treatment purpose.
Thus, there could very well be a need for companies like Alder BioPharmaceuticals® to develop a more effective and better tolerated pharmacological product for migraine sufferers.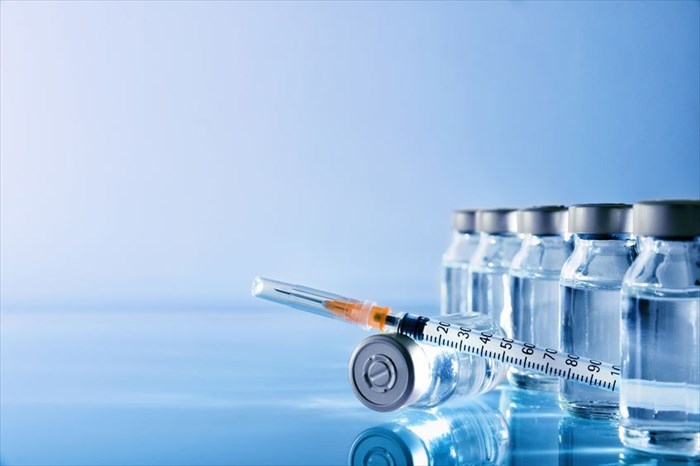 So, what is Eptinezumab?
Eptinezumab is a potent selective anti-CGRP (calcitonin gene-related peptide) which can be administered by a quarterly intravenous infusion for preventative purposes. CGRP molecules effectively function as a vasodilator (relaxing constricted blood vessels) by being synthesised in nerve cells (neurons) within the brain and spinal cord. The drug essentially inhibits the protein molecules which have a key role in the development of painful migraine symptoms.
The drug is being used as part of a multiple randomised, global set of phase-3 clinical studies in order to determine its effectiveness and safety levels. The studies have been named PROMISE 1 and PROMISE 2:
PRevention
Of
Migraine (via)
Intravenous Eptinezumab
Safety and
Efficacy
What has the PROMISE clinical trial programme been able to achieve so far?
Two phase-3 clinical studies have been conducted in the way of determining safety and efficacy of Eptinezumab (or ALD403) for migraine prevention use:
A total of 900 participants between the ages of 18 and 75 were enrolled in this interventional trial between September 2015 and December 2017. Each participant was characterised as having 'frequent episodic migraines' (at least 4 migraines but no more than 14 total headache days per month) and were randomised to receive either one of 3 different dosages of the drug – 300mg, 100mg or 30mg; or a placebo (which was given to the control group). Drugs were administered by means of intravenous infusion (i.e. via a vein in the arm) every 12 weeks.
The team of researchers stipulated primary and secondary endpoints (or planned outcome measures) whereby the participating patients experienced a change in the number of monthly migraine days within the 12-week period (3 months) following treatment administration.
The primary endpoint was to assess a change in migraine day frequency at the 12-week mark. The secondary endpoint was to determine the responder rate at 4 weeks, followed by a second rate at 12 weeks. Laboratory variables would be determined at 56 weeks following the commencement of the treatment trial.
The research team noted significant responder rate percentages between weeks 1 and 4 - 75% of Eptinezumab participants experienced a reduction in their usual monthly migraine days
About 50% of the participants receiving dosages of Eptinezumab achieved an overall reduction of monthly migraine days by the 12th week.
This effectively meant that one intravenous dosage could possibly benefit a sufferer for up to 3 months at a time, reducing the risk or probability of migraine attacks considerably.
By June 2017, the team of researchers felt fairly confident that they were able to meet their endpoint targets and continue their research.
The second interventional trial commenced in November 2016 and has been active until very recently (June 2018). In this trial, 1 050 participants (between the ages of 18 and 65) were enrolled. Once again participants with the same criteria were selected and randomly divided to receive either one of 2 dosages of Eptinezumab (100mg or 300mg) or a placebo, once every 12 weeks.
Then endpoint / outcomes to be measured were structured in the same manner as was done during the PROMISE 1 trial.
Preliminary outcomes were shared publicly in January this year. The Eptinezumab group achieved a reduction of approximately 8 monthly migraine days (the placebo group achieved a reduction of 5 days). Risk of migraine reduced by 52% from the first day following treatment in the Eptinezumab group (the placebo group's risk declined by 27%). A total of 61% of Eptinezumab participants achieved a further 50% reduction in migraine days after the first month (a 39% reduction was exhibited in the placebo group). Thereafter, 33% of Eptinezumab patients achieved a 75% reduction compared to 15% in the placebo group during the second month. By the third month, 15% of Eptinezumab participants had no migraines – thus showing a 100% response rate. Approximately 5% of the placebo group experienced migraine by the third month.
In terms of safety, some adverse reactions were experienced by participants during both trials and these side effects appeared to be fairly similar. The most common side-effects experienced by participants on Eptinezumab included those associated with the common cold:
Upper respiratory infection
Joint pain
Fatigue
Dizziness
Nausea
Anxiety
Fully detailed outcomes of this trial are those which are expected to be shared at this year's AHS annual meeting. If the results are anything like the first PROMISE trial and the preliminary ones of PROMISE 2, it is possible that Eptinezumab may just be one step closer to being accepted as a therapeutic for migraine treatment.
It is expected that team representatives will present final comparative information from each phase-3 trial, as well as share details of the results of a short-form health survey in which scores assessing the quality of life of patient participants were measured.
What's next?
As many experts and potential patients eagerly await this sharing of data, it can already be surmised that the use of Eptinezumab is a very promising prophylactic option. So far, it has shown to be able to achieve rapid and sustained risk reduction with minor adverse reactions (which can all be effectively controlled or managed).
"The new data demonstrates that Eptinezumab administered via infusion delivers rapid onset and sustained benefit following one administration. Rapid onset of effect is a true paradigm shift in migraine preventive treatment," says Neurologist and Headache specialist, Dr Peter Goadsby from the University of California (San Francisco Medical Center).
During the latter part of this year Alder BioPharmaceuticals® is expected to submit a Biologics License Application (BLA) to the FDA. If approved, Eptinezumab will be licensed as a prevention infusion therapy (using a 100% treatment dose recommendation) for migraine (in adults).
The research team believe that this is a 100% bioavailability product – this means that the entire quantity of the dosage circulates the bloodstream, delivering an active effect without losing strength in the process – a factor that is applicable to most medications. Some in the medical field are sceptical about this and anxiously await more pharmacokinetic study findings in this regard. If the drug is indeed that effective, smaller dosages may also be a possibility for treatment.
For the time being, those with an invested interest in migraine therapy await further results from the study, and a possibly promising new treatment which could very well be on the horizon for use.
References:
1. Global News Wire. 20 June 2018. Press release: Alder BioPharmaceuticals® to Present New Data Further Highlighting Eptinezumab's Efficacy Profile for Migraine Prevention at American Headache Society Meeting: https://globenewswire.com/news-release/2018/06/20/1527178/0/en/Alder-BioPharmaceuticals-to-Present-New-Data-Further-Highlighting-Eptinezumab-s-Efficacy-Profile-for-Migraine-Prevention-at-American-Headache-Society-Meeting.html [Accessed 28.06.2018]
2. US National Library of Medicine - National Institutes of Health. January 2017. Migraine affects 1 in 10 people worldwide featuring recent rise: A systematic review and meta-analysis of community-based studies involving 6 million participants: https://www.ncbi.nlm.nih.gov/pubmed/28017235 [Accessed 28.06.2018]
3. ClinicalTrials.gov. 25 September 2015. A Multicenter Assessment of ALD403 in Frequent Episodic Migraine (PROMISE 1): https://clinicaltrials.gov/ct2/show/NCT02559895 [Accessed 28.06.2018]
4. ClinicalTrials.gov. 28 November 2016. Evaluation of ALD403 (Eptinezumab) in the Prevention of Chronic Migraine (PROMISE 2): https://clinicaltrials.gov/ct2/show/NCT02974153 [Accessed 28.06.2018]