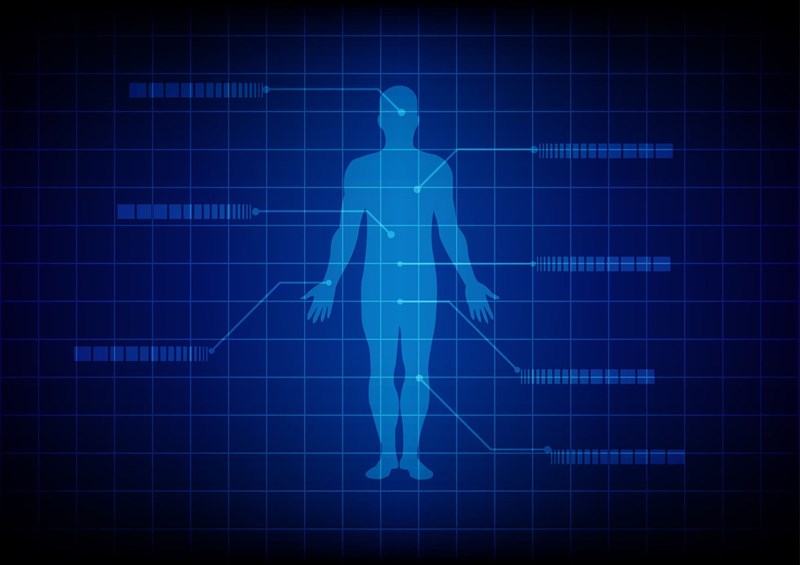 It has generally been accepted that the human body is comprised of 78 functional internal organs (1) and although medicine is forever advancing, to think that the human body may have another organ that has, to date, not been formally identified is just extraordinary. However, new research has revealed findings which suggest just that…
There is a not so little portion of our biological systems that, until now, has been vaguely understood, researched and clinically described, but could very well have a significant impact on the remainder of the body and its functions. In some ways, it could also potentially be the 'missing link' in the treatment of various ailments and diseases.
When hearing about this discovery, you may be inclined to think that this new 'organ' must surely be the smallest spec of tissue that was just 'happened upon' while exploring something else. While the discovery was accidental, the 'organ' in question is not so small at all. In a way, it has been 'staring' at medical professionals all along, although researchers from New York University's School of Medicine have been the first to definitively identify this bodily structure and its functioning. They're calling it 'the interstitium' and have labelled it an organ.
How is an organ defined?
An organ is defined as a group of tissues (made up of hundreds and hundreds of cells) that make up a living organism and can independently carry out one or more specific functions. Numerous identical cells organised together characterise a specific type of tissue. These collective tissues and the organs which they comprise, vary in shape and size and are distinctively different from those in other parts of the body, functioning within system groups.
Organs are thus grouped into various major biological systems, like that of the circulatory, lymphatic, digestive, endocrine, immune, nervous, muscular, reproductive, respiratory, skeletal, urinary and integumentary (skin) structures. Independently, they have a job to do. Collectively, they 'work together' for optimum human existence.
What is the 'interstitium'?
The New York University's School of Medicine research team published their findings on 27 March 2018 in Scientific Reports (a medical journal) (2) which hints that the newly named 'interstitium' is, in fact, an additional organ.
So where has this 'organ' been 'hiding' all along? Just beneath the skin apparently. With the skin being the body's largest organ, the interstitium is thus sizable in itself, occurring virtually everywhere (around the body). It surrounds all of the arteries, veins and capillaries, provides a casing to all fibrous ('stringy') muscular tissues, and even lines the lungs, digestive and urinary systems.
It's not necessarily that the structure, which is now known as the 'interstitium', is entirely new to medical professionals. It has always been 'on the radar', so to speak, but the way in which it has been studied has never quite focussed on it being 'an organ' as such. So, why the recent change?
Medical professionals previously believed that this structure was simply dense layers of connective tissue. The difference in thinking now is that what many previously regarded as 'tears in the dense tissue' should perhaps be viewed as 'compartments' instead.
It has been identified that the interstitium is basically a layer of fluid-filled cavities or compartments with a mesh-like appearance just beneath the skin layer. These cavities are joined together with a webbing of collagen and elastin.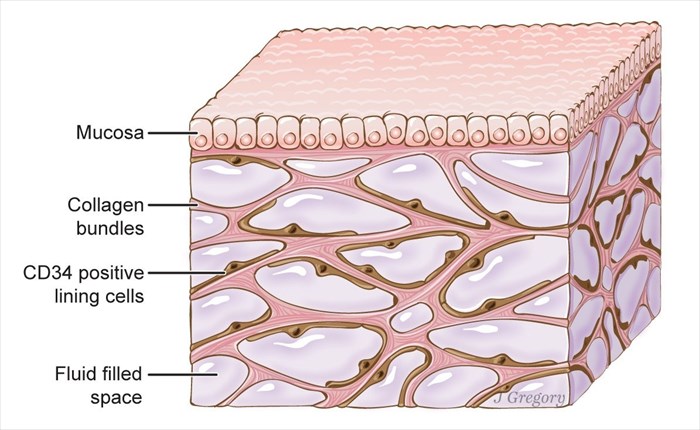 How and why was this structure suddenly identified?
Some unusual patient images crossed the desk of New York University's School of Medicine pathology professor and author of the new published paper, Dr Neil Theise, several years back. Dr Petros Benias and Dr David Carr-Locke (also study authors) from Mount Sinai Beth Israel Medical Center, a teaching hospital in New York City (USA), noticed cavities around the bile duct of a patient while studying endoscopic imaging for indications of cancer.
These cavities left them feeling somewhat perplexed, as such formations are not typically observed. In fact, in the published paper, they refer to the structure as something they'd never before seen in the anatomy of human beings. So, they turned to Dr Theise for his thoughts and expertise. He too, initially found the visuals puzzling, but fascinating. He made sliced bile duct tissue samples (using the traditional analysis technique) and the cavities were suddenly no longer visible. Why? Where did they go?
It wasn't too long before his analysis of these cavities provided some plausible answers. One of the most glaring questions was why these cavities had been missed before? Dr Theise suggests that the method for assembling microscope slides holds the key… Traditional practice drains the fluid from organ tissue samples for medical microscope slides. The drainage process involves creating thinly sliced samples which are treated with chemical substances to better determine key areas of focus. Samples then become fixed portions of hardened or solid tissue on slides.
This method effectively disturbs the interstitium organ structure, flattening the tissues which the fluid previously encased. The research team liken the sample appearance to that of a building which has several collapsed floors. On slides, the structures appear as solid, but they are not so in the body. As a result, the structural appearance of the intersititium has, until now, been considered a layer of connective tissue. In effect, as an organ, the interstitium, has thus been overlooked.
Dr Theise further suggests that these fluid-filled compartments are, in essence, something similar to shock absorbers which aren't unique to the area of the bile duct. They exist throughout the body and surround other vital organs too.
How did the research team analyse the structure?
Based on the assumption that the interstitium is not a hard or 'solid' structure, the research team selected 12 cancer patients who were to undergo surgical procedures to remove the bile duct and pancreas (surgical re-section of the biliary tree). Dr Theise and his team began by looking at 'living tissue', bypassing the usual analysis technique, so that the 'organ structure' could be better examined in order to gain a clearer understanding of it.
To assess the live tissue, the team made use of a relatively new probing technique called confocal laser endomicroscopy (pCLE) in each patient before any tissues were removed. A tiny camera attached to an endoscope probe was used to enter the body (via the throat) and examine the internal structures in real time, in a microscopic capacity. A laser component lit up these structures as fluorescent patterns which were then reflected back by sensors producing imagery for analysis. It was because the pCLE technique was originally used by Dr Carr-Locke and Dr Benias on their cancer patient that the 'interstitium' was first noticed. In each patient participating in the study, the findings were similar.
Tissue samples were then removed from the body and immediately frozen. The purpose of this was to keep the cavities formed by the interstitium open in order to render the samples as more solid structures for additional microscopic analysis.
The team then selected participants without cancerous conditions and analysed connective tissue samples obtained from them too. Once again, the fluid-filled compartments displayed in their findings.
The structures analysed using the pCLE technique and the samples examined under a microscope both showed structured, fluid-filled compartments within the tissue network. This is what the research team are now labelling 'an organ'.
"The more tissues I saw, the more I realised it's everywhere," says Dr Theise.
To be clear, the interstitium has not yet officially been declared an organ - so technically you may still only have 78 medically classified organs as of today. Further research must be carefully done by this and other teams and a distinctive consensus reached in order for the interstitium to join the ranks of other organ structure systems. However, the presence of these compartments is still a medical discovery in itself and is surely an area of intrigue to those involved in medical science.
What is the purpose of the new 'organ'?
In Dr Theise's view, the interstitium could be the answer to where some unaccounted for extracellular (or interstitial) fluid comes from. At least two thirds of the water found in the body resides in its cells. The remaining portion is only partially understood.
Dr Theise suggests that perhaps fluid which is of unknown origin actually comes from the interstitium. Its cavities or compartments may serve as a source for fluid (lymph), which is comprised of white blood cells that are required throughout the body's lymphatic system, providing immune support.
This theory could turn some research on its head – if certain medical diseases, such as cancer, can spread through this portion of the body, this discovery may serve to provide an improved means of treatment in future. The spread of disease is oftentimes a serious challenge in combatting illness and either preserving or improving quality of life. The interstitium may just hold the key to explaining why malignant tumours spread through this layer of tissue, reaching the lymph nodes.
With this in mind, more questions are sure to arise. Could the identification of disease be determined by testing this compartmentalised fluid? Might it provide clues as to how certain disease spreading mechanisms actually work?
It is thought that the interstitium may also aid as bodily shock absorbers offering some degree of protection to the tissues it surrounds while they fulfil their ongoing and distinct functions.
How will this impact medical practice going forward?
For now, this discovery is sure to spark questions, and many of them. Previously a grey area of understanding, the newly published research certainly opens a door for both this team of researchers and others in a variety of fields to ask new questions that, perhaps, were never entirely applicable before.
While the existence of this fluid was previously recognised, to date literature had never clarified its purpose in any great detail. Now that there is a little more of an idea as to what exactly researchers may be looking at, better clarity can be gained. Whether this biological structure can potentially be altered in order to treat disease is a possibility now open for exploration. So too is whether it has a role in facilitating disease progression.
The New York University's School of Medicine research team now plans to review scientific literature already conducted and make distinctions between what is already known about this bodily structure and what can still be learnt.
The research certainly shows promise in the way tissues can be studied through enhanced imaging techniques while retaining as much structural information as possible. Further research will certainly quieten any build-up of speculative noise which may follow and help to provide a more accurate understanding as to how and why this structure should qualify as additional organ.
If answers can be provided to these questions through continued research, the interstitium could potentially serve as a key element in future medical advancements. Sampling of the interstitial fluid could even become a potential tool in the medical diagnosis of certain conditions. There are sure to be future advancements and proven explanations in the coming years, which many, now eagerly await.
And who knows, perhaps the next update will confirm whether or not the interstitium is indeed the 79th organ in our bodies.
References:
1. Radiation Biology for Medical Physicists . 2017. Cell Biology: https://books.google.co.za/books?id=d3JQDwAAQBAJ&pg=PA1&dq#v=onepage&q&f=false [Accessed 29.03.2018]
2. Scientific Reports. 27 March 2018. Structure and Distribution of an Unrecognized Interstitium in Human Tissues: https://www.nature.com/articles/s41598-018-23062-6 [Accessed 29.03.2018]