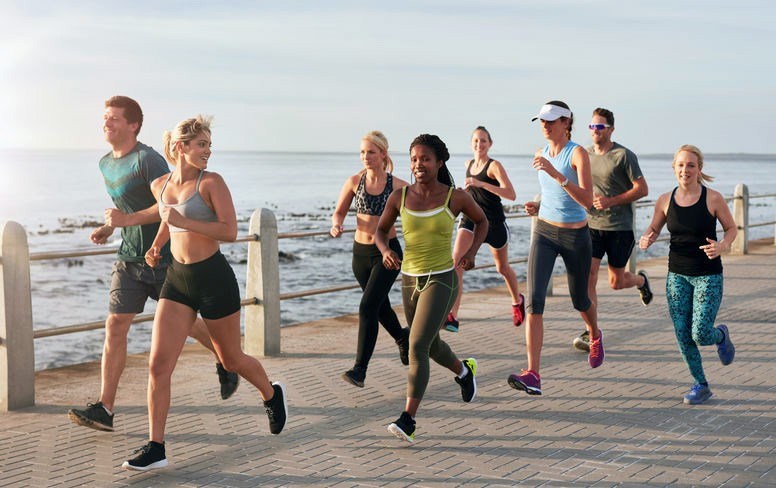 The best exercise activities to promote mental wellbeing include:
Breaking a sweat:

A cardio or aerobic workout tops the list when it comes to exercise activity that best benefits a mental condition. At least 20 to 30 minutes most days of the week will help to boost emotional, mental and physical well-being. Any runner will tell you that there's definitely truth to

the "runner's high"

(a sense of euphoria as a result of endorphins released in the brain following sustained physical activity). Once a runner has crossed a certain threshold of exertion during a running workout, the body's natural morphine chemical (endorphins) are released in the brain, producing a sense of joy and well-being, as well as reducing sensations of pain. Running torches mega calories which helps you to lose weight, lowers your risk of heart disease, and significantly reduces food cravings (a bonus if you're an emotional eater and reach for all the wrong things in an attempt to "cheer up" symptoms of your condition). The repetitive motion of running can also have a meditative effect on your brain, which in combination with the "feel-good" neurotransmitters, will have a significant impact on improving your mood. Researchers have found that this effect is a very powerful benefit for people suffering depression or anxiety and works similarly to anti-depressant medications, promoting the development of new neurons in the brain. Added benefits are improved sleep, memory and reduced stress levels. You don't have to run, if it's not your thing.

Walking

can provide just as much benefit as an aerobic exercise. And it's inexpensive. A good, comfortable pair of shoes with adequate support, and you're set. Start slowly and gradually increase your walks according to time engaged with the activity.

Hiking

combines good exercise with being outdoors (often in nature) which has the added benefit of calming the mind and lowering levels of stress. With that comes improved memory and feeling less anxious. If that doesn't excite you, get in touch with your inner child and get yourself a

trampoline

(yes, why not?). It's a super simple activity of quick, repetitive movements (bouncing) - just a few minutes will get the endorphins flowing.
Muscling up!

Strength training can also give you a boost. It's all about mastery and control. To successfully perform weight training or strength training exercises, you need to be able to concentrate and give the activity your full attention. This helps a person to focus while working on physical aspects of their body. It's important not to jump into doing too much too quickly. Start slowly and make use of a personal trainer if it's something you really enjoy doing, getting an elevated sense of achievement in defining muscle in your body. A trainer can help you to perform exercises correctly, and reduce the risk of potential injuries.
Getting in touch with your peaceful side:

Symptoms of depression and anxiety can be stressful. Regular yoga sessions can serve as a fantastic antidepressant, calming the mind by breaking the repetitive pattern of negative thoughts or anger, promoting mindfulness and overall neurotic symptoms, making you more aware of your breathing (it's physically difficult to be anxious when you're breathing deeply), as well as increasing physical strength (as a result of stretching techniques and core strengthening) and improving your balance. It is a good idea to join an existing class with a qualified instructor if you're new to the activity – some poses can be difficult at first, but will practice you'll be less likely to injure yourself. Tai Chi is another activity with slow, gentle movements that is beneficial to those managing symptoms of depression and anxiety. It can also be a social activity where an organised group session can help to improve your social skills and keep you motivated.
Getting outdoors:

One of the biggest trouble spots for a person suffering depression or anxiety is the reactive 'need' to hide away and become sedentary. The important thing is to recognise that that kind of behaviour is not getting the better of your condition. It's feeding it. So, get outdoors and soak in a little sunshine. Sunshine stimulates serotonin levels in the body. You can choose to focus on taking care of your garden, or you can engage in a little game of football with friends or family. Anything that gets you moving, helps you focus and takes you away from deep, dark corners, will surely do you the world of good.