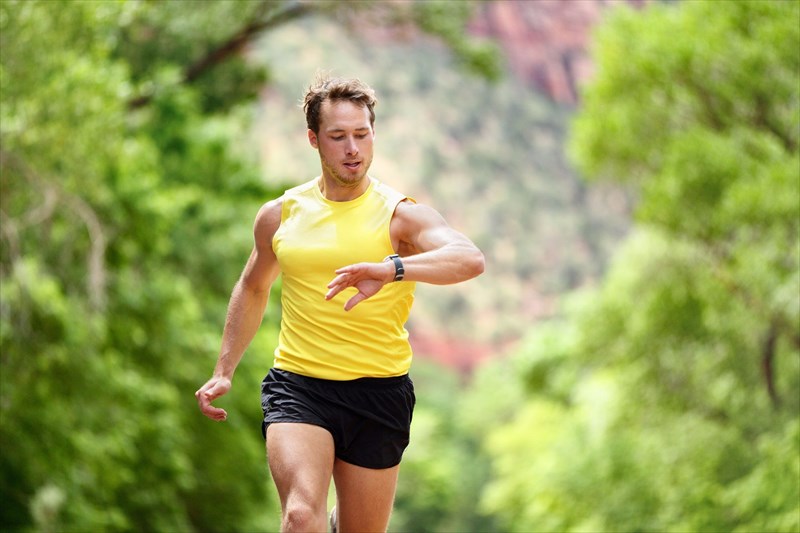 Top fitness trackers (wearables)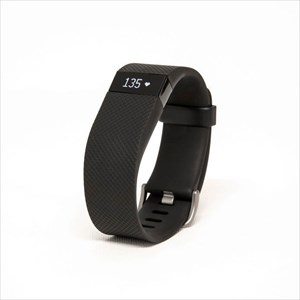 With so many now on the market with similar features, how do you choose the one for you? Stand-out features, price, design and the quality of their companion software and apps are good things to keep in mind.
Some of the best trackers currently on the market are:
Garmin Vivosmart HR+:

This tracker has affectionately been reviewed as a 'Fitbit on steroids'. This chunky little number is packed with tech and has a mix of features and performance a reasonably serious fitness enthusiast will love. It shone brightly at the Wareable Tech Awards 2016, earning itself the Fitness Tracker of the Year. The mix of activity, sleep monitoring, smart notifications, 24/7 heart rate and GPS tracking is highly pleasing, as is the week-long battery life and water resistance (up to about [metres:50]). Some feel that the band is a little on the chunky side (especially for ladies) and that other trackers have a far more attractive screen. There is also a lack of a swimming mode (which has some reviewers scratching their heads), limited multisport options and the run stats are a little light when it comes to insights. If more pace and distance are what you're after, a tracker or watch with proper GPS functionality will be a better fit for you. All in all, the rich data functionality (and the powerful app) for running and cardio and its virtually infallible notifications system won't let you down.
Fitbit Charge 2:

Step activity and sleep tracking come standard with all Fitbit trackers and can all be easily logged in the accompanying app. The Charge 2 tracks your heart rate 24/7 and monitors your resting heart rate too (VO2 Max). Another plus is the

new breathing training (to combat stress) which gives users an additional wellness feature that is most useful. The consensus among many reviewers is that the more active user may not take to this tracker like a fish to water. The screen interface can be a little fiddly and the heart rate monitor during very intense workouts may fall short of reliable expectations. The general wellbeing user who enjoys a little jogging a few times a week will likely feel comfortable with its ability to accurately track their run / step activity (even though you may need to take your phone out with you). The Charge 2 can connect to a GPS on your phone and is one of the strongest devices on the market.
Fitbit Charge HR:

A touch cheaper than the Charge 2, this tracker is discreet and comfortable. It auto-detects exercise such as walking, cycling and running, but total accuracy is best when manually entered into the app. The Charge HR has improved pulse tracking and the ability to set more demanding weekly fitness goals. The pulse counter provides accurate calorie counting during exercise. The proper watch-style strap makes the device very comfortable to wear, while the design is deliberately discreet and neutral.
Fitbit Alta:

This tracker turned many a head when it first entered the market and is regarded by many as one of the best looking the brand has produced. A wide range of coloured straps certainly helps the pretty-factor of this tracker, making it very pleasing on the eye (no matter the colour). Its slim design is very comfortable to wear (lightweight) and is quite unobtrusive. In terms of tech, it's not the most sophisticated of the lot, but it wasn't made to be either. The Alta does a really good job of tracking steps, distance, active time, sleep, calories burned, and basic notifications (on the wrist) using a three-axis accelerometer, as well as an easy-to-use app. Runners looking for more intense tracking may wish to consider another device as there is no GPS, optical heart rate monitor or stair climbing functionality.
TomTom Touch:

The basic features of any type of tracker are there with this one. It's not regarded as the best looker either. It is, however, a goodie when your sole goal is to lose weight. The most attractive feature about this tracker is the body composition feature. It can help you track your weight loss progress by tracking your body fat and muscle percentages (the difference in percentages between lean muscle and wobbly fat). Accuracy of this wearable has come into question but all in all, it's overall consistency will surely help bring about positive change, especially for those getting into the habit of following a new fitness regimen.
Garmin Vivoactive HR:

This tracker is great for multisport, blending fitness and sports features in one reasonably priced package, along with all the standard trimmings. It's built for activity and uses GPS to accurately track running, cycling, swimming and even golf with live pace and distances. It's not likely the tracker you'll buy to 'match nicely with workout gear' but it is easy to wear and use.
Samsung Gear Fit 2:

This tracker is an Android-friendly device (note: there is now iOS support available) that does a whole lot for your money. Pleasing on the eye, the design incorporates a big display and has a lovely balance of fitness and smart functions. The original band is interchangeable, so can be substituted with other options like Horus rubber straps for Samsung for those who like to change up the look. It connects well with Bluetooth 4.0 and GPS, has a robust media player and a full map of your run. This tracker doesn't really need your smartphone to operate. It also auto tracks the time that you are stationary (a subtle reminder to get up and go). It utilises a host of sensors (a heart rate monitor,

gyroscope,

accelerometer and barometer) which can independently pick up and log lifting, walking, running and even some light yoga sessions. It's a clever little gadget you'll certainly grow to love and never leave home without.