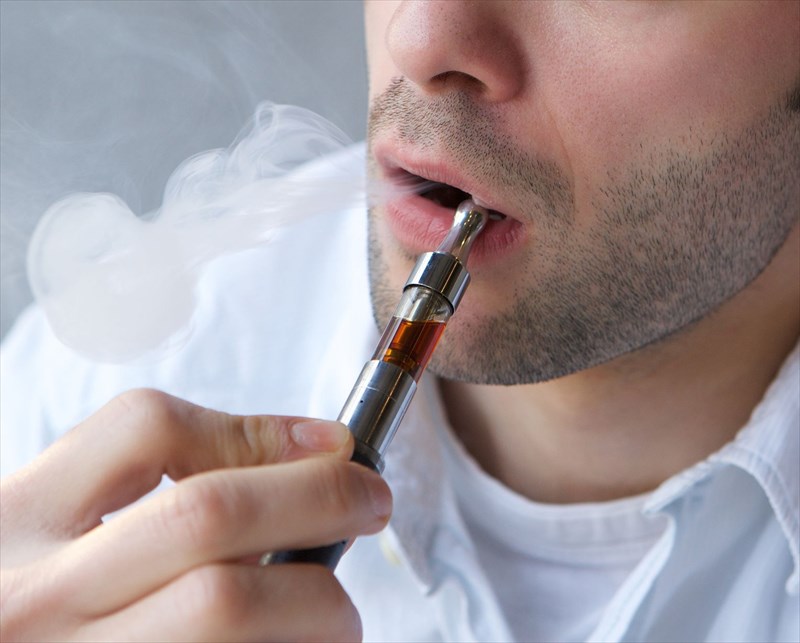 Vaping… these little e-cigarette devices are freely available for purchase and with a delicious array of flavours to use, how harmful can they really be? Do the public really know what they're happily inhaling?
Defining E-cigarettes
With hundreds of brand devices and thousands of flavoured liquids to choose from, electronic cigarettes (or e-cigarettes, also known as 'electronic nicotine delivery systems' / ENDS) are becoming a booming business. These battery-operated smoking devices (with adjustable voltages) allow a user to puff away on a provided mouthpiece without passing on the usual kind of harmful nicotine smoke. Almost as many are now 'popping out for a quick vape' as those on 'a ciggie break'.
The mouthpiece of these devices is attached to an aerosol cartridge (atomiser) containing liquid which vaporises when heated. When inhaling through the mouthpiece, airflow triggers a sensor which turns on the atomiser. This then vaporises the liquid in the cartridge (the vaporising chamber).
During the past decade or so, e-cigarettes have increasingly gained popularity among smokers wishing to quit the more traditional / conventional method of smoking cigarettes. Widely regarded as the safer alternative to smoking, marketers have seemingly capitalised on vaping, pushing flavoured liquids for inhalation, and enticing individuals to use vaping devices even more. A growing interest among younger generations is thus no surprise really. Adolescents are now among an ever-increasing portion of the population that are making use of these devices. The more traditional cigarette consumption market is starting to decline somewhat.
The assumption that e-cigarettes are easier on the lungs is predominantly based on the association between lung-related medical conditions and the known toxic nature of tobacco. E-cigarettes do not operate like conventional cigarettes which require the combustion of tobacco to be smoked. Thus, the assumption is that they must be less of a health hazard. The effects of tobacco combustion during cigarette smoking and the inhalation of nicotine have been well researched and proven. Scientists are only starting to get an idea of what the substances used in e-cigarettes can actually do to the body.
It is known that many e-cigarette cartridges, e-liquids and other related products are not rigorously regulated by the Food and Drug Administration (FDA). Thus, these products are not standardised in their manufacturing process. So, it's safe to say that the general public isn't really as clued up on what exactly they're using as they should be. Most would likely not be able to name the ingredients in the substances they vape either. Nevertheless, these products are freely available, sound appealing and therefore are bought and used with full trust.
The liquids (or e-liquids) are not all nicotine-free. Even in those which are, flavouring (including flavour enhancing chemicals) and other chemical compounds (like propylene glycol – a popular chemical compound base of e-liquids) are standard ingredients and may be just as addictive and harmful.
In general, many of the flavouring chemicals used are classified as GRAS (generally recognised as safe) when incorporated in food products. Research is aiming to assess their effect via inhalation mechanisms, which could have an entirely different impact on the body than when ingested. Theoretically, the process of inhalation means that the lungs are still being exposed to the ingredients / chemical compounds used when they are heated and vaporised, but to what degree? Are these ingredients affecting other bodily cells and tissues too?
Researchers are only beginning to tap into just what kinds of biological effects this is having on the body of a user. What kinds of risks does use of an e-cigarette actually pose? A question mark still hangs over whether or not these devices are actually effective ways to 'quit smoking' too.
The devices may have been on the market for some time and be widely used, but in terms of research, little is well understood. Researchers are seemingly 'on it', however, and coming up with warning signs that take the 'yumminess' right out of this socially acceptable habit.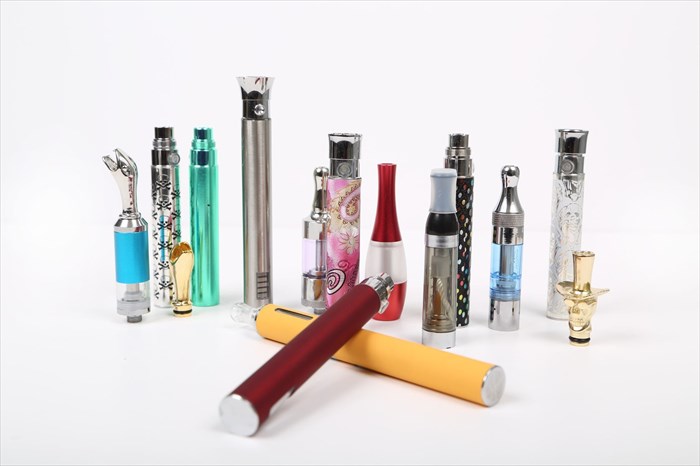 Past research on vaping safety
Curiosity and deliciously branded flavours are driving sales in the market, the world over. For scientists, curiosity lies more in just how vaping could possibly affect the respiratory / pulmonary tract, in particular. Questions have been asked as to whether vaping could have an impact on the immune and central nervous systems too.
Carcinogenicity of the lungs, throat and mouth is another area of interest requiring further research and clarity as it is known that propylene glycol can convert to propylene oxide when heated and vaporised. Propylene oxide is a classified 2B carcinogen.
No one can say for certain what the long-term effects of vaping could be as yet. These devices simply haven't been around long enough. Nonetheless, studies have been conducted to assess what potential harm could take place with regular use in the short-term, and many are finding e-cigarettes to be more of a health hazard than they are marketed to be.
One study has already looked at the impacts on the cardiovascular system, and found that vaping can impact vital signs, namely heart rate and blood pressure levels. These levels can be elevated, although not as much as with conventional tobacco cigarette smoking. (1)
Although there are numerus studies looking at the health effects of vaping in general, many have been observational and lack a distinctive causality explanation. A fair amount of these studies have also not been conducted in humans, with findings following assessments on mice.
Even in the short-term, research has a way to go to really hone in on vaping's potential effects. There is seemingly enough reason to investigate further, however, as this more recent study suggests.
E-cigarette flavours potentially toxic to the body's white blood cells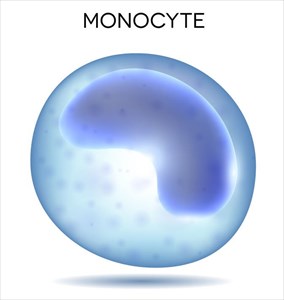 The variety of e-liquid flavours on the market are enticing, and especially the fruity, sweet, creamy and buttery varieties. Who wouldn't want to try one when they're labelled as 'Tutti Frutti', 'Cotton Candy' and 'Oatmeal Cookie'? Branded flavour names like these are popular among the growing youth market, and it's easy to see why.
However, new findings published in the open-access journal, Frontiers in Physiology (in January 2018), by a research team from the Department of Environmental Medicine, at the University of Rochester Medical Center (Rochester, New York, USA), have signalled an alarm on many of the most popular flavour varieties. (2)
Their laboratory-based study found that exposure to e-liquid flavourings (and their enhancing chemicals) used with e-cigarettes can result in consequential inflammation to monocytes (a type of white blood cell). These cells are a variation of immune cells that are produced in bone marrow and travel through the bloodstream to tissues of the body, actively eliminating harmful microorganisms, removing dead cells, ingesting foreign materials and encouraging helpful immune responses. Inflammatory disruption to these cells can have far reaching health effects.
The study warns against particular e-liquid flavours including the cinnamon, vanilla and buttery varieties, but most especially, the mixing of any flavours – something that is also becoming increasingly popular as a way to enhance enjoyment. Mixing becomes a toxic cocktail which has a seemingly worse effect than the use of just one flavour.
The research team set out to assess the assumption that the vaping of flavoured e-liquids is a safer alternative to traditional nicotine cigarettes. The latest study was based on the conclusions of previous research which found such flavoured liquids to cause inflammatory and oxidative stress responses (cytotoxicity, pulmonary toxicity and tissue damage), and that mixing individual flavours appeared to have a more adverse effect. (3) Researchers in this study compared non-smokers with those who vape and found that oxidative stress markers were present in blood samples of e-cigarette users.
The latest study to assess e-liquids further supports these findings and looked at how liquids (without nicotine content) can directly impact the immune cells of the body and specifically monocytes. The team did not deem it necessary to include nicotine-content liquids as the mechanisms of this substance have already been well established.
How was the research conducted?
The research team made use of two known biomarkers for (dose-dependent) oxidative stress which mediate tissue damage and inflammation – cell-free ROS levels (reactive oxygen species) and IL-8 (interleukin 8) levels. The team aimed to quantify these levels by measuring the inflammatory response which is produced by the body when exposed to flavouring chemical compounds.
The team selected popular e-liquids and categorised them according to their flavour profile. Some categories included:
Berry
Fruit
Cake
Tea / Coffee
Menthol
Alcohol
Tobacco
The flavouring chemicals used for their study purposes included:
Acetoin
Cinnamaldehyde
Coumarin
Diacetyl
Maltol
Ortho-vanillin
Pentanedione
Once flavours were selected, the laboratory work began. Using monocytic cells (U937) from human pleural tissue supplied by the American Type Culture Collection (ATCC), a non-profit organisation which provides contract research services and material to both commercial and research organisations, the team set to work on culturing and growing the cells and preparing them for treatment.
From there, specific treatment processes took place. Cells were incubated overnight and then treated with flavouring chemicals at varying concentrations in order to test inflammatory and oxidative stress responses with a minimum toxicity level to cells. A DCFH-DA (dihydro-fluorescein diacetate) dye was also used in order to help measure fluorescence (a process which aids in replicating physiological cell dynamics and processes).
The team then ran a culture process with human monocyte-macrophage cells (mature monocyte-macrophages / Mono Mac 6 / MM6) before exposing them to the flavouring chemicals. Through this process the team was able to measure any subtle changes in cytokine levels (small proteins and growth factors secreted by the immune system).
The now treated U937 and MM6 cells were then run through a centrifugation process after a twenty-four-hour period. Thereafter the treated cells were frozen at -80°C (-112°F) to assess cytokine levels once more.
Cells (U937 and MM6) were then treated with concentrated doses of popular flavoured nicotine-free e-liquids. These included:
Pineapple Coconut
Strawberry Zing
Fruit Swirl
Very Berry
Grape Vape
Mega Melons
Cinnamon Roll
Café Latte
Mystery Mix (menthol flavour)
American Tobacco
The cells were treated at least twice with the flavouring chemicals and flavoured e-liquids at numerous dose concentrations in order to measure IL-8 levels. This helped to determine the inflammatory response.
Mixed flavours in equal proportions / concentrations were also tested. The research team made use of untreated cells and propylene glycol treated cells for comparison. These groups were intended to serve as the control and solvent control samples.
The assessment process was an intricate one and looked at cell viability and cytotoxicity levels in various stages. The e-liquid flavours used were aerosolised with an atomiser and bubbled through a DCF-DA (dichlorofluorescin diacetate) indicator solution. The team used the Scireq inExpose e-cigarette system, allowing one puff to be taken per minute for a 10-minute period for both individual and mixed flavours.
What did the research determine?
While nicotine may not be doing the damage in this instance, what this research study determined, through their various laboratory treatment processes, is that exposure to the flavouring chemicals used in e-liquids can result in increased production of two inflammatory biomarkers (human monocytic cell lines), as well as tissue damage in the body (cellular toxicity and ROS production) as a result of oxidative stress.
Oxidative stress is effectively a process whereby oxygen radicals are produced in abundance. Excess oxygen radicals in the system can increase toxicity levels, which is damaging to the body's DNA and leads to chronic inflammation. Chronic inflammation can contribute to the development of cancer.
Oxidative stress-related injury can also cause strain on lung tissues and result in the development of conditions such as asthma, COPD (Chronic obstructive pulmonary disease), pulmonary fibrosis (scarring of the lungs) and bronchiectasis/bronchiolitis. Exposure can also further exacerbate existing conditions.
As one example, buttery flavour chemical compounds (diacetyl and pentanedione) can contribute to bronchiectasis/bronchiolitis as a result of chronic inhalation. Consistent exposure can result in airway epithelium injury and the development of pro-fibrotic lesions / abrasions.
Flavouring chemicals can bind to DNA and other biomolecules, releasing nanoparticles which are then deposited in the alveolar region (tip of the tongue and ridge) and then on to the airways. This exposure route ultimately ends up in the bloodstream where further damage can occur.
The flavouring chemical compounds in the popular flavours used demonstrated considerable cell death (indicative of significant toxicity levels), with some being more destructive than others – vanilla, cinnamon and butter flavours (ortho-vanillin, cinnamaldehyde, and pentanedione flavouring compounds), or mixed combinations (using any of the tested flavours or Mystery Mix).
When compared with the untreated control group, the vanilla, buttery and cinnamon flavour compounds showed significant reduction effects on cell viability. Cinnamaldehyde appeared to show the higher toxicity level in both cell types tested, followed by pentanedione and ortho-vanillin.
Cinnamaldehyde > dose-dependent cytotoxic response whereby concentrations independently showed reductions between 2 and 65%
Pentanedione > 62% reduction
Ortho-vanillin > between 12 and 19% reduction
The other flavours tested are not off the hook when it comes to toxicity. Mixing of flavours also resulted in high cytotoxicity levels, as well as cell-free ROS levels when compared with individually treated flavours. The team found that mixing flavours decreased cell viability by at least 59% and the Mystery Mix product by 71%. Thus, the team concluded that mixing of e-liquid flavours can have an even more harmful effect. It is known to be fairly common for e-cigarette users to inhale a variety of different flavoured e-liquids within a social environment. The research team warns against this due to the higher toxic effects determined in their study. A user is worse off mixing flavours than vaping just one in a sitting.
One of the study authors, Dr Thivanka Muthumalage adds, "Cinnamon, vanilla and butter flavouring chemicals were the most toxic, but our research showed that mixing flavours of e-liquids caused by far the most toxicity to white blood cells."
All of the flavouring chemical compounds tested showed elevated levels of hydrogen peroxide equivalents (i.e. high concentrations of the ROS), especially Mystery Mix, American Tobacco, Cinnamon Roll, Café Latte, Cotton Candy and Pineapple Coconut.
Individually tested acetoin, diacetyl, maltol and coumarin flavouring compounds did not appear to have as harmful an effect on cell viability at the concentrations assessed by this research team. Propylene glycol, which is so often used as a base of e-liquids, did not show significant signs of cytotoxicity in this study.
The researchers concluded that although all of these flavour compounds are regarded as relatively safe for ingestion, they are not necessarily so when in comes to inhaling them.
The study directly exposed monocytic blood cells to these substances in a laboratory set up, and thus demonstrated further insights regarding the harmful effects of flavoured e-liquids, even if they do not contain nicotine. The team believe that they were able to acquire meaningful toxicological data in this way but understand that this is something of a limitation.
Further analysis can look at exposing cells to e-liquid aerosols containing lower concentrations so as to establish cellular toxicity levels in flavoured e-liquid aerosols (within their air-liquid interface system). Going forward, the same research team plan to do just this and are gearing up to conduct further analysis by simulating live vaping. Research will look to quantify other inflammatory mediators which can occur as a result of both acute and chronic exposure to flavouring chemical compounds. These in vitro and in vivo assessments will surely help to provide more telling detail with regards to inflammatory cytokine profiles.
The team states that their research findings should encourage long-term human studies to further assess the now known harmful effects of e-liquids. The team also strongly feels that their research findings should be warning enough that e-liquid flavours as they are manufactured should be regulated going forward. The specific chemical toxicity levels demonstrated show that regulation is possible. As such, the team urges regulatory agencies to take note of their study and consider appropriate action. Including a descriptive listing of all the ingredients used in these products on the packaging is also recommended.
If regulated, risk of inhalation toxicity via exposure to harmful flavouring chemicals can surely be significantly reduced.
References:
1. US National Library of Medicine National Institutes of Health. September 2017. Impact of Electronic Cigarettes on the Cardiovascular System: https://www.ncbi.nlm.nih.gov/pmc/articles/PMC5634286/ [Accessed 07.02.2018]
2. Frontiers in Physiology. 11 January 2018. Inflammatory and Oxidative Responses Induced by Exposure to Commonly Used e-Cigarette Flavoring Chemicals and Flavored e-Liquids without Nicotine: https://www.frontiersin.org/articles/10.3389/fphys.2017.01130/full [Accessed 05.02.2018]
3. US National Library of Medicine National Institutes of Health. 11 January 2018. Inflammatory and Oxidative Responses Induced by Exposure to Commonly Used e-Cigarette Flavoring Chemicals and Flavored e-Liquids without Nicotine: https://www.ncbi.nlm.nih.gov/pmc/articles/PMC5768608/ [Accessed 05.02.2018]