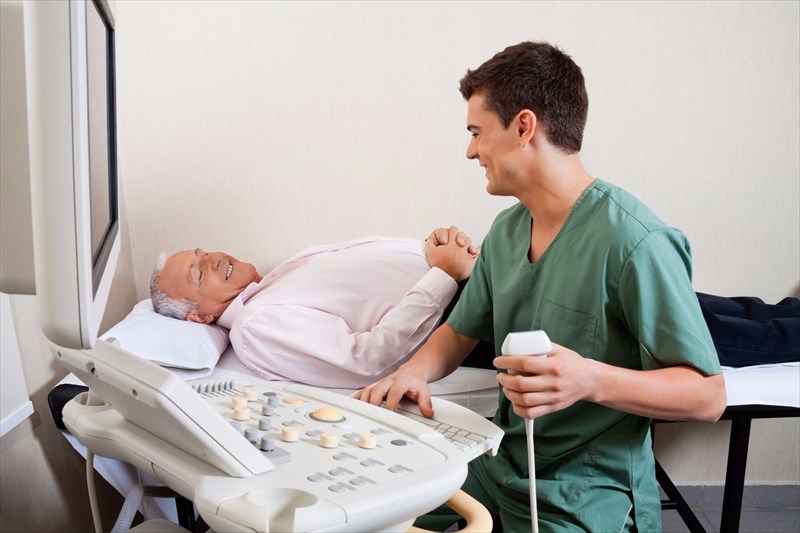 Is an ultrasound scan examination safe?
Generally, yes. Most ultrasound procedures are reasonably safe and considered non-invasive (i.e. no injections, needles or incisions are normally used in the procedure). Unlike other imaging procedures, ultrasounds do not involve ionising radiation exposure, and instead make use of low-power sound waves.
What are the benefits of an ultrasound scan?
Ultrasound scans which are done externally or internally are generally painless, sometimes with mild discomfort (which is temporary) and do not cause any harmful side-effects.
Ultrasound technology is easy-to-use, widely available and less expensive than some other imaging methods, such as an MRI or CT scan.
Ultrasound imaging provides real-time visuals which can be highly beneficial for accurate diagnosis and treatment implementation.
Images produced provide doctors with a clearer visual of the body's soft tissues than can be achieved using an X-ray.
Ultrasound scans have proved beneficial for accurate evaluation and diagnosis of concerns regarding the abdomen, pelvic area, brain, spinal cord and hip joints of infants and young children.
Sonohysterography is minimally invasive, but is generally well tolerated by patients who experience very few side-effects or complications following the procedure. It is also a short procedure and can provide an accurate and clear view of a woman's uterus and endometrial lining. The details obtained during the scan can often prevent unnecessary surgical procedures (i.e. performing an operation in order to gain a better view of possible fibroids, polyps and other concerns).
Pelvic ultrasounds are valuable procedures for identifying and assessing numerous reproductive system and urinary conditions and disorders in both men and women without the need for X-ray exposure. Monitoring pregnant women and their unborn babies throughout the stages of pregnancy has also proven safe for both the expectant mom and child.
Breast ultrasounds have proved beneficial in the identification of lesions and masses in women with dense breasts, and can also be better classified for interpretation. During a breast ultrasound, a technician can easily distinguish between normal tissue, benign cysts or malignant tumours.
What risks and limitations may be involved?
An abdominal ultrasound may slightly heat up abdominal tissues, creating tiny bubbles. It is not yet known if this causes any long-term side-effects.
If a person has a known allergy to latex, they should advise the treating doctor and ultrasound technician or radiologist before the scan so that a latex-free transducer or probe cover may be used instead.
An endoscopic ultrasound is somewhat more uncomfortable than the alternative methods, and may lead to temporary discomforts or side-effects such as bloating or a sore throat. There is also a risk of internal bleeding.
Sound waves typically do not travel well through structures such as bone, gas or air inside the body.
Larger individuals may be better suited to other types of imaging techniques, such as CT scans or an MRI as these techniques can produce better visuals. An ultrasound has difficulty generating images through greater amounts of tissue in the body and thus does not return clear results.
A CT or MRI is also better if deeper blood vessels in the body are required to be seen. Deeper or smaller blood vessels in the body may not show up as clearly on an ultrasound scan.
Calcifications in the body may also interfere or obstruct the sounds waves of an ultrasound, and thus, may also not show up as clearly.