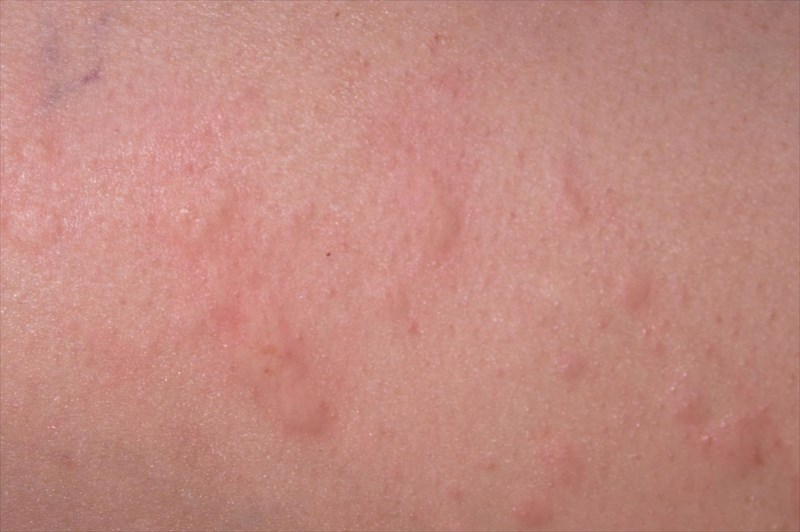 Signs and symptoms of hives
Think you may be suffering from hives? Here's how to recognise the signs and symptoms...
Welts or wheals can be small or large, ring-shaped (or roughly oval), and even take on more random blotchy or worm-like shapes. Hives can also resemble insect bites, such as those from a mosquito. (7) Hives may be red and inflamed (or with a red flare / halo), but can also appear as smooth raised, flesh-coloured bumps or markings.
If pressed, markings may pale and turn white (become 'blanched'). Hives may grow larger (or merge together and create larger patches), occur in batches or clusters, spread to other portions of the body or change in shape too.

Flare-ups can itch, burn or sting (ranging from mild to intense), swell, disappear and reappear (forming new markings where previous ones have faded) within a short space of time or as a reaction runs its course. Flare-ups can happen multiple times in a day, or alternatively during the course of weeks or months.
Hives can affect any and every portion of the body (8), but are more common on the facial area, neck, arms, fingers, hands, legs, toes and feet.
Chronic hives can be a little more troublesome and affect a person's normal habits, such as daily activities or ability to sleep comfortably. Swelling of the lips, eyelids (which may be swollen shut), tongue and throat (angioedema) can be quite painful often causing a burning sensation (this is not normally itchy), and not always symmetrical.
When to consult a doctor about hives outbreaks
In general, most instances of acute or chronic hives are mild and non-threatening, with flare-ups resolving themselves. When a hive outbreak affects the tongue or throat, breathing difficulties can occur.
Serious allergic reactions such as anaphylaxis can affect the entire body (causing breathing difficulty, difficulty swallowing, severe swelling of the tongue, lips, mouth lining, eyelids, throat, and dizziness) and must be attended to by a medical professional urgently. Swelling can quickly affect the airways, causing a loss of consciousness if not attended to quickly enough. Anaphylaxis is considered a medical emergency and can be life-threatening.
If symptoms of hives are severe or continue for several days, it is best to consult a doctor for a diagnosis and treatment plan.
It is best to seek medical treatment as soon as possible if any other symptoms develop, such as:
Nausea and vomiting
Abdominal pain
Respiratory stridor (noisy or strained breathing) and wheezing
Rapid or irregular heartbeat
Body weakness
Light-headedness or fainting (loss of consciousness)
Cold and clammy skin
A sudden feeling of intense anxiety
Wheezing
Tightness in the chest
Trouble sleeping
Low blood pressure and shock
How to tell the difference between hives and psoriasis
Some characteristics of both hives and psoriasis are similar, but the two conditions are not the same. Psoriasis is classified as an autoimmune skin condition whereby cells rapidly accumulate to form thick skin lesions and plaques (scales). As an immune-related condition, psoriasis is also not a contagious disease (9), and is mostly triggered by stress, injury to the skin, infections (such as strep throat), foodstuffs (like red meat or dairy products), certain medications (such as those containing lithium or some high blood pressure drugs) or extreme cold weather conditions.
Mild or severe outbreaks result in inflamed or red scaly lesions, and skin that is dry and or / cracked can sometimes bleed. Skin may also itch, burn or become painful. Nails may also thicken, ridge or become pitted. Affected skin areas may also affect the joints, causing swelling and stiffness.
So, what are the differences?
Hives:

Bumps are raised and smooth, appear suddenly, come and go (disappear and reappear) and seldom rupture and bleed (unless itching is extreme).
Psoriasis:

Bumps are usually scaly and have a silvery coating, appear gradually, linger for weeks or months at a time, and often bleed.
A person may be more prone to hives if they have existing food allergies, are under a fair amount of stress or have sensitive skin. Those who experience flare-ups of psoriasis generally have a family history of the condition, experience chronic levels of intense stress, smoke, are overweight or who generally have a weak or compromised immune system.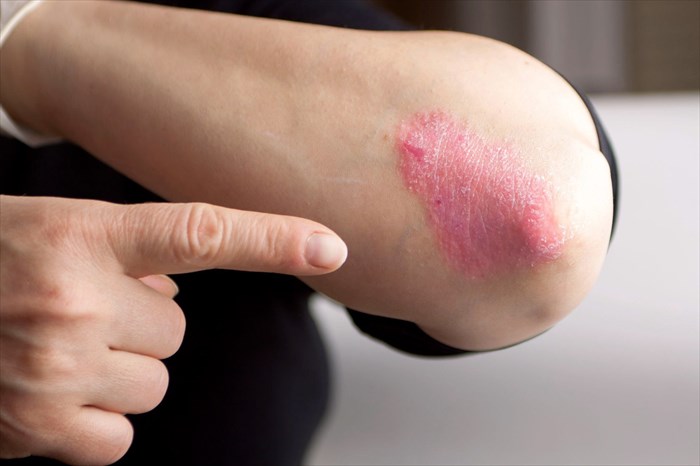 References:
7. Victoria State Government - Better Health Channel. April 2017. Hives: https://www.betterhealth.vic.gov.au/health/conditionsandtreatments/hives [Accessed 29.08.2018]

8. Sydney Children's Hospital Network. October 2014. Urticaria (Hives) Factsheet: https://www.schn.health.nsw.gov.au/files/factsheets/hives_urticaria_-en.pdf [Accessed 29.08.2018]
9. Centers for Disease Control and Prevention. June 2018. What is Psoriasis?: https://www.cdc.gov/psoriasis/index.htm [Accessed 29.08.2018]