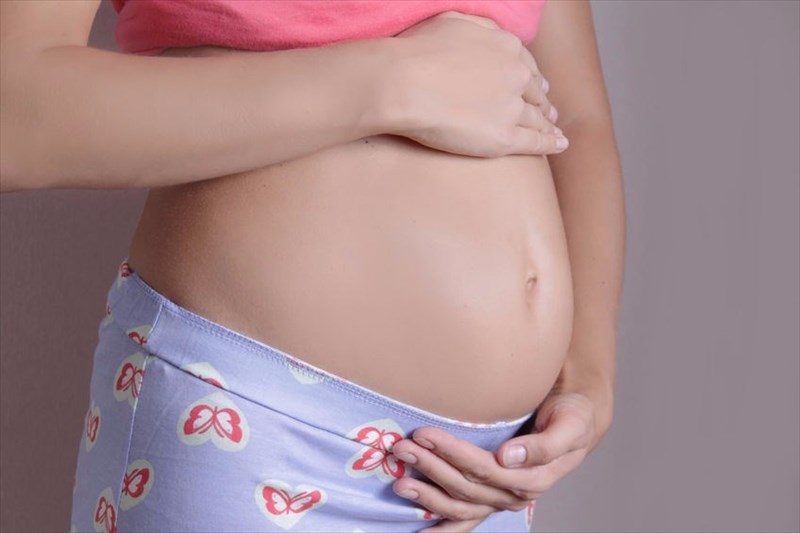 Second trimester -Weeks 14 -26
You have made it to your second semester! Your baby now has unique fingerprints that have formed and its heart is pumping about 24 litres of blood every day. As the days and weeks go on, he or she will start to develop hardened skeleton from the currently rubbery cartilage. Your little one will also soon be able to hear you, you will also start to feel your baby move in your tummy at this stage.
Week 14
Overview
Your baby is now about 8.7 centimetres in length and weighs around 43g (1.517oz), being about the size of a plum. His or her little body is now covered in soft little hairs, these are known as lanugo and provide a coat of warmth for the baby. What is interesting though, is that this lanugo disappears by the time the baby is born.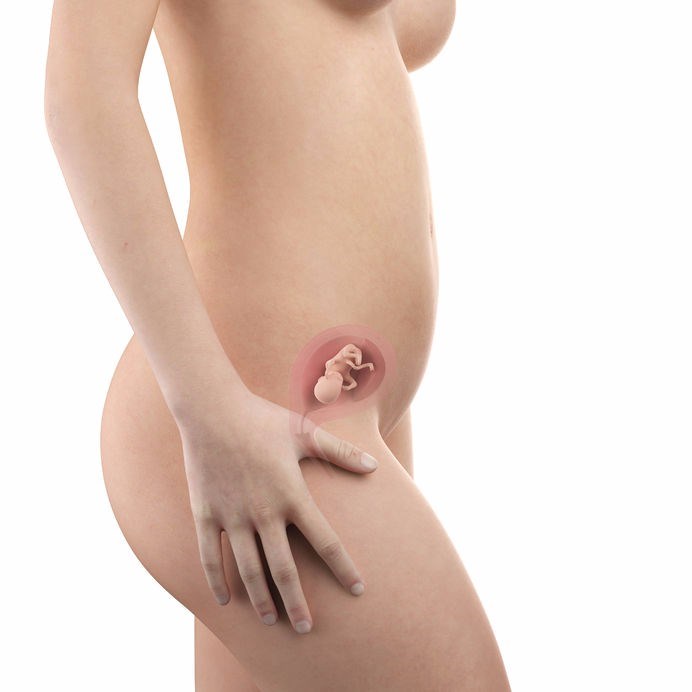 Your baby's development at this stage
Your little one can now frown, squint, grimace, urinate and possibly even suck his or her thumb! Because of the impulses in the brain developing, the little facial muscles can now move and get in a workout as the little features start to form endless expressions. The kidneys have now begun to produce urine and your baby releases this into the surrounding amniotic fluid. If you have an ultrasound coming up, you will probably be able to catch your little one in the act of sucking their thumb. At the end of this week, the baby's arms will be at a length that is proportional to the rest of the body, however, the legs will still have some catching up to do. Your baby will also be constantly punching and kicking with its arms and legs by now.
Changes in your life as your baby grows
By now you are likely to have some of your energy back, as well as this, your breasts will not be as tender as they were and morning sickness should have gone out the window too! But, some women will continue to experience morning sickness right up until the baby is born, which, although it may not feel great, is also completely normal.
You will now be starting to show a little baby bump and finally have visible evidence that you are in fact, pregnant!
What to do at this stage
You may be able to find out the sex of your baby at the beginning of your second trimester. Finding out if your little one is a boy or a girl can be daunting, some women prefer to wait until the baby is born to find out the sex, whereas others wish to plan and bond with the little one.
The benefits of knowing the sex of your baby are:
Developing a deeper bond - Some women note that they were able to develop a deeper bond with their baby once they knew the sex
Being able to think about baby names
Being able to decorate the nursery and buy clothes for the specific gender
The possible drawbacks of finding out the sex of your baby are:
Not being surprised when the baby is born
Possibly being disappointed by the sex of the child (if you'd hoped for the opposite gender). However, keep in mind that many people experience this at first, and it does pass when you hold that little bundle of joy in your arms, so try not to feel guilty about it.
Besides finding out the sex, you should be gearing up for your first prenatal class at this stage and attending regular exercises classes aimed at pregnant women as you may find these more accommodating and beneficial to your current state.
Week 15
Overview
Your baby is about 70g (2.469oz) in weight and from crown to rump should be 10.1 centimetres (almost 4 inches) in length. The muscles are beginning to strengthen and the little one is constantly moving.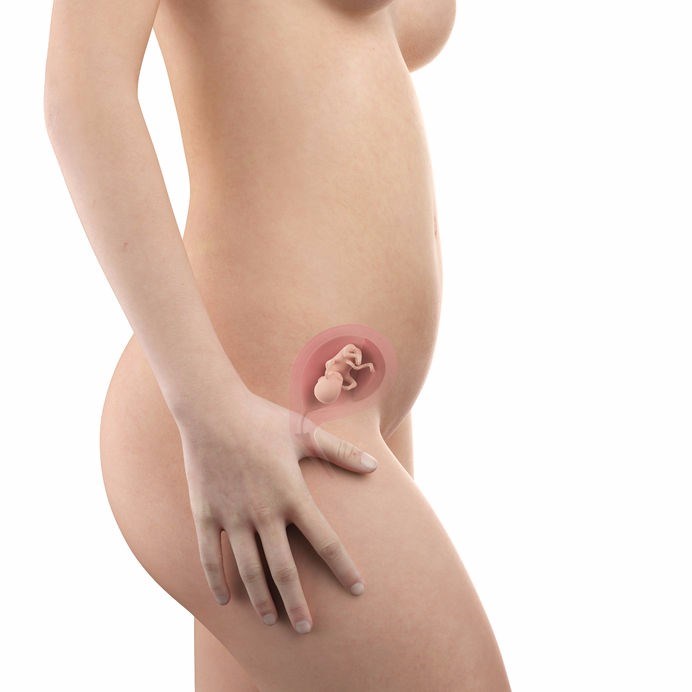 Your baby's development at this stage
Your baby is now about the size of an apple and is in the process of moving your amniotic fluid through his or her nose and the upper respiratory tract, which is helping the primitive lungs develop the air sacs. The little legs are finally catching up to the arms and are growing longer!
Changes in your life as your baby grows
By now, you are in the swing of being pregnant, however, don't be too surprised if any new symptoms start to pop up. One of these may be a stuffy nose thanks to the changes in hormones increasing the blood flow into the mucous membranes. This is very common among pregnant women, so much so, that it is known as rhinitis of pregnancy. Some women may also suffer from the occasional nose bleed as a result of the increased blood flow.
You may also be feeling a little stressed or overwhelmed at this stage – which is also completely normal! If you have anything concerning you right now, then speak to your doctor, this should be the best time of your pregnancy.
You may be able to feel your baby move for the first time, which is a very exciting experience for expectant moms. These movements may just feel like little kicks and flutters. If you don't feel your little one move in this week, then there is nothing to worry about, you will feel him or her in the upcoming weeks.
You will probably feel your baby move between weeks 16 and 22, even though he or she started to move at about week 7 or 8 (you may have already seen these movements in an ultrasound). If you have been pregnant before, you may have felt some of these little jabs and movements already, these jabs are known as quickening.
Expectant moms have likened the feeling of these movements to popcorn popping in your tummy or butterflies, or even a fish swimming around in there. You will soon start to distinguish these movements from gas and hunger pains.
Later on in this trimester these jabs and quickening will be stronger and more regular. At this point it is best if you keep track of your baby's movements and inform your doctor if you notice them lessening. If you do feel a decrease in movement, this is sometimes normal, but if need be, your doctor may suggest you have a non-stress test or a biophysical profile to monitor and check on the condition of your baby. This test, also known as a BPP checks your baby's movements, heart rate, muscle tone, breathing and the amniotic fluid around your baby. It may also be recommended that you count the amount of times your baby kicks every day (this is normally only done in the third trimester).
Tests and what to do at this stage
If you are having an amniocentesis done, this is likely to happen between this week and week 18. This test helps to identify any genetic or chromosomal disorders.
You may also want to start talking to your baby as this can help him or her to develop language skills later on in their life.
Eating dinner earlier can also help with any heartburn or digestion issues you may be experiencing.
Week 16
Overview
Your baby is about 12 centimetres (4.7 inches) in length from head to rump and weighs in at about 114g (4.021oz), being roughly the size of an avocado. At this stage, you may be enjoying a little pregnancy glow. This is from the increased blood flow in your body, your cheeks may look flushed and your skin tone healthy. If you have more of a 'pregnancy no-glow' then that's alright. A lot of women don't really feel as though they are glowing, but others may see you this way.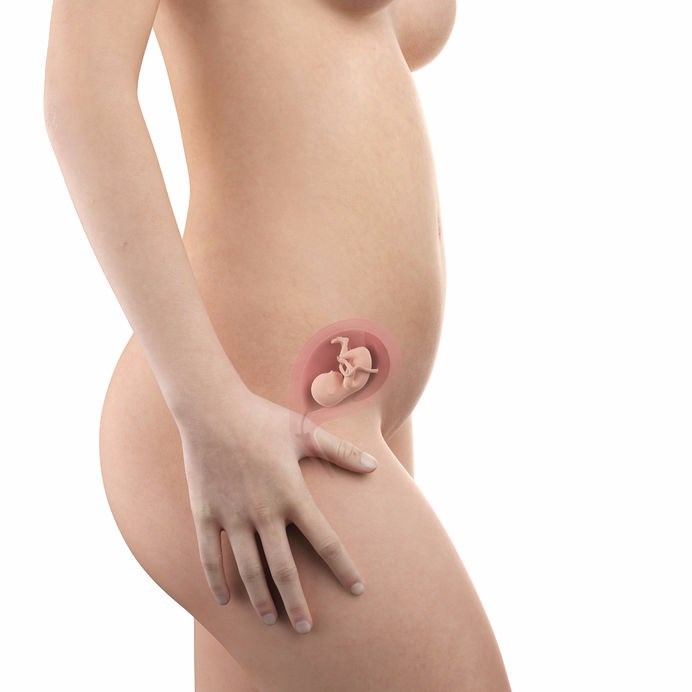 Your baby's development at this stage
Your baby is reaching a major growth spurt at week 16, almost doubling in his or her weight and size. The legs have developed a lot more and the head is more erect than it has been in the weeks before this. Little toenails have also started to grow.
Changes in your life as your baby grows
You are probably feeling better now as you are beginning to settle into your pregnancy. The top part of your uterus is now about halfway between your navel and pubic bone, the supporting ligaments are also stretching and thickening as you and your baby are growing.
This may be the week where you feel your baby move for the first time, if you haven't already. If you don't feel anything, then there is nothing to fret about as you may only feel your little one move at around week 20.
During your second trimester, you will be eating about 340 extra calories per day, however, this should be based on your current weight and level of activity.
If you feel as though you are gaining too much weight, then speak to your doctor or dietitian about adjusting your diet to best suit your and your baby's needs.
What to do at this stage
You may want to start planning a little babymoon. When your little one is born you and your partner won't have much time to yourselves, so planning a little getaway while you are at the best stage of your pregnancy can be the best thing for your life right now.
Sleeping on your side is something you should also be getting used to right now as this is best for your growing baby and sleeping on your left side can help with any heartburn you are experiencing. You may also want to look into getting a pregnancy pillow, this can help offer you support and comfort during these growing months.
Week 17
Overview
Your little one is about 13 centimetres or 5.11 inches in length (from crown to rump) and weighs roughly 140g (4.938oz). Blood is now pumping around his or her circulatory system at a great pace. The baby's little eyebrows, eyelashes and hair are also starting to form. With all of this development going on inside of you, your tummy may also be growing at a pretty fast pace right now.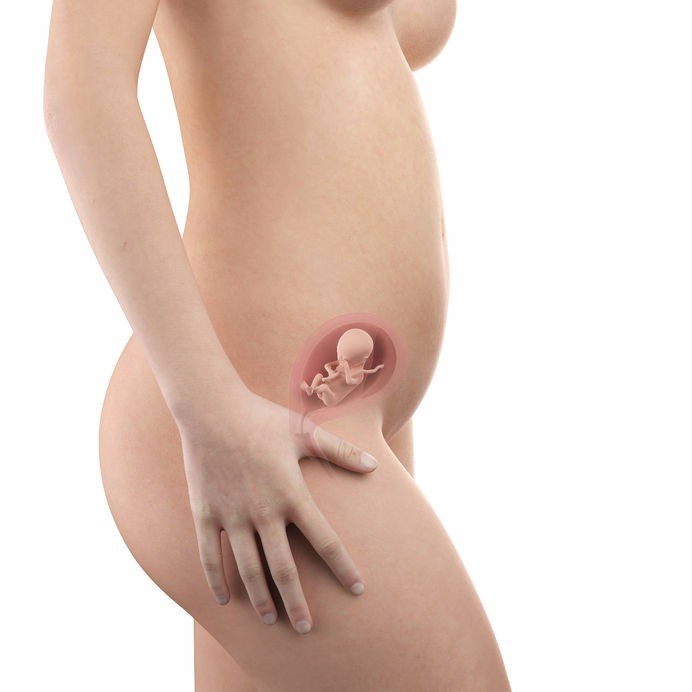 Your baby's development at this stage
Your little one's skeleton continues to develop from being soft cartilage and is forming into a harder bone. The umbilical cord, which is the link to the placenta for nutrients, is also growing thicker and stronger. Your baby is about the size of a turnip and he or she is able to move his or her joints and the little sweat glands are also developing.
Changes in your life as your baby grows
You may start to feel slightly off balance right now, this is because your centre of gravity is changing as your belly is growing, this makes you feel slightly unsteady at times. Try to avoid any situations where you may risk falling and possibly wear low-heeled shoes.
Another development at this stage, is that your eyes may become drier. This is also thought to be caused by the hormonal changes in your body. You can opt for some over-the-counter drops to lubricate them.
What to do at this stage
If you haven't already, you may want to start a list of baby names.
Week 18
Overview
Now being 14.2 centimetres long and weighing 190g (6.702oz), your little one is growing at quite the pace. Your baby's ears are now properly developed enough to hear you, so you may want to start talking to him or her so that they can get to know you.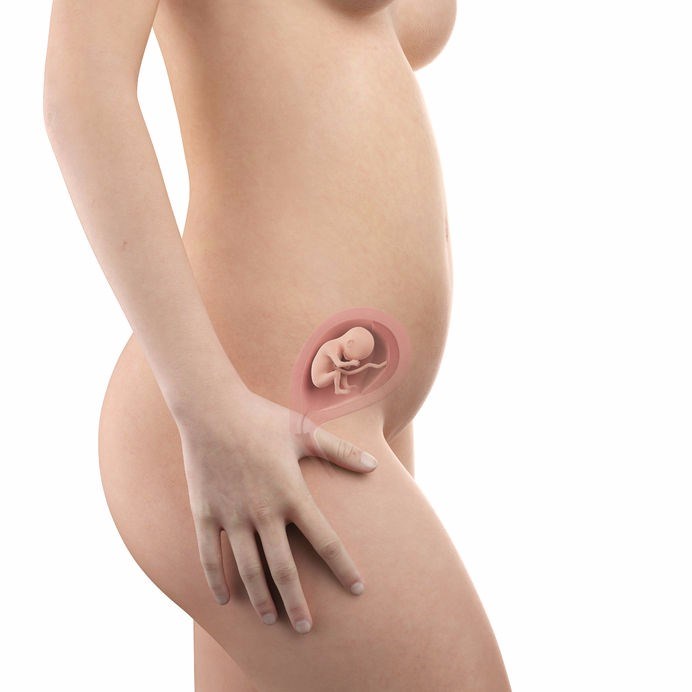 Your baby's development at this stage
Your baby is now about the size of a ball pepper, and his or her little arms and legs are constantly moving as the muscles are developing and getting used to motions and movements.
The baby's blood vessels can also now be seen through the translucent skin. Protective coverings known as myelin, are starting to form around the nerves, this process will continue up until the baby is born. If you are expecting a little girl, the fallopian tubes and uterus are in place and have formed. If you are expecting a little boy, then his genitals can now be seen, but he may hide them during an ultrasound.
Changes in your life as your baby grows
You may be experiencing an increase in your appetite and cravings for food round about now. Try to swap out unhealthy treats for more nutritional ones. You might want to also slip into those maternity pants as other clothes are too tight at this point. Your cardiovascular system is going through some dramatic changes, during your second trimester you may also suffer from a drop in your blood pressure. Try not to get up too quickly after lying down and try to sit down if you feel dizzy at all so as to not risk a fall.
Tests and what to do at this stage
If you haven't had an ultrasound yet, then you may have one coming up. The procedure for an ultrasound is painless and involves the midwife or doctor checking up on your baby's growth, checking for any birth defects, making sure the umbilical cord and placenta are healthy and if your due date needs to be adjusted.
During this procedure, the doctor will put a clear lotion on your tummy and use a machine to get a visual view inside to see your baby. He or she will likely be sucking their thumb and moving around quite a bit. You may also want to have your doctor print these ultrasound images out for you and your partner to start a photo album with and to show family and friends.
Here is what you need to know about having an ultrasound:
An ultrasound will be able to tell you the sex of your baby – if you want to know it of course!
It is an anatomical survey of the entire foetus.
It is able to detect about 50% of any heart defects.
An ultrasound uses a transducer which is placed over your abdomen and uses soundwaves to create a visual image of the foetus on a monitor.
If any issues are detected during an ultrasound then you may have to decide if you want to have an amniocentesis (amnio) – this test detects any genetic or chromosomal issues your baby may have.
Some doctors may also suggest that you start doing Kegels to strengthen your pelvic floor for birth. These exercises also help to prevent any urine leaks experienced during or after your pregnancy. Kegels also increase the circulation to your vaginal area which can help speed up your healing process after giving birth naturally.
This is how to do them:
Tighten the muscles that are around the vagina as if you are trying to stop the flow of your urine. Using a squeezing and lifting movement, continue to breathe normally as you perform them.
Hold each movement for about 10 second and then release. Do these in sets of 10 and try to do them about four times a day.
Week 19
Overview
At week 19 your little one is about 15.3 centimetres from crown to rump and weighs around 240g (8.466oz). Your baby has now formed a waxy coating around his or her body as your amniotic fluid may irritate his or her skin, this waxy substance is known as vernix caseosa and is normally gone before the baby is born. Your little one is also forming a thin layer of fat under the skin for warmth. As your baby's hair is growing, your hair may also be thickening. This is due to your normal cycle of hair shedding slowing down as the baby grows – so enjoy your luscious mane while you can.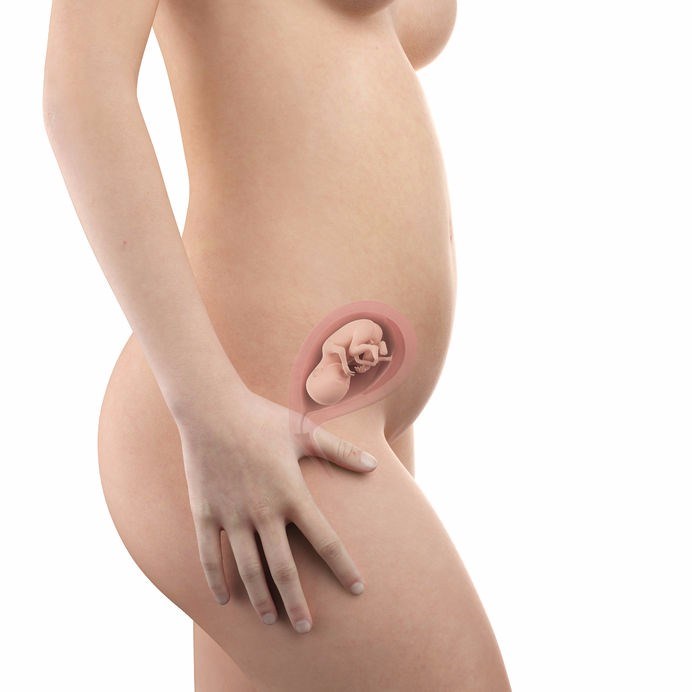 Your baby's development at this stage
The sensory development of your baby is now in full-swing! The little brain is designating specialised areas for taste, smell, vision, hearing and touch. There is some research that suggests that your little one will be hearing you properly now. The arms and legs are finally proportional, as is the rest of the body.
Your baby is now about the size of a plump tomato. The kidneys are making urine and the little hairs on the scalp are sprouting up.
Changes in your life as your baby grows
You may start thinking that you are pretty big in size at this point in your pregnancy, but you still have some growing to do! You may suffer from some aches and pains in your lower abdomen. This is probably due to some round ligament pain. These ligaments are supporting your uterus and are stretching and growing to accommodate your growing baby. If this pain becomes severe, then contact your doctor, otherwise it shouldn't be a cause for concern.
Your skin may also be changing, the palms of your hands are probably red from the extra oestrogen. You may notice some darkened skin in areas as a result of a temporary increase in pigment. If these darker areas form on your cheeks, forehead or upper lip, this is known as chloasma, otherwise referred to as the mask of pregnancy. Any current freckles you may have may also darken, as well as your underarms, nipples, vulva and inner thighs – this is all perfectly normal. There may also be a dark line running from your pubic bone to your belly button, this is known as linea nigra.
All of these darkened areas are likely to fade after you have given birth. For now, it is best that you stay out of the sun as this may intensify the pigment even more.
What to do at this stage
This may be a good time to think about your childcare options for when you have to go back to work. You may even want to look into getting part time help for when you are home.
Week 20
Overview
You have made it to week 20 and are practically half way through your pregnancy! Your little one is weighing in at 300g (10.582oz) and it 25.6 centimetres in length, now measuring from crown to heel.
Your baby is about the size of a small banana and you may be gaining more and more weight from this week onwards.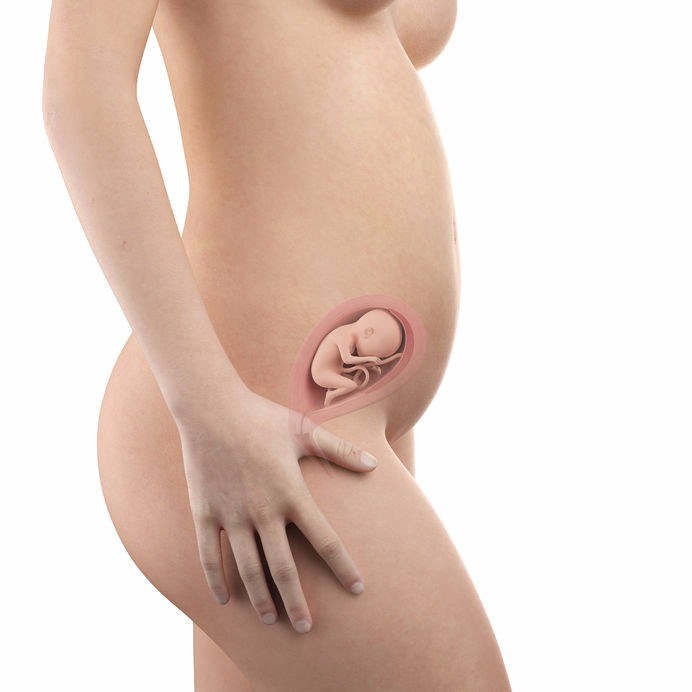 Your baby's development at this stage
The reason why we now measure from crown to heel from week 20 is that in the first 20 weeks your little one would have been curled up in a little ball and is now stretching out a bit.
Your baby is swallowing more, which is great practice for his or her little digestive system. He or she is also producing a sticky and black by-product of the digestive process, this is known as meconium. This substance will begin to accumulate in the baby's bowels and you will see this in the first diaper that they soil. Some babies may even pass this gooey substance while in the womb or even during delivery.
Changes in your life as your baby grows
The top part of your uterus is now level with the belly button and you certainly would have gained some weight by now. Ensure you are getting adequate amounts of iron. This is a vital mineral for the production of haemoglobin which is the part of the red blood cells that carries your oxygen.
What to do at this stage
Make sure that you have signed up for a childbirth class by now as this can help you to prepare for your labour and delivery.
Treat yourself for meeting the halfway mark through a little self-indulgence. Go to a spa, buy some new pyjamas or get a prenatal massage.
Sleeping with a pillow between your legs can help you to get a good night's sleep and try to avoid any fabrics that are synthetic to sleep in as these tend to trap any moisture and can leave you feeling chilled and damp during the night.
Week 21
Overview
In continuing his or her growth spurt, your baby is now 26.7 centimetres from tip to toe and weighs roughly 360g (12.699oz).
A lot is happening in your uterus right now, one of these things being the tiny buds for the baby's teeth starting to pop up in the gums. Rapid movements are also occurring in the eyes. Bone marrow is starting to ramp up its red blood cell production and this will soon bring oxygen to the baby.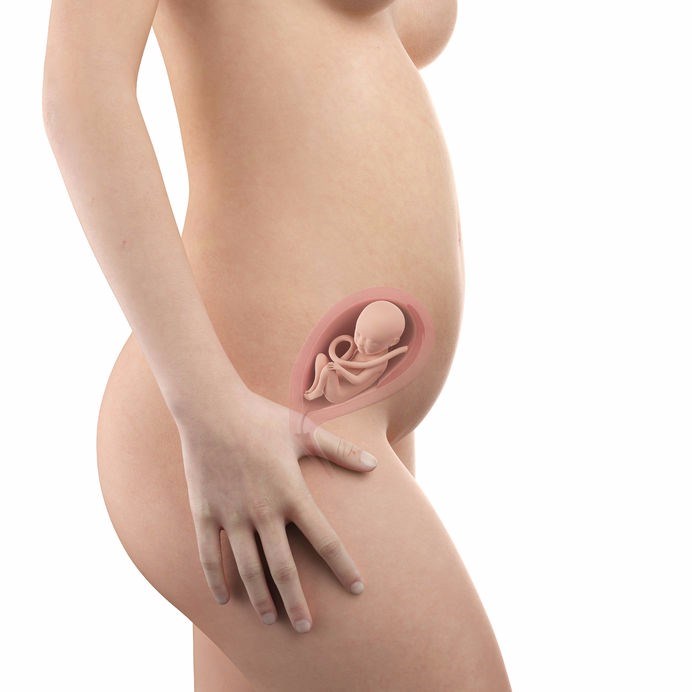 Your baby's development at this stage
Your little one is about the size of a large carrot and you will feel like he or she is performing dance moves in your belly, as the little flutter-like movements have now developed into nudges and kicks. You may be getting to know your baby better through keeping track of his or her movement patterns. If you are expecting a little girl, then her vagina has started to form.
Changes in your life as your baby grows
You are likely to be feeling more comfortable during this week, you are getting used to your growing uterus and many of the early symptoms of pregnancy are gone, for the most part anyways.
You may, however, be suffering from pregnancy acne as the increased production of your skin's oil is causing this. Try using a gentle cleanser and lotion and be diligent with your skin care regimen. It is advised that you stay clear of any oral treatments for acne as these can be harmful for you and your baby. Check any topical treatments with your doctor first.
You are probably also extremely prone to varicose veins at this point. These often form from the increased pressure in your legs as you are carrying more weight. As well as this, the higher levels of progesterone surging through your body may result in the walls of the veins relaxing. Daily exercise and taking the pressure off of your feet when you can, will be able to help with any veins you may be seeing.
Another development may be spider veins, which are a group of small blood vessels that look like a spider web appearing at the skin's surface. These tend to disappear once you have given birth and do not cause any discomfort.
What to do at this stage
It might be a good idea to create a baby registry as friends and family have probably been asking you want you may want or need for you baby. This is especially helpful if you are having a baby shower.
Your hormones are raging, and as a result your sex drive may be through the roof, if your pregnancy is progressing at a healthy rate according to your doctor, then having sex with your partner should not be an issue. You may suffer from some bleeding when having sex, this is normal and is caused from the swelling in the cervix capillaries, these sometimes burst when having sex. This is normally nothing to be concerned with, but it may be best if you mention it to your doctor just in case.
Week 22
Overview
Your little one is now about 27.8 centimetres in length and weighs 430g (15.168oz) – getting big! There are a number of things happening inside of you right now, some developments include the hormones your baby needs to inform the organs to operate correctly, and tell the nerves needed to work for smell, touch and a number of other sensations. If you are having a boy, then the testes would have begun to descend. In the case of a girl, then the vagina, ovaries and uterus are in all the right places inside of her at this stage.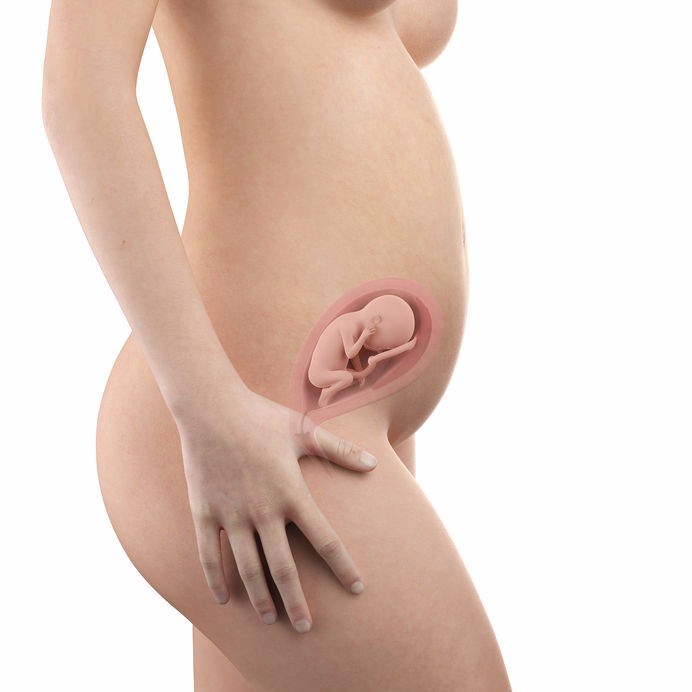 Your baby's development at this stage
Your baby is officially starting to resemble a mini human. The eyelids, lips and eyebrows are defining themselves. The eyes may have formed, but the little irises, which are the coloured area of the eyes, are still lacking in pigment.
The baby's lanugo, which is the fine hair covering the body, are now fully present and little wrinkles are visible on the baby's skin, these will only disappear when the thin layer of fat has fully developed and plumps these wrinkles out.
Inside the baby's belly, the pancreas is developing at a steady pace, this is essential for producing some vital hormones for development.
Changes in your life as your baby grows
You may find that lots of people want to touch your belly at this stage. Don't feel as though you have to let everyone touch it as it is perfectly alright if you tell people not to. People may also be telling you whether or not they think you are at the right size at this point, just remember, every woman grows and shows in different ways and at different stages.
Just ensure that you feel happy in yourself and feel as though you and your baby are healthy by attending regular check-ups with your doctor. Hearing a professional opinion is always reassuring as helps you to ascertain whether or not your baby's growth is on track.
If you start to notice stretch marks on your belly, this is perfectly normal for a lot of women. These are small streaks of textured skin that can range from dark brown to light pink in colour. These can also appear on your buttocks, hips, breasts and thighs. Some lucky women don't get any stretch marks at all. It all depends on the elasticity of your skin.
There are a few changes happening to your body at this stage which have a lot to do with the hormonal changes you are currently experiencing:
Your hair is thicker than normal. This is not because you are growing more hair, but rather due to the fact that you are losing less.
Your body hair may have increased due to the sex hormones present in your body. These hormones are known as androgens and can result in new hairs sprouting on your jaw, upper lip, cheeks and chin. You may also have some stray hairs popping up on your legs, back and belly.
Your fingernails are growing faster than usual and may be growing out harder than normal, or even softer.
Your skin in changing too. Some women say that their skin is healthier and better than ever when they are pregnant, other women suffer from acne and dark patches caused by increase melanin.
Your nipples may be darker and larger, these are natural changes as your breasts are preparing for breastfeeding.
Your feet may be larger and go up a size, or even two. Lax ligaments caused by a hormone called relaxing which helps to prepare your body for childbirth, may result in your feet spreading a bit and in some cases this can be permanent.
What to do at this stage
Your fingers may be swelling at this stage so you may want to do yourself a favour and either increase the size of your rings or take them off for the duration of your pregnancy before it is too late to be able to get them off easily. A good idea for your wedding band may be to wear it on a chain around your neck for the time being.
Week 23
Overview
At week 23 your baby is measuring in at 28.9 centimetres and weighs 501g (17.672oz). The little lungs are continuing their development and getting ready to breathe as your baby is inhaling amniotic fluid and are also creating a substance known as surfactant. This allows for the lungs to inflate for breathing. Your baby's brain is also making vital connections needed for thinking.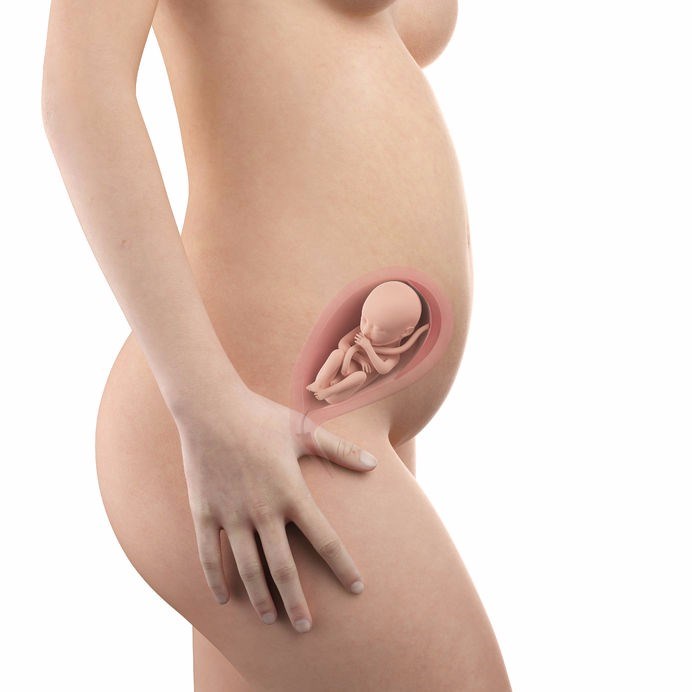 Your baby's development at this stage
With the baby's movement being well-developed at this stage, he or she is about the size of a mango, quite a large mango in fact. You may also be able to see your baby moving about under your clothing now. Little blood vessels inside of the lungs are also developing to help prepare him or her for breathing. Your baby is getting better at detecting sounds, so remember to talk or sing to your little one when you can. You may also be able to get a response from your baby if you play a specific song or kind of music.
Changes in your life as your baby grows
As you may have noticed already, your ankles and feet are starting to swell at this point, this swelling is often worse during hot summer months or at the end of a long day. Water retention may also be present in your legs due to poor circulation and changes in your blood chemistry, this swelling is known as oedema. Your body will rid itself of this water retention once you have given birth, this often results in a need to urinate frequently and an increase in perspiration for the first few days after giving birth.
It may help if you put your feet up to rest when you can and also stretch your legs out when sitting. Try not to sit or stand in one position for long periods of time. The rule of thumb is to get up and walk around after every hour. You can also wear support stockings and exercise regularly to help improve the circulation in your legs.
A certain amount of swelling (oedema) is to be expected, if you notice excessive swelling, this could be a sign of preeclampsia (also known as toxaemia/toxemia), which is a serious condition. Ensure your doctor is monitoring the changes in your body in order to prevent and/or identify any potential issues that may arise).
What to do at this stage
This is a great time to start thinking about whether or not you want to bank your baby's cord blood. This is the blood that is left in the baby's umbilical cord, as well as the placenta after your baby is born. Through collecting, freezing and storing this for future use, you will be keeping a rich source of your baby's stem cells which are vital building blocks of the body.
Stem cells have the remarkable ability to transform into a variety of other cells. This can help to repair organs, blood vessels and tissues and can be used for the treatment of several diseases.
The collection process to obtain the cord blood is quick and painless for both your baby and you.
If you decide to bank your baby's cord blood, you have one of two options:
You are able to donate this cord blood to a public cord blood bank for anyone in need of it. You are likely to have to agree to and sign a document in order to donate this blood at about week 28 or your pregnancy.
You can pay for your baby's cord blood and stem cells to be stored at a private cord blood bank for your own personal use. This does carry a significant cost in some countries, so it is best to research various facilities, their storage term options and pricing for this service before making a decision.
Speak to your doctor about whether or not you want to bank the cord blood, the options available to you and what he or she advises.
Week 24
Overview
Weighing in at 600g (21.164oz) and being 30 centimetres in length from tip to toe, your little one is certainly starting to thrive. He or she has now reached the point of viability. This means that your baby would be able to survive without the use of a ventilator if delivery had to take place. Your baby's wrinkles are also filling out now as the fat is starting to build up under the skin.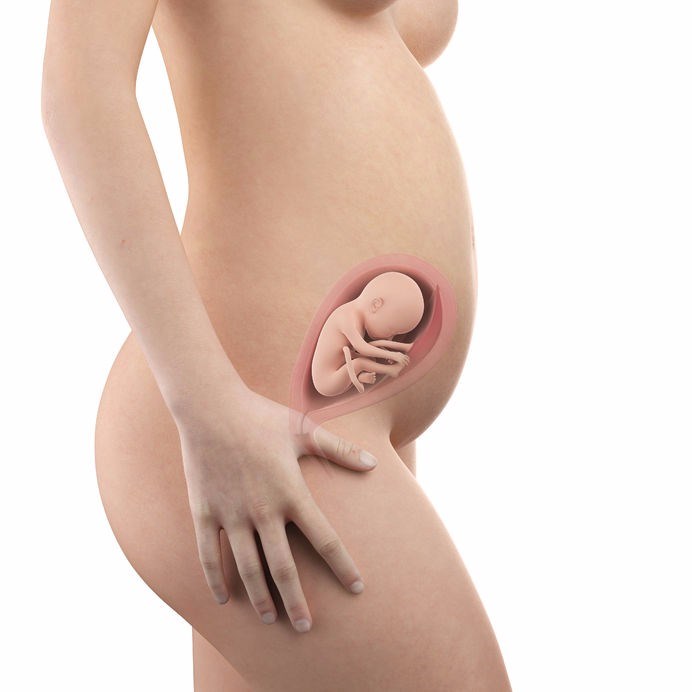 Your baby's development at this stage
Your baby, now growing at a steady pace, is about the size of an ear of corn, or a large hot dog. He or she is starting to plump up nicely too and the brain is also continuing in its development. The taste buds are starting to form and the little lungs are creating 'branches' for the respiratory 'tree' needed for breathing. Your baby's translucent skin will soon start to change.
Changes in your life as your baby grows
During the past couple of weeks, the top portion of your uterus has started to rise just above the belly button and is now roughly the size of a soccer ball.
You will also need to start learning about the signs and symptoms of preterm labour. This will be discussed below.
Tests and what to do at this stage
Your doctor may suggest that you have a GCT, which is a glucose screening test between this week and week 28. This is a test that will check for gestational diabetes, which is a condition in pregnancy that relates to issues with high-blood sugar.
If diabetes is left untreated, it can increase your risk of having a vaginal delivery that is difficult or requires an emergency caesarean section as your baby will grow too large, particularly in his/her upper body to deliver naturally. It will also raise the baby's chances of developing other conditions and complications such as suffering from low blood sugar after he or she is born.
If you receive a positive result on your GCT, this does not necessarily mean that you have gestational diabetes, but rather than you should take a GTT, which is a glucose tolerance test, to know for sure.
Preterm labour
A number of women have had preterm labour, many of these have been induced, meaning that the medical team managing the pregnancy decided that labour should be induced earlier or have performed a C-section due to a severe medical condition such as progressive preeclampsia (a pregnancy complication that is characterised by suffering from high-blood pressure) or if the baby has stopped developing and growing or is under stress due for some reason. If labour was not medically induced, then this is known as spontaneous preterm birth. This can occur before week 37 if you go into labour before reaching full-term, having your water break or if your cervix dilates without contractions.
There are some known risk factors and complications associated with preterm labour, these include:
Placental issues
Cervical insufficiency
Genital tract infections
However, in many cases of preterm labour, doctors do not know what the cause is. Therefore, it is vital that as an expecting mother you know the signs of preterm labour, these are:
An increase in your vaginal discharge
Changes in discharge, if the discharge becomes water, bloody or mucus-like
Any vaginal spotting or bleeding
Suffering from abdominal pain similar to that of menstrual cramping, or having more than four contractions in an hour
Feeling increased pressure in your pelvic area
Suffering from lower back pain, particularly if you haven't suffered from this before
Sometimes the above symptoms can be confusing, especially when it comes to lower back pain or abdominal pain, as these often occur with normal pregnancies. Having early contractions can often be harmless and these are known as Braxton Hicks contractions.
However, it is best to always be safe and check any unusual symptoms with your doctor.
The closer your baby gets to full-term, the more likely his or her chances of survival are and the less likely he or she is to develop further health issues. Often babies who are born between week 34 and week 37, do not have any additional health problems, yet they may still have a higher risk of developing issues as opposed to babies who have made it to 40 weeks.
Thanks to medical advances, babies born as early as 24 weeks are often able to survive due to neonatal care in NICUs, which are neonatal intensive care units.
To lower your chances or preterm labour, it is advised that you stick to a healthy and nutritious diet, stay away from any harmful substances and keep up your regular check-ups and doctors' visits.
Now is also a great time to paint the nursery as this will give the paint fumes time to dissipate once the paint is dry and not be a hazard for your newborn.
Week 25
Overview
Your little one is about 34.6 centimetres and weighs 660g (23.281oz). The little window you once had to see into the insides of your baby is now closing as their skin is developing and changing from translucent to cloudy. The heartbeat is also becoming a lot clearer.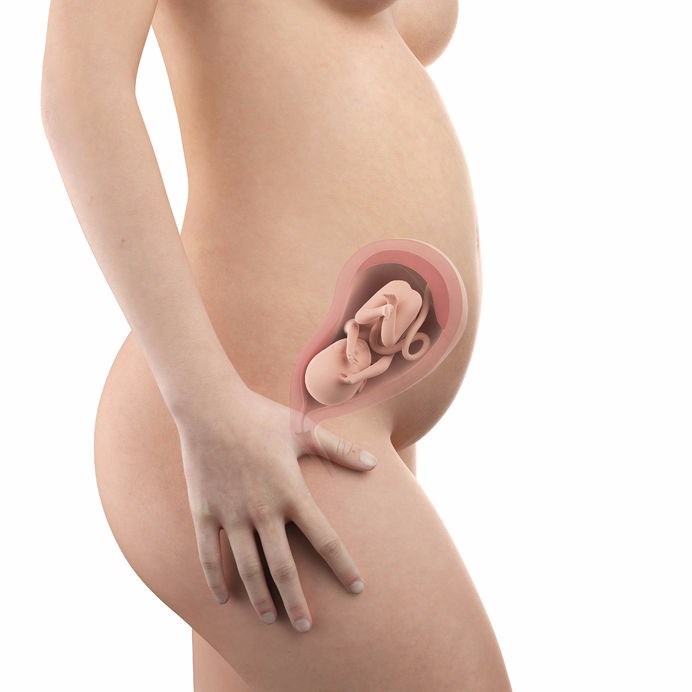 Your baby's development at this stage
Your baby is about the size of half a head or broccoli, and his or her long and lean body is starting to build-up a healthy fat layer, smoothing out the wrinkles and making him or her look like a newborn baby. There is also more hair present at this stage.
Changes in your life as your baby grows
You may start to notice that your ability to move around is not as graceful as it once was. Unless your doctor has told you not to, you should continue with your normal prenatal exercise routine. However, try to stick to the below safety rules:
Stop if you feel dizzy and sit down
Stop if you feel any pain
Do not lie flat on your back (this compresses the vein that transports blood from your lower body back to your heart)
Avoid exercises where you could lose your balance
Make sure you continuously drink enough water
If you have the glucose-screening test between 24 and 28 weeks, then sometimes a second sample tube of blood is also taken to check for anaemia. If these test results show that you have iron-deficiency anaemia, then your doctor is likely to tell you to take an iron supplement.
Tests and what to do at this stage
Between week 28 and week 36, you are likely to visit your doctor about every second week, this will then be increased to once a week closer to your delivery date.
Depending on how your pregnancy is going, you may be offered one or more of the below tests:
Haemoglobin / haematocrit – This is a blood test that is done to test for anaemia, and is normally repeated at your third trimester. However, if your glucose-screening results were normal, then this may not be necessary, or as stated above, a second blood sample may have already been tested for this.
Gestational diabetes testing – In the case that a glucose-screening test has already been conducted, then you will not need this test. However, if you haven't had a gestational-screening test or your results were abnormal, then this test will be conducted.
Rh antibody screening test – If your blood type is Rh-negative, then an antibody-screening test will be repeated, which is normally done at the same time as your glucose-screening test, you will also get an injection at 28 weeks of Rh immune globulin. It is rare, but if your baby's blood fuses with yours through getting into your bloodstream, then the Rh immune globin will offer you protection from antibodies developing that may create a high-risk environment for you and your baby. If the father of your baby is Rh-negative, then your baby will also be Rh-negative, therefore you will not need the Rh immune globin.
STI testing – If you have a substantial risk of having a sexually transmitted infection (STI), then your doctor will check your cervical cultures for gonorrhoea and chlamydia, as well as this, your blood will also be tested for syphilis. It may also be wise that you retest for HIV if you feel you may have been in a situation where you could have contracted it. If your test is positive for HIV, then there are treatment options available to drastically reduce your baby's risk of getting it from you during the birthing process.
Group B strep testing – This is done between week 35 and week 37, where you will be tested for GBS (group B streptococci), present in your rectum and your vagina. If these cultures have positive results, then you can only be treated with IV antibiotics when you are in labour. If you have previously been tested and given birth to a baby with GBS, then this test can be skipped as you would have already been given IV antibiotics during birth.
Non-stress and biophysical profile tests – When you have specific complications during your pregnancy or you have gone passed your initial due date, then these tests will be conducted to check on the health of your baby. These are simple, non-invasive tests. They check on your baby's movements, heartbeat and other health factors.
You may want to also start planning your paid or unpaid maternity leave. You should have spoken to human resources at your company by this stage, as you will need to know if your leave is unpaid or paid. Some companies are generous and will give up to four months of paid maternity leave. Regardless, you will need to know where you stand with your current work situation. If you work from home, then think about how you will restructure your day with the new baby.
Tip: It may help if you eat smaller meals more frequently to aid in preventing heartburn throughout your pregnancy.
Week 26
Overview
At 26 weeks, your baby is now weighing in at 760g (26.808oz) and is 35.6 centimetres in length – he or she is growing at a great pace!
Your baby's eyelids would have formed by now, and their little eyes are now open revealing eyes that are bluish in colour, however, this colour often changes in the first few months after birth.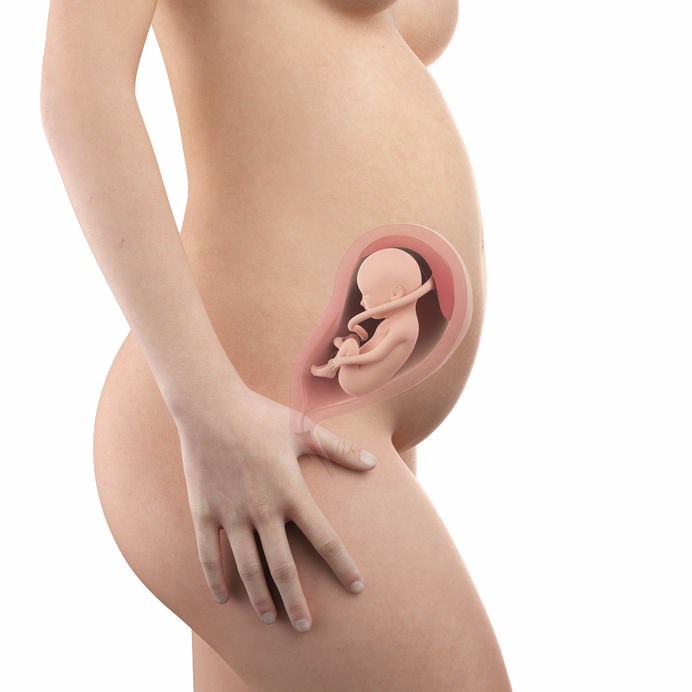 Your baby's development at this stage
There is a nerve network in your little one's ears which is now better developed and extremely sensitive. Your baby can now hear you and other noises properly. He or she is inhaling small quantities of the amniotic fluid, and then, of course, exhaling it. This is a vital process for developing the lungs. These motions of breathing are also great practice for when the baby is ready to take their first breath of air. He or she is also continuing with their build-up of fat. If you are expecting a little boy, then his testicles will soon start to descend into the scrotum, this will take about three months.
Changes in your life as your baby grows
Right now, you may be rushing around as you try to attend your prenatal visits, get to your childbirth classes and, of course, get the baby's room ready. With all of this happening, you need to ensure you are still eating well and getting enough sleep and rest where you can put your (often swollen) feet up.
At this stage, you may also experience a slight increase in your blood pressure, however, it is likely to still be lower now than before you fell pregnant. Your blood pressure will normally drop towards the end of your first trimester, and will reach its lowest point around week 22 or week 24.
Be aware of the condition known as preeclampsia (toxaemia/toxemia), this will often show up at around week 37, but it can also develop earlier than this. Be sure to contact your doctor if you notice any unusual swelling of your face, a sudden or excessive swelling of your ankles or more than slight puffiness around your eyes. If you suffer from vision changes, a persistent headache, vomiting or extreme abdominal tenderness, then contact your doctor immediately as these may be symptoms of more severe preeclampsia.
Tests and what to do at this stage
You may want to write out a birth plan. This basically outlines how you would like your doctor to handle the delivery and allow you to speak to your doctor about what your options of birth are. This is also a great way to learn about labour and know what your preferences are for care.
However, labour is always unpredictable, therefore, it is vital that you stay flexible and are open to any changes that you may have to accommodate for.