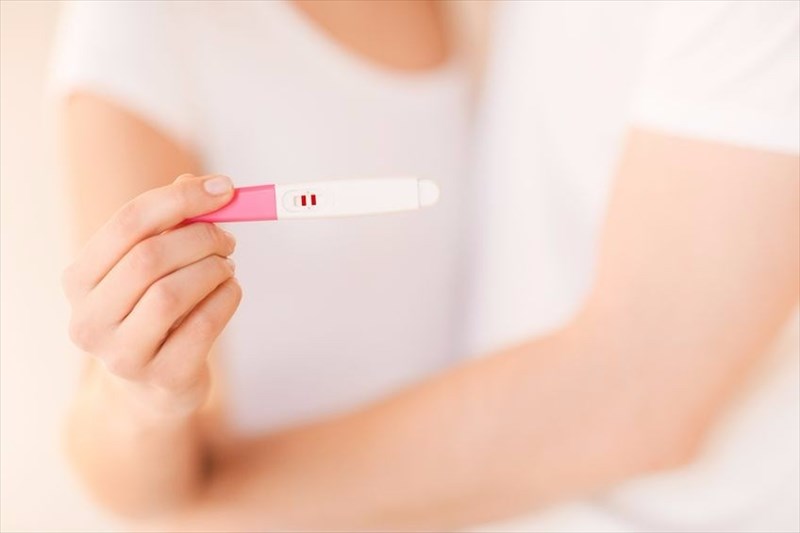 An introduction to pregnancy
During your nine months, or more accurately, 40 weeks of pregnancy, the growth of your baby can be both daunting and delightful. Before the diaper changes, early morning feeds, and your baby's major milestones, the first step is getting through your pregnancy.
Learning that you are pregnant can come as a surprise or as an expected gift. Either way, it will be an exciting ride. In preparing for your pregnancy, you may want to know what happens at every week, how your baby is growing, what you should eat, what check-ups you should have and other factors like exercise.
No matter what questions you may have, understanding and knowing about your pregnancy can assist you in making informed decisions that benefit both you and your unborn child. Pregnancy will change your emotions, your hormones, your body and your entire life. But the process does not have to be an intimidating one. The following article will help to put your mind at ease as we explore the basics of pregnancy on a week-to-week basis and answer some of the tricky questions you may have but are sometimes too embarrassed, or even not sure how to ask them.
Bear in mind that this information should serve as a guideline to inform you on the growth of your baby and what to expect at each week. Each week will be explored with a detailed analysis of the growth of your baby and other changes in your life that you may be going through.
Every pregnancy is different and every woman will experience the journey with her own ups and downs. Stages that other women found easy, you may experience with more difficulty and vice versa. The best idea is to speak to your doctor about any questions you may have and any information you require, they will be happy to help you and aid in making the journey of pregnancy as healthy and calm as possible, for your sake and the baby's. Welcome to the biggest adventure of your life, welcome to the beginning of parenthood, welcome to your pregnancy...
The stages of pregnancy explored week by week
How did I fall pregnant?
When you are born, you have about one to two million eggs (oocytes), each woman has a specific amount of eggs. These will begin to die off and are released with each menstrual period, your eggs are not replaced. In total, you will release about 400 eggs until you reach menopause, which is normally between ages 45 and 55.
At the middle of your menstrual cycle, this is normally between the ninth and 21st day of a 28-day cycle, your egg will reach maturity in one of the two ovaries. This egg is then released and goes into one of the fallopian tube openings, which are two canals that lead from the ovaries into the uterus.
This release of a mature egg is known as ovulation. This egg will only last for about 24 hours once you have started ovulating, therefore, it will need to be fertilised soon after ovulation in order for conception to take place.
If this mature egg is met with a healthy sperm on its journey to the uterus, the two will join in most cases, and the process of life will begin. If not, then the egg will end its lifespan when it reaches the uterus, where it will either be absorbed or dissolve. If conception does not happen during ovulation, then your ovaries will eventually stop making progesterone and oestrogen, which are the pregnancy hormones, and the thickened lining of the uterus, which was preparing to host a fertilised egg, will begin to shed, this is known as your period or menstrual cycle.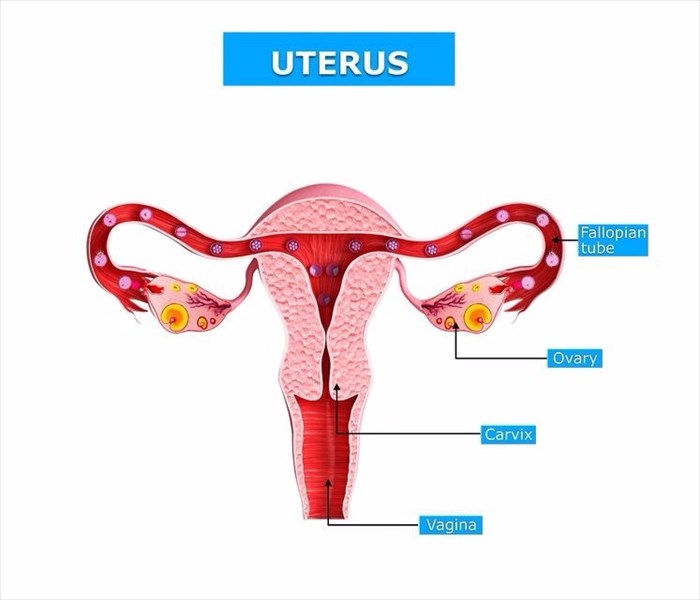 First trimester - weeks 1 -13
The first trimester starts when your egg has been fertilised and implanted. At this stage, your baby is a small embryo, which is two cell layers, from which all the body parts and organs will form. Your baby will grow quickly during this stage and will soon be the size of a kidney bean, and will be moving a lot, although you will not feel these movements. Your baby's heart will be beating and the intestines will begin to form. The eyelids, earbuds, nose and mouth will begin to take shape in the first trimester.
Week 1
Overview
During your first week of pregnancy, you are in actual fact not pregnant yet. This may seem confusing, but the way it works is that your doctor will begin to track your pregnancy from the date of your last period. At this point in time, your body is preparing itself for when you do fall pregnant. Your potential pregnancy will begin in your ovaries, these are two almond-like glands that are attached to the two sides of the uterus.
Your uterus is now thickening in order for it to feed and house your fertilised egg from the moment it implants to the uterus wall. Now it is time to have patience and take extremely good care of yourself, there are still a number of weeks to go and the journey is just beginning. So, in conclusion, you are not really pregnant during your first week of pregnancy, but the date your doctor will take in order to get an idea of the date of birth is from the end of your last menstrual period.
Week 2
Overview
At this stage, you may not feel different, but you are currently at your most fertile time of your menstrual cycle, this means you are ovulating!
If a sperm has managed to fertilise an egg in the fallopian tube as it makes its way to the uterus, then you are likely to conceive. If an egg is fertilised, then you may experience some light spotting a few days after this (although not everyone experiences this). This can often be mistaken for your period, but it is in actual fact a sign that the fertilised egg has now attached and implanted in the lining of your uterine wall.
Your baby's development at this stage
You may not be pregnant just yet, however, you are about to release a mature egg that has the potential to grow into a baby.
In the previous week, your body increased the levels of oestrogen and progesterone released. These hormones were pumped through your blood stream and in turn, told your uterus to produce a nutrient-rich, lush lining of blood-filled tissue in order to support the potentially fertilised egg. While this was all happening, eggs in your ovaries were maturing in sacs filled with fluid, these are called follicles.
At around day 15 of your 28-day cycle, this is at the beginning of week two of your pregnancy, you will begin to ovulate. When you are ovulating, an egg will break away from its follicle and be sent into one of the fallopian tubes. Your day of ovulation can often vary, for example, it may occur at any time between the ninth and 21st day of your menstrual cycle.
Your egg will be fertilised if a sperm that is ejaculated manages to fertilise it within 24 hours. About 250 to 300 million sperm are present in one ejaculation and swim from your vagina into your cervix, which is normally tightly closed, but during ovulation, the cervix will open slightly allowing for an easier passageway for the sperm. The sperm that does not make it will either flow out of your vagina or perish in its acidic environment. The sperm who survive have protective elements in their surrounding fluid. Upon entering the cervix, some of the sperm may be destroyed by the female body as they are recognised as invader cells.
The sperm will then travel through to the uterus and finally, the fallopian tubes. The sperm will divide in half before entering the fallopian tubes, one of which contains the egg and one that is barren. In the fallopian tube with the egg, one of the sperm will win the battle of the fittest and meet with your egg. Out of the 250 to 300 million sperm, only around 400 or so will survive the 10-hour trip to the egg, and from there, only one will be able to burrow in through the outer membrane of the egg. The journey of a sperm to an egg is an epic one and one that is met with incredible odds. Once a sperm has merged with the egg, the egg will change its membrane becoming impenetrable, no longer allowing any other sperm to enter it.
In the case of fraternal twins, two eggs are fertilised by different sperm. With identical twins, the fertilised egg, known as the ovum (fertilised by a single sperm), will split into two eggs to form two babies with the exact same genetic code.
In the following hours, normally between 10 and 30, the nucleus of the sperm will merge with your egg's nucleus and their genetic material will be combined. If the sperm is carrying an X chromosome, then the baby will be a girl, if the sperm is carrying a Y chromosome, then you will have a boy. When the female genetic code merges with the male genetic code, this instantly forms a unique combination of genes that will determine, along with gender, the baby's eye colour, hair colour and hundreds of further characteristics.
The fertilised egg will now travel from the fallopian tube into the uterus. On this journey the egg, which is now known as a zygote, meaning that it has merged with a sperm, will divide itself to form 16 cells that are identical. As soon as the egg has entered the uterus, it is known as a morula. To recap, the stages of development of the oocyte (egg) progress from an ovum, to a zygote, to a morula. After a day or so of being in the uterus, the morula will start to burrow into the uterine lining and continue its journey of transformation and growth.
So, at week two, your little baby is just a small ball of cells, this ball of cells is scientifically known as a blastocyst. This means that it has a cell mass on the inside of it that will eventually develop into the embryo, and a cavity that is filled with fluid and will develop into the amniotic sac.
The placenta forms from an outer cell mass, this is the organ that will deliver nutrients and oxygen to your baby that is vital to sustain life and also remove any waste products.
Changes in your life as your baby grows
It should be pretty clear by now that there are a number of factors that need to take place in order to conceive, therefore, timing is crucial. If you want to better your odds, then try to have sex in the two days before you ovulate and then once again on the day that you ovulate. It is best to ensure that you and your partner have enough time to make love and do not have to rush.
It is also beneficial to do some research if you are trying to conceive. Find out about how to detect and pinpoint your day of ovulation and also find out how many times it will take to get pregnant. Some couples may need a few more attempts than others.
Make sure you speak to your gynaecologist or family doctor to ensure you and your partner are able to conceive and do not have any issues.
The majority of babies are born after about 38 weeks from conception (when the egg is fertilised), however, because it is often difficult for your doctor to pinpoint the exact date of conception, assuming your menstrual cycle is 28 days, your doctor will count the number of weeks from the date of your last menstrual period. After having an ultrasound, the expected date of birth will be more accurate.
Tests and what to do at this stage
If you are successful in conceiving, then you will get a positive result on a pregnancy test at home. As a rule of thumb, in order to obtain the most accurate result, you should only take a home pregnancy test a week after you miss your period. However, some home pregnancy tests are only accurate after three weeks. A positive result can be followed up with a blood test to confirm your results.
Your doctor may recommend you have a genetic carrier screening test to detect if you or your partner have inherited any illnesses that may be passed onto your child. Speak to your doctor about whether or not you should stop any prescription or over-the-counter medication you are currently taking (this includes herbal and natural supplements). Of course, by now, you would have stopped any birth control pills (and if not, and the pregnancy occurred accidentally, you should). It is best that you also stop smoking or drinking entirely at this stage.
The first sign of pregnancy – breast changes
Tender and swollen breasts are normally the first indicator of pregnancy, this may also be accompanied by feelings of fatigue. From the moment of conception, your breasts will begin to prepare for their vital job of producing breast milk. Have a look at our article on the symptoms of pregnancy to find out more about them.
Week 3
Overview
Congratulations, at week 3 you are finally pregnant! By now, there has been a momentous meeting that has happened inside of you, where the single sperm, through a journey like no other, has finally managed to merge with your egg and fertilise it. A few days later, your fertilised egg is now in the uterus and has begun to burrow into the uterine wall – your baby is in the process of being formed.
Your baby's development at this stage
Your baby, which is now just a small ball of cells, known as a blastocyst. Inside of this blastocyst, there are a couple of hundred cells busy multiplying at a rapid pace as your baby begins to develop and grow. The part of the blastocyst that will form into the baby's placenta has begun to produce the hormone known as the pregnancy hormone, human chorionic gonadotropin (hCG). This informs your ovaries that they do not need to release any more eggs, and the production of oestrogen and progesterone are triggered. Oestrogen and progesterone are responsible for not allowing the uterus to shed its lining, as well as the egg that has now attached to the lining and also stimulate placenta growth.
While all of this is happening, amniotic fluid has begun to form around the blastocyst, that will soon turn into your baby's amniotic sac. This is a cushion-like fluid that will protect your baby in the upcoming months.
During this stage, the blastocyst is receiving nutrients and oxygen, as well as discarding any waste through a simple circulation system that is made of tiny tunnels connecting the blastocyst to blood vessels in the wall of the uterus. The placenta will only be at a point of development to do this job at the end of your fourth week.
Changes in your life as your baby grows
Now that you are finally pregnant and have a little baby inside of you, you should:
Stop smoking (also avoid second hand smoke)
Stop drinking alcohol
Avoid caffeine
Avoid any illegal drugs
Speak to your doctor about any prescription or other medications you may be taking
Inform your dentist or any other specialists that you are pregnant
Drink plenty of liquids and water
Stick to a healthy and nutritious diet
Tests and what to do at this stage
If you haven't already done one, you should do a home pregnancy test. If you have a positive result, then make an appointment to see your doctor and speak to him or her about preparing for pregnancy.
You should also be taking a prenatal vitamin that contains about 400 micrograms of folic acid, this can be bumped up to 600 if you are officially pregnant and this should be taken daily.
What should I eat when I am pregnant?
The phrase "you are what you eat" should be old news by now. Therefore, your diet has a direct impact on the health of your unborn baby. As well as this, what you eat in the next nine months will have an impact on your own as well as your baby's health for the next few years. The easiest way to go about eating for pregnancy, is to follow these 10 steps:
Make sure you are getting enough folic acid – This is important when you are trying to conceive and when you are actually pregnant.
There is no such thing as eating for two – Speak to your doctor about how much weight you can expect to gain through the pregnancy, this is normally due to the size of your baby and the amount of blood in your body increasing and should not really be due to gaining fat due to poor eating choices or "eating for two".
Make sure you include omega-3 fatty acids in your diet – These are found in fish and in tablet form and can help in the development of your baby's brain, vision, motor skills and memory in their early childhood.
Stay clear of alcohol – This should already be pretty clear as alcohol can have adverse effects on the development of your baby and regular consumption may result in foetal (fetal) alcohol syndrome.
Try to avoid raw foods – Raw fish, eggs, meat and unpasteurised milk can contain a harmful bacterium such as E. coli and Salmonella. This kind of bacteria can have a negative impact on the development and birth of your baby.
Make sure you get enough iron – When you are pregnant you will need about double the amount of iron you usually would, which is about 30 milligrams a day. This helps to support your blood volume increase and also benefits your baby enabling him/her to get enough oxygen as iron helps to transport oxygen.
Follow a high fibre diet – Make sure you are eating enough fresh fruits and vegetables and trash any junk food that has a high sugar or oil content. Fruits and vegetables are packed with minerals and nutrients that your baby will greatly benefit from.
Week 4
Overview
Your baby, or rather, embryo, has finally attached to the lining of the uterus and now the real work starts. The cells inside of the embryo are quickly dividing and exciting things are happening!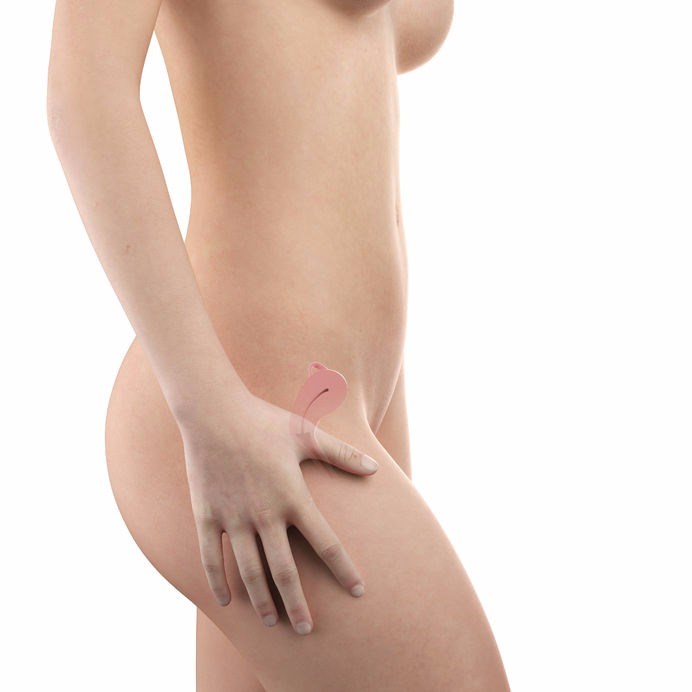 Your baby's development at this stage
Week 4 marks the start of your embryonic period. Your baby's organs will now start to develop up until week 10, and some of these organs will also begin to work and function. Therefore, your baby is very susceptible and vulnerable to anything that may interfere with his or her development. At this point in time, your baby is the size of a poppy seed (i.e. 2mm) and the embryo consists of two different layers, one being the epiblast and the other being the hypoblast. These two layers will allow for the vital organs and other parts of your baby's body to develop.
The placenta at this point is known as the primitive placenta and consist of two layers whose cells are creating areas for your baby to get the oxygen and nutrients it needs in order to grow. The amniotic sac is also present at this stage and will, with the help of the amniotic fluid, provide cushion-like support for your baby, there is also a yolk sac that will produce the red blood cells (RBCs) for the embryo and deliver any nutrients needed until the placenta has fully developed and takes over this job.
Changes in your life as your baby grows
The following six weeks are crucial for the development of your baby, therefore, along with a prenatal vitamin, you should adjust your diet and lifestyle to be that of a healthy one. Whatever your body is exposed to, your baby is too.
The common early symptoms and signs of pregnancy might include the following:
Missing your period for over a week or more may mean that you are pregnant
Having breasts that are swollen or tender
Feeling nauseous (this can be associated with or without actual vomiting)
Experiencing an increase in urination
Suffering from fatigue.
Tests and what to do at this stage
If your home pregnancy test does not have a positive result, give it a few days and try the test again. If you are over the age of 35, then you may have passed your prime child-bearing age and a missed period may be an indication of hormonal changes in the body. But, this is no cause for concern, speak to your doctor about methods to increase your fertility. These can include home and lifestyle changes, as well as a number of other medical approaches.
If you are pregnant according to your home pregnancy test, then make an appointment to see your doctor to confirm with a blood test. Make sure you also find out from your health care insurance in regard to what you are covered for.
Week 5
Overview
At this stage, your little baby is just a collection of tiny tubes, however, these tubes have very important purposes, such as forming the brain and the heart. As your baby continues to grow, your pregnancy symptoms will increase.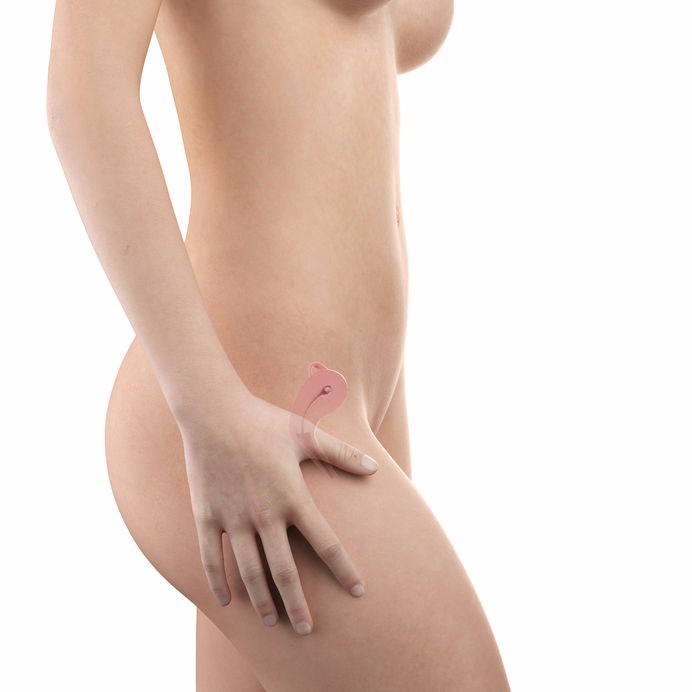 Your baby's development at this stage
Inside of your uterus, your embryo is rapidly growing and developing. Your baby has grown from the size of a poppy seed (2mm) to a sesame seed (3 to 4mm) and resembles something like a small tadpole, rather than a small human. Your embryo now consists of three layers, these are:
The ectoderm (outer layer)
The mesoderm (middle layer)
The endoderm (inner layer)
These three layers will form the organs and tissues later on.
The top layer is the ectoderm. The embryo's neural tube will form into the spinal cord, brain, backbone and nerves will sprout from this tube which is found in this top layer. This layer also gives rise to the nails, hair, skin, sweat and mammary glands, as well as the tooth enamel.
Your baby's circulatory system and heart will also start to form in the mesoderm layer, this is the middle layer. In the fifth week, the tiny heart will start to divide into the chambers and begin to pump and beat the blood. This middle layer will also be responsible for forming the baby's muscles, bone, cartilage and the tissue that is found under the skin which is known as the subcutaneous tissue.
And finally, the endoderm, which is the third layer, will be responsible for housing the intestines, thyroid, pancreas, lungs and the urinary system. For now, the umbilical cord, as well as the primitive placenta, will be delivering the oxygen and nutrients to the embryo.
Changes in your life as your baby grows
The typical symptoms of pregnancy are likely to be present in their full form at this point. Sore breasts, frequent urination, fatigue and morning sickness (although this is not experienced by every woman) are probably part of your daily life at this stage. In spite of all this, your body will not be showing a baby bump yet.
Tests and what to do at this stage
Speak to your doctor about developing an exercise routine or continuing your existing one and the level of intensity at which to do so. If you are battling with morning sickness you may wish to put your exercise regime on hold until the nausea has subsided.
It is important to exercise as regularly as possible when you are pregnant as this will help you to develop the endurance and strength you will need with the extra baby weight you will be carrying around in the later months. Exercise can also help you to manage any aches or pains you may be experiencing. Walking and swimming are some great choices if you are pregnant.
Speak to your doctor about what exercises are best and which to avoid. Exercise during pregnancy has a number of positive effects on your life, as well as affording your body the ability to bounce back a lot quicker after birth if you have been following a good exercise routine.
Week 6
Overview
A little miracle is beginning to form as your baby's heart is starting to beat for the first time. Your baby may still look like a tadpole, but not for much longer as his or her human features are starting to form.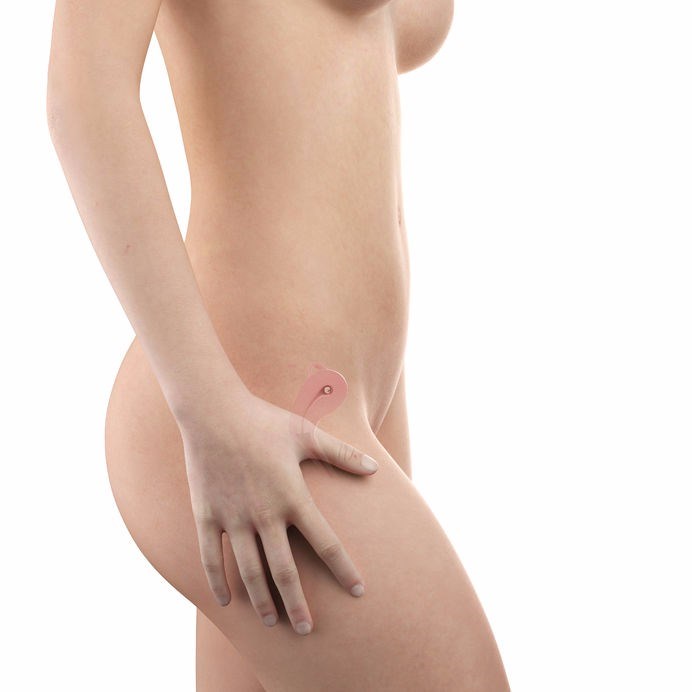 Your baby's development at this stage
Your baby's mouth, nose and ears are starting to form. Your baby now has an oversized head with dark spots for the nostrils and eyes as they are beginning to form. The little ears are also starting to emerge and protruding buds from the body are forming for the legs and arms.
His or her little heart is currently beating at around 100 to even 160 beats a minute, this is about twice as fast as your heart. With blood now coursing through the embryo's little body, further tissue, as well as the intestines, are forming. The tissue that will later develop into the lungs has also appeared.
Your baby's pituitary gland is also forming, as well as his or her muscles, bones and brain. Your baby is about a quarter inch in size, which is 0.6 centimetres, so he or she resembles something the size of a lentil.
Changes in your life as your baby grows
Feeling moody is normal at this stage. Feeling unsettled, particularly if you take pride in having control, is also normal as your body goes through changes that you have no control over. Your hormones are fluctuating and your body is changing which can often make you feel very emotional.
If you experience any spotting or light bleeding, this should not be a red flag, as this is to be expected during your first few weeks of pregnancy. However, to be on the safe side, always check with your doctor if you do see any spotting as this can sometimes be the initial signs of an ectopic pregnancy (when the egg implants outside of the uterus) or a miscarriage.
Morning sickness will also be experienced in full-force at this stage. While this may not feel very good, researchers have found that nausea experienced during pregnancy is actually a good thing as it generally means your body is going through the expected changes of a healthy pregnancy. That said, every woman is different, and not everyone experiences full blown morning sickness, and many who don't still have healthy pregnancies.
Tests and what to do at this stage
You are likely to be feeling extremely tired at week 6. It can help if you try to include 20-minute power naps into your day to help ease the fatigue.
If you haven't already done this, then you should make a prenatal appointment and ask your doctor any questions you may have about your pregnancy. Your doctor will also ask you about any genetic abnormalities or chronic conditions you may have in your family, both immediate and extended. It helps to prepare a list before your visit so as not to forget anything.
Testing for any listed abnormalities will be done at a later stage but your doctor still needs to know as much as possible early on in your pregnancy in order to know what to look for and also so that any necessary precautions, where applicable, can be taken to ensure a safe and healthy pregnancy. Your doctor will typically inform you of your due date, granted you know when your last period ended.
How to prepare for your first prenatal visit:
Bring any prescription medications you are currently taking with you to the appointment
Have a look at a calendar and try to determine when the last day of your period was
Consider any prenatal testing you may want to have done, these often come at an extra cost (so if you have medical insurance it is advisable to check if these tests are covered beforehand).
Write down all the questions you may have in order to put your mind at ease with educated answers from your doctor
What will happen at your first prenatal appointment:
The doctor will ask you about your physical and emotional changes you have experienced
The doctor will check your blood pressure, weight, diet, urine and measure your abdomen
Your doctor may conduct a transvaginal ultrasound to get a visual of the developing embryo and will also listen for the baby's heartbeat
At the end of the visit, the doctor will discuss any concerns and findings from the visit with you and help prepare you for the next nine months
Week 7
Overview
Getting into your second month of pregnancy, more and more changes are happening inside of you as your baby's limbs are beginning to form.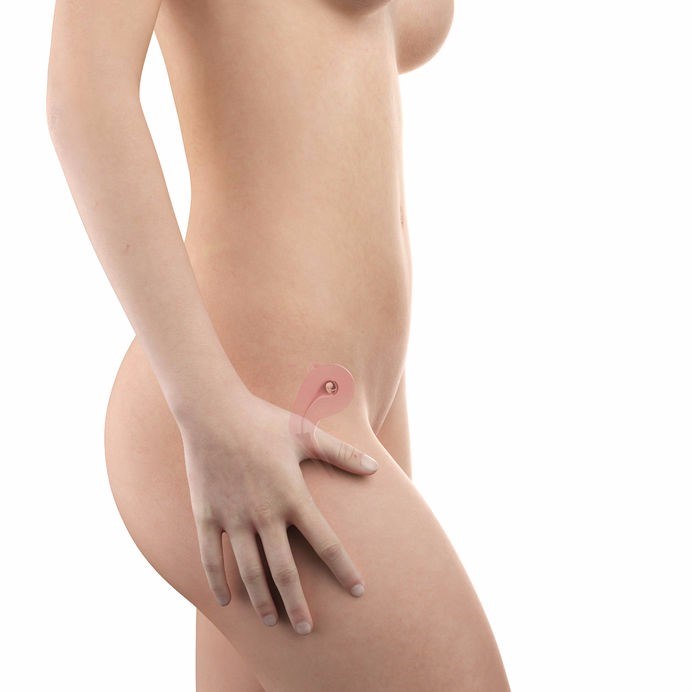 Your baby's development at this stage
The biggest areas of growth this week are your baby's feet and hands which are starting to form from legs and arms that are continuing with their development. They do, however, resemble something like paddles right now rather than tiny toes and fingers.
Your baby is still considered to be an embryo and even has a tiny little tail, this is just an extension of the tailbone or coccyx. This little tail will soon disappear in the next couple of weeks, this is the only thing that starts to get smaller, every other part of the embryo will continue to grow.
The embryo's eyelid folds are partially covering the eyes, which are starting to form some colour. The tiny tip of the nose is beginning to bud and little veins are showing beneath the skin that is parchment-thin. The hemispheres of the brain are also growing and the liver is creating red blood cells until the bone marrow is formed and will take over this role.
The pancreas and appendix are also forming, the pancreas will eventually create insulin which will aid in the digestion process. There is a loop in the growing intestines which is starting to bulge into the umbilical cord, the umbilical cord is the direct link you have to your baby which carries nutrients and oxygen to feed the embryo.
At week 7 your baby is roughly the size of a plump blueberry (about 1cm).
Changes in your life as your baby grows
In the last five weeks, your uterus will have doubled in size and this may make eating feel strenuous, morning sickness also doesn't help with this.
Your urination will increase even more as your blood volume has increased and extra fluid is being processed through the kidneys. At this stage, you will have about 10% more blood than you had before you were pregnant. At the end of your pregnancy, you will have about 40 or 45% more blood that will be running through the veins trying to meet the needs of your full-term baby. As the uterus is growing, it will also put pressure on your bladder and make you feel as though you need to urinate more often.
Tests and what to do at this stage
If you work, pay a visit to the human resources department within your company to find out what their rules and regulations are around maternity leave.
Your belly is likely to start showing a bit of a baby bump at this stage, as a keepsake, start taking progress photos of your growing belly. Try to stand in the same spot with the same pose to really show an accurate progress. Even if you don't have the baby bump yet, it is good to have a 'ground zero' keepsake photo.
By now you also would have seen your doctor for your first prenatal visit.
Week 8
Overview
At this stage, you may not exactly look pregnant, but you will feel it. Your morning sickness will now be at its worst (unless you are a pregnancy unicorn and don't suffer from morning sickness), you will also be feeling extremely tired. Your baby has now grown from an embryo to a foetus and is about 1.6 centimetres (0.63 inches) from the rump to the crown, being roughly 1g (0.035oz) in weight.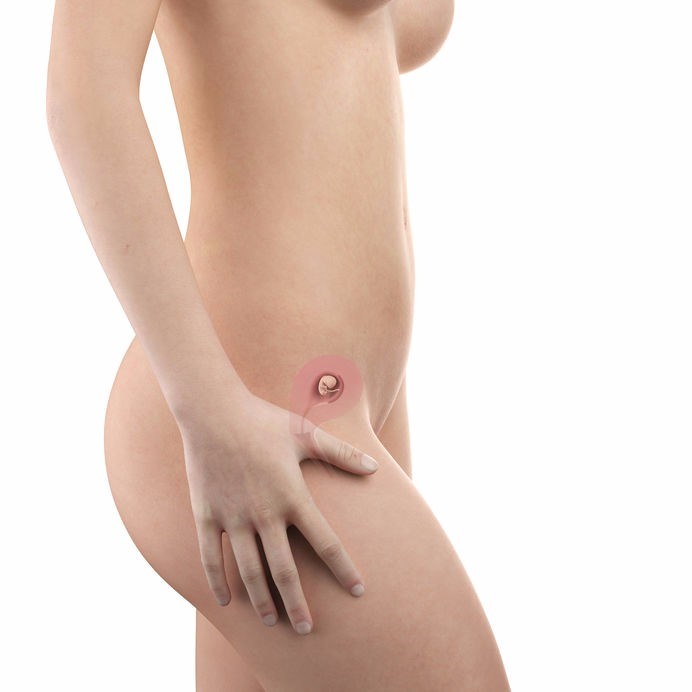 Your baby's development at this stage
Your foetus' feet and hands have started to form webbed toes and fingers, with the eyelids nearly covering the eyes completely. The little tail has nearly completely disappeared and the breathing tubes now extend from the throat, branching into the lungs that are still developing. The nerve cells in the brain are starting to connect with each other, this forms the neural pathways that are still in their primitive stages.
The genitals are not yet formed to be able to determine the sex of the baby. Your baby, now constantly moving, which you are still unable to feel, is the same size as a kidney bean.
Changes in your life as your baby grows
You may need a larger bra soon as your current one starts to get a bit tight as your breasts grow due to hormonal changes. Try to also get a bra that offers support. Your breasts may even continue to grow through the next couple of months, bear this in mind when choosing a new bra.
A rise in your progesterone levels can leave you feeling fatigued and sluggish. Going through the fluctuating levels of nausea associated with morning sickness may also add to you feeling tired. It may also be difficult to sleep well due to your frequent need to urinate.
Tests and what to do at this stage
You are likely to have gone for your first prenatal test. After this, you may want to, or your doctor may suggest that you have prenatal screening tests conducted in order to determine the health risks your baby may have.
It is best to always speak to your doctor about screening tests in your first trimester. Tests are normally done depending on the week of your pregnancy. Below we will briefly explain some of the tests available to you in your first trimester.
Here are your options of diagnostic tests that are conducted in your first trimester:
Screening tests in the first trimester – There are a few screening tests that you will have done during your first trimester. These include a blood test that will help the nurse or doctor determine your blood type, as well as your rhesus (Rh) factor and also screen for anaemia, check for your immunity against German measles, as well as your HIV status or for the presence of any other sexually transmitted diseases.

You will also have a special ultrasound known as an NT (nuchal translucency) test. This is normally done between the 11th and 13th week of your pregnancy. The blood test is often done earlier than this. The first trimester screening tests will allow you to obtain information on your baby's chances of having conditions such as Down syndrome. These kinds of screening tests are risk-free and often help you to determine whether or not you would like to have an invasive diagnostic test conducted, one of these being a CVS (chronic villus sampling), however, this has a risk of inducing a miscarriage.

Non-invasive prenatal testing (NIPT) – This is an alternative to having a blood test and can also detect Down syndrome, as well as some other chromosomal conditions. This is normally done at about 10 weeks. This kind of testing does not give a definite diagnosis, however, it is non-invasive and is therefore considered a screening test.
Chronic Villus Sampling (CVS) – This test, which is known as a diagnostic test, requires the collection of placenta cells, which are then sent to the lab to be analysed genetically. This test can determine whether the baby has any abnormalities in its chromosomes and is conducted normally between the 10th and 12th week of your pregnancy.
Amniocentesis - Another invasive test is known as amniocentesis, this is conducted between the 16th and 20th This is also known as an amniotic fluid test and can be done to determine the sex of the baby, pick up any infections the baby may have, as well as other abnormalities. A small amount of the amniotic fluid is taken and sent to the lab for testing. It does carry a slight risk of a miscarriage in the second trimester (less than 1%).
Week 9
Overview
Your baby's little tail is gone, and in the place of his or her tail, are too tiny legs. Your baby's head may appear abnormally huge at this stage, when compared to their body, however, this will all even out in the following weeks.
Your baby is about 2.3 centimetres (0.9 inches) from rump to crown, weighing in at 2g (0.071oz).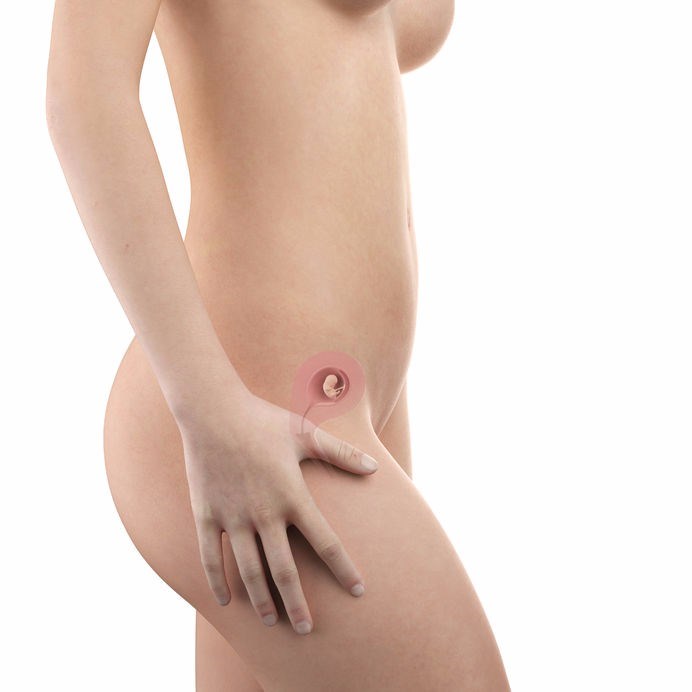 Your baby's development at this stage
Your little baby is now about the same length and width of a grape. His or her heart is now divided into the four chambers and the valves have started to develop, as well as the little teeth. The little muscles, organs and nerves are also starting to work. The sex organs have also developed however, these are too small to be picked up on an ultrasound to determine the sex of your baby at this stage, this will still take a few weeks or so. The little eyes are now also fully developed, but the eyelids have now fused closed and will not open until week 27. The placenta has also formed and is now producing the hormones needed for your baby.
Basically, your little baby's initial physiology has formed and he or she is ready for rapid growth and weight gain – get ready to grow
Changes in your life as your baby grows
At this stage, you might not look pregnant just yet, but your waist is most likely thickening in size a bit. However, you will certainly feel pregnant at this stage. The symptoms of pregnancy are now in full swing and morning sickness is something you are probably used to right now. You may also feel like an emotional wreck at times, with constant mood swings that seem to have no reason as to why they are even happening. And that is totally alright! These mood swings will ease a bit in the second trimester.
Tests and what to do at this stage
It is advisable to eat calcium-rich foods at this stage so as to help your baby's bones to develop and build. Try to start a daily routine with your baby to help the two of you to connect. Just set aside a certain amount of time every day to sit and talk to your baby. Or simply place your hands on your belly and focus on your breathing and relaxation. This will reap benefits for both you and your baby, in your baby connecting with you and you having some time to take a breather.
Week 10
Overview
With the tail now gone, your baby's webbed fingers and toes have now formed into normal ones, without the webbing! Your baby has now gotten to the point where the critical part of his or her development is completed. He or she should be around 3.1 centimetres (1.22 inches) from rump to crown, and weighs about 4g (0.141oz).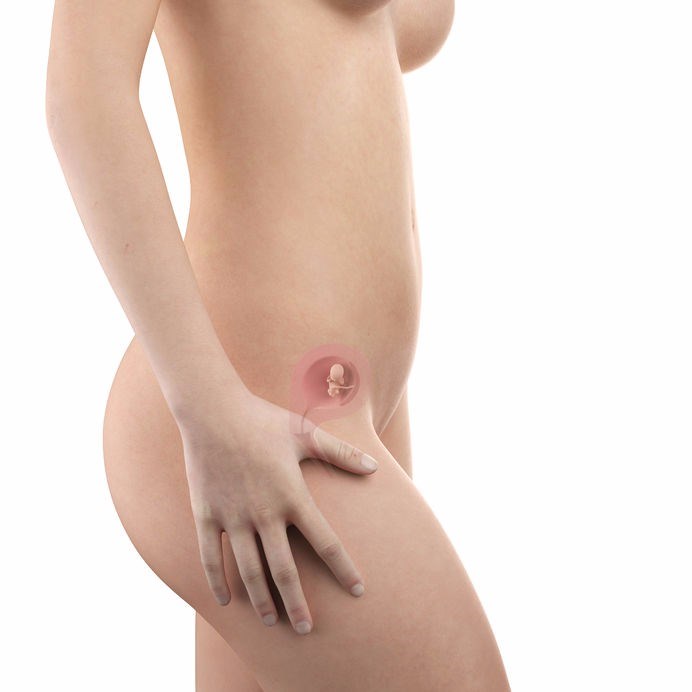 Your baby's development at this stage
Your baby is a little over the size of a kumquat (a little smaller than a prune) and has now begun the period known as the foetal period. This is the time where the organs and tissues are rapidly growing and maturing.
Your little one has started to swallow fluid and should be moving and kicking quite a bit by now. The important organs, being the intestines, brain, liver and kidneys, the liver is now producing red blood cells to take the place of the yolk sac that will soon disappear, are in their right places and beginning to function. All of these organs will also continue to develop as your pregnancy progresses.
There are also tiny nails that are forming on the toes and fingers and your baby is starting to grow some hair on its skin.
Some other developments include your baby now being able to bend his or her limbs, with the hands being in a flexing position from the wrist. Through the skin, as it is still translucent, you can see the outline of the spine, as well as the spinal nerves that are stretching out from the spinal cord.
There may also be temporary bulges on the baby's forehead and the brain, which is still developing and is not sitting very high up in the head.
Changes in your life as your baby grows
You may need to start shopping for some maternity wear as your uterus is starting to increase in size. Elastic waistbands in pants and skirts will often be the most comfortable to wear right now. You may want to also do some research into bras for pregnancy and possibly invest in some breastfeeding bras (or start saving to).
Tests and what to do at this stage
During your next prenatal check-up, you will probably be able to listen to your baby's heartbeat as your doctor will use a special handheld ultrasound machine known as a Doppler. This will be placed on your belly and you will now, for the first time, be able to hear your baby's heartbeat.
Remember to also keep at your regular exercise routine (which you should have developed and been sticking to by now). Exercise during pregnancy helps promote strength, endurance and muscle tone.
Try to also drink enough water and eat a lot of fibre in order to prevent constipation.
Speak to your doctor and do some research in your own time on infections that can develop during pregnancy. The three most common ones to watch out for are:
UTIs (Urinary Tract Infections) – These are very common bacterial infections that can develop during pregnancy, a UTI is also known as a bladder infection. Doctors have noted that the high amount of progesterone that is present in the body during pregnancy may be a contributing factor to the infection developing. The common symptoms of these bacterial infections are often marked by a burning sensation when urinating and unusual lower abdominal pain. You may also need to go to the toilet more frequently.

Because some of these symptoms are to be expected when pregnant, it is vital that you speak to your doctor should you suspect any infections may be present as these can pose a risk for both your own and your baby's health. It is best to always be one step ahead and stick to the regular check-ups set up for you by your doctor and discuss any concerns you may have with him or her.

BV (Bacterial Vaginosis) – This is a genital tract infection and is caused by large amounts of bacteria being present in the vagina. These bacteria are normally found in smaller numbers, however, when there is an overgrowth it can result in an infection. The symptoms of BV often go unnoticed, however, signs of a milky white or grey discharge that has a foul smell (often apparent after sex), can be a sign of the infection. You may also experience some irritation, as well as itching in the region of your vagina or vulva. This infection has been known to increase your risk of preterm labour, therefore it is best that should you notice any of these symptoms, you speak to your doctor and get treatment.
Yeast infections – Yeast infections (also known as vaginal thrush) are extremely common infections of the vagina and your risk of developing them is increased if you are pregnant. Yeast infections are caused by microscopic fungi which are found in nearly a third of women. However, these fungi only become an issue when they grow in rapid numbers and overwhelm the other microorganisms in the vagina. When you are pregnant your oestrogen levels are increased and this can result in the vagina producing more glycogen, which makes your vagina a more compatible environment for yeast to grow. Bear in mind that a yeast infection does not pose a risk for your developing baby, however, when the baby is born you may pass the infection to your baby as he passes through your vagina.
Week 11
Overview
Your baby is now becoming extremely active in your womb, however, you can't quite feel any of these movements just yet! He or she is now forming in such a way that the body and head are becoming a little more proportional. Your baby is about 4.1 centimetres (1.6 inches) from his or her rump to crown.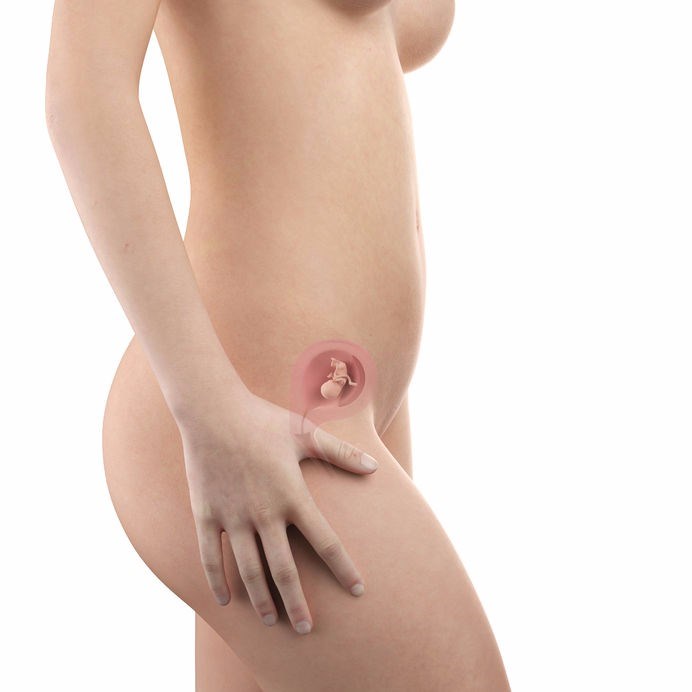 Your baby's development at this stage
Now roughly the same size as a fig and weighing in at 7g (0.247oz), your baby is nearly fully formed, not in size, however. His or her little hands will soon close and form into fists, with small buds of teeth starting to appear under the gums. Some of the bones are hardening and he or she is actively kicking, stretching and moving about in effortless motions.
As your baby grows and develops these movements will appear more frequently and you will be able to feel them in the next month or so.
Changes in your life as your baby grows
You may be experiencing some more energy than usual at this point and your morning sickness is likely to be dying down (hooray!). However, there are some other setbacks that may make an appearance, one being constipation which is a result of the changes in your hormones and their impact on your digestion system, and another being heartburn. Heartburn is a common occurrence for pregnant women as the hormonal changes in the body can relax the valve between the oesophagus and the stomach which allows for stomach acids to come back up the oesophagus which results in acid reflux. Your uterus pushing on your stomach later on in your pregnancy may also cause the acid reflux to worsen.
Tests and what to do at this stage
An ultrasound is typically done between your 11th and 13th week. In some countries, and especially if you have private healthcare cover, an ultrasound may be done at every gynaecological visit.
In public healthcare settings, an ultrasound may only be done if your doctor thinks your baby may be at risk of any chromosomal abnormalities, such as Downs Syndrome, we discussed this earlier in the first-trimester screening tests. Otherwise, your first official ultrasound will be done between week 18 and week 20, however, if you want to know your due date sooner, then you can have one before week 12. This will, however, often come at an extra cost.
You may also want to start thinking about taking birthing classes at this stage.
Week 12
Overview
You are nearly at the end of your first trimester, and with this, your risk of a miscarriage will significantly decrease. It may also be a safe time to tell friends and family that you are expecting too. You may have also put on a little bit of weight at this stage and your baby is starting to look like a mini person, being 5.4 centimetres (2.13 inches) from crown to rump, being a similar size to a lime, and weighs about 14g (0.494oz).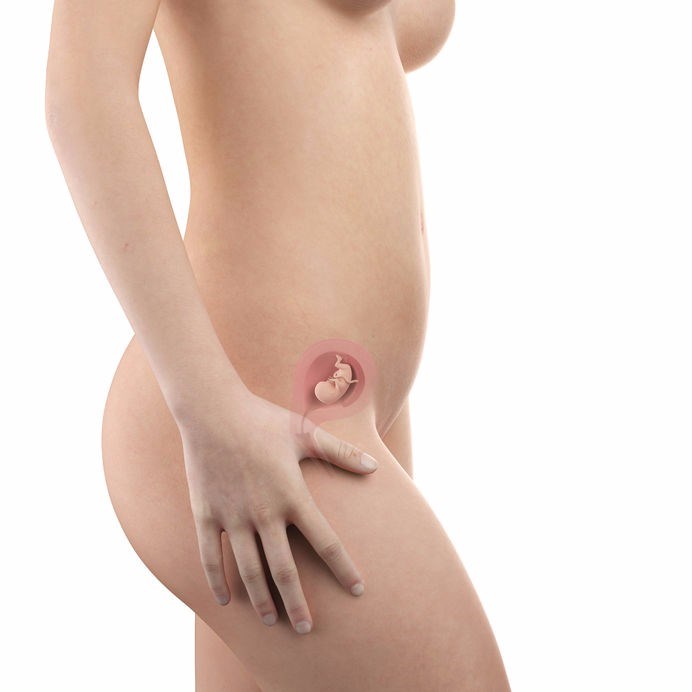 Your baby's development at this stage
Your baby's biggest development at this stage will be its reflexes. His or her little fingers will soon start to close and open, the little toes will begin to curl and the eye muscles will also clench. In addition, the mouth will also start to make a sucking motion, and in actual fact, if you prod your belly a little bit, your baby may give a little squirm in response, but alas, you will still not be able to feel it, yet!
His or her intestines are now growing at a rapid pace, and in doing so, will begin to protrude into the umbilical cord and move into the abdominal cavity at this stage. The kidneys will also begin to excrete urine into the baby's bladder.
In the meantime, the nerve cells are starting to swiftly multiply, and with this, the synapses are also forming in the brain. The eyes have now also moved to the sides of the head.
Changes in your life as your baby grows
Your uterus would have grown quite a bit by now, to accommodate your growing foetus. Your maternity clothes will certainly start to come in handy now and heartburn is something you may also be used to at this week in your pregnancy. It helps to sit up after eating as lying down allows for the stomach acid to resurface more easily. The discomfort of acid reflux or heart burn (these terms can be used interchangeably) can often range from mild to severely uncomfortable. Speak to your doctor about foods to eat and avoid as well as what to take to treat acid reflux.
Remember, being pregnant means that there are a number of medications you can no longer take, certain, stronger painkillers being one of them. Always be sure to speak to your doctor or pharmacist about what options are available to you.
Due to the hormones in your body now being in full-swing, you may also be suffering from pregnancy acne. This is completely normal and should subside in your later months of pregnancy or once your little one is born.
What to do at this stage
Now is a good time to think about a baby budget. You will need to assess how you will handle items such as new baby clothes, the nursery, toys, diapers and other baby gear. It is sometimes best if you start saving now (if you haven't already) for all that comes with having a new baby. Think about possible opening a college and car fund for him or her.
Week 13
Overview
Being 7.4 centimetres in length (2.91 inches), your baby is growing and so are you! Friends and family will soon start to notice your baby bump. Interesting little fact, if you are having a girl (you will find out the sex of the baby at your first ultrasound if the doctor can get a clear view of the genitals), your little girl's ovaries will be filled with about two million eggs at this stage.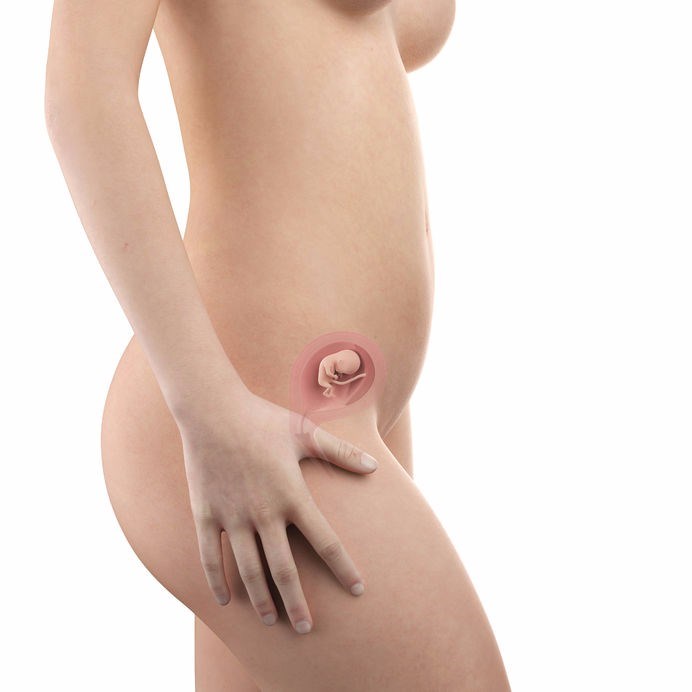 Your baby's development at this stage
The baby's fingerprints are now forming and the organs and veins are visible through the still translucent skin. Your baby is getting more and more proportional as its body is starting to catch up to the size of the head, the head is now only about a third of his or her body size. Your baby is now roughly the size of a sugar snap pea, or a pea pod and weighs about 23g (0.811oz).
Changes in your life as your baby grows
Congratulations on reaching the final week of your first trimester, you can also breathe a sigh of relief as your risk of miscarriage has now officially dropped. The following week will mark the beginning of your second trimester, which is seen as a relative time of comfort for many women as their early pregnancy symptoms of morning sickness and constant fatigue will begin to subside.
Your baby's birth is still a few months away, however, your breasts may already be making colostrum, which is a nutrient-rich liquid that will feed your baby for the first couple of days after his or her birth, before your normal breastmilk begins to flow. This will also protect your vulnerable newborn against any potential diseases.
You may also want to be flossing your teeth every time you brush as your plaque build-up can sometimes be worse during pregnancy as your changes of hormones can leave your mouth more vulnerable to plaque and bacteria.
Tests and what to do at this stage
It may help if you start doing water exercises at this stage as these can help in strengthening your abdominal muscles and the buoyancy of the water may be easier for you to perform exercises in as you are now carrying extra weight. In doing so you will be provided with deeper stretches and reap the toning benefits thereof.
You will now need to focus a lot on healthy eating and signing up for a child birthing class if you wish to attend these (although you should be doing both of these things already).
Eating tips:
There is no such thing as eating for two. We've mentioned this previously but it bears repeating. If needing to eat for two was true, it would mean you would need to have a fully-grown adult inside of you. Your baby is tiny at this point, and therefore does not need a lot calorie wise, but he/she does need a lot of the RIGHT stuff. In the first trimester, you will not need any additional calories, in the second trimester you will need about 340 extra calories a day and this will be increased to 450 to 500 in the final trimester. It is always best to speak to your doctor or your dietician about this. You may want them to develop an eating plan for you to help you to stay on track and curb any cravings you may have.
Make sure you are drinking enough water. The best way to determine whether or not your fluid intake is right, is it look at the colour of your urine. If it is a dark yellow in colour, then you need to drink more, if it is clear or a pale-yellow, then you are consuming the right amount.
Eat your proteins. You will need to be consuming about 71g (2.504oz) of protein a day. This can be found in the form of eggs, dairy, lean meats, nuts and beans.
Ensure you are getting about 27 milligrams of iron a day. The best source of iron is found in lean red meat. If you are a vegetarian however, then you can find iron in vegetables such as spinach and legumes. The absorption of iron is enhanced through vitamin C - rich foods, these include citrus fruits, strawberries and supplements.
Calcium is another vital nutrient. You should be getting about 1,000 milligrams of calcium a day as your baby will need this to form his or her teeth or bones. If you do not consume enough of this, then your baby will absorb what is needed from the calcium that is stored in your bones.
**My Med Memo: A prenatal vitamin can aid in filling in the nutritional gaps you may have in your diet, however, it cannot take the place of eating healthily. It is important that you do not see a prenatal vitamin as a replacement supplement, but rather as an added benefit for your baby. It also aids in digestion and can help in the prevention of constipation.