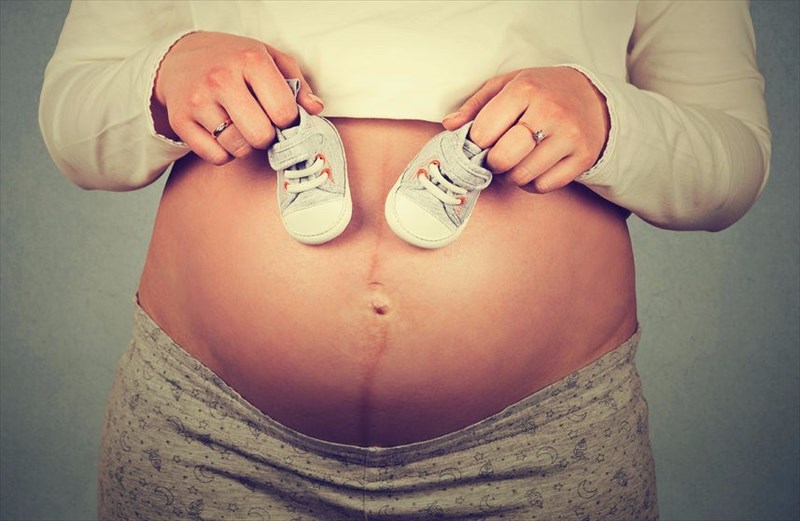 Third Trimester -Weeks 27 - 40
Your baby can now blink its little eyes and is also sporting a nice set of lashes. The once-wrinkled skin is starting to smooth out as your little one is starting to put on some fat. Billions of neurons in the brain are being added and fingernails and toenails are developing. Your baby's final weeks in utero are mostly spent putting on weight.
Week 27
Overview
At 27 weeks, your baby is weighing in at 875g (30.865oz) and is about 36.6 centimetres (14.41 inches) in length. The organs still have to mature a bit, but overall your little one looks like she or she will at birth (just a smaller version of course).
At this stage, your baby will have started a schedule of sleeping and waking of its own, unfortunately, this routine may not fit into yours, because of this you shouldn't be surprised if you wake up a few times in the night from a kick from your baby.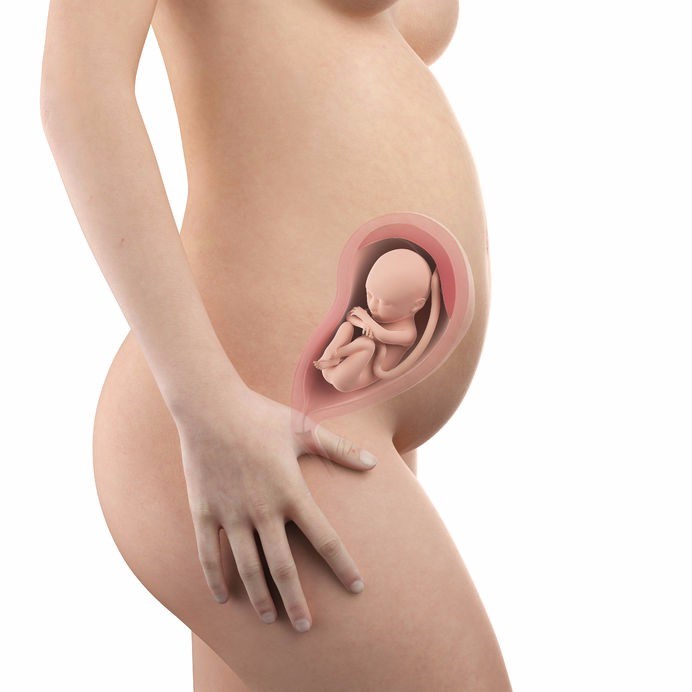 Your baby's development at this stage
Your baby is about the size of a cauliflower head and is developing more and more brain tissue, having a very active brain at this stage. While the lungs may still be immature, they are actually able to function, with medical help, if your baby is born prematurely. If you are feeling any rhythmic movements, these are probably just baby hiccups, which are very common.
Changes in your life as your baby grows
Your third trimester comes with some new symptoms. You may suffer from backache and leg cramps from time to time. Your uterus, which is now expanding at a rapid rate, is putting pressure on the veins that run blood through your legs and to your heart, and also on the nerves that lead from your trunk to legs.
These cramps often only get worse as the pregnancy progresses. Cramps in your legs are commonly experienced at night, if you suffer from a cramp, try stretching out your calf muscle, this may offer some relief. A good way to stretch your calf is by straightening your leg, then gently flexing your toes towards your shin. Walking around for a couple of minutes also seems to help.
You may want to also start thinking about postpartum birth control. If you have decided that this is your last pregnancy and you are looking into tubal ligation (having your tubes tied), then you will need to speak to your doctor about this as you may be able to have this done during your hospital stay.
What to do at this stage
There are some symptoms that should never be ignored, but it can often be hard to tell the difference between normal pregnancy symptoms and those that are regarded as more serious.
Before reaching 37 weeks, you should be aware of:
Any pelvic pressure, this is the feeling of your baby pushing down on your uterus, lower back pain that you don't normally experience, or more than four contractions felt within an hour, even if these are not painful.
An increase in vaginal discharge or if the type of discharge has changed in some way, particularly if it is watery, bloody or mucus-like, even if it is only tinged with blood and is a slight pink.
The following symptoms can happen at any time and should be reported to your doctor as soon as they are noticed:
The baby is kicking or moving less than normal
Persistent or severe abdominal tenderness or pain
Any vaginal spotting or bleeding or any watering discharge
A burning pain when urinating or not being able to urinate
Suffering from a fever or chills
Experiencing any issues with your vision (seeing spots or having a blurry vision)
Having a persistent or severe headache
Experiencing any unusual swelling in your face, hands, fingers or a sudden swelling in your legs or ankles
Having persistent or severe pain in your calves that does not ease when stretching
Experiencing any trauma to your abdomen
Suffering from frequent dizziness, fainting, a rapid heartbeat or palpitations
Suffering from an itchiness all over your body
Having a cold that gets worse and not better
If you experience anything that feels unusual to you, then it is best to always consult with your doctor.
Look into attending a breastfeeding class
If this is your first time as mom and you want to breastfeed, then you may want to consider attending a breastfeeding class as this will help you to breastfeed your baby more easily. Breastfeeding is something a lot of women battle with, so attending lessons and educating yourself on it can help in more ways than you know.
Week 28
Overview
Your baby is now 1005g (35.45oz) in weight and 37.6 centimetres, which is 14.80 inches in length. Your little one is blinking, coughing, hiccupping and maybe even dreaming! He or she will be preparing to move into the childbirth position, basically being upside down. Don't panic if your baby hasn't moved into this position yet, you still have some time! You will also be seeing your doctor once every two weeks at this stage.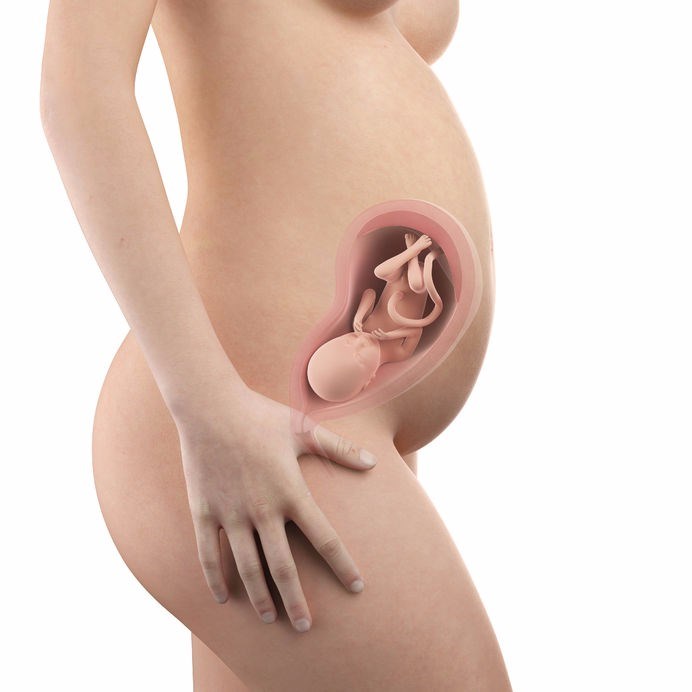 Your baby's development at this stage
Your baby is now the size of an eggplant and may even be able to see light filtering through into the womb with his or her eyesight developing.
Changes in your life as your baby grows
Having finally made it to the home-stretch, being your third trimester, you may start to experience something known as 'creepy-crawly'. This is a sensation in your lower legs where you feel an urge to move when you are trying to relax or even sleep. This sensation is often relieved temporarily if you move, it is also known as RLS, restless legs syndrome. No one is sure as to what causes this, but it is very common among pregnant women. Try to massage or stretch your legs as often as you can to help relieve the symptoms of this.
Tests and what to do at this stage
Your doctor may suggest that you repeat the blood tests for syphilis and HIV at this stage. He or she may also conduct cultures for gonorrhoea and chlamydia, these are all dependent on your initial risk factors.
If you had a high result for your glucose screening test, then you may have a follow-up test.
You may want to also start researching paediatricians for your baby. A lot of women tend to stick to the doctor they had when they were younger, but it can sometimes help to do some research and find a doctor who supports your and your baby's needs.
What are Braxton Hicks contractions?
Imagine your uterus is rehearsing for labour and in doing so, it is flexing its muscles in preparation for the big day. These contractions are normal and are known as Braxton Hicks contractions. These are also known as practice contractions or prodromal labour. These will only show up from time to time (or not at all), however, if you experience these more intensely and closer together, then you may be in true labour.
Week 29
Overview
At week 29 your baby is now weighing 1153g (40.671oz) and is 38.6 centimetres (15.2 inches) long. He or she is growing rapidly, and with less room to grow inside of the womb, you will be feeling more and more movements. Some of the jabs from the baby's knees and elbows can be rather intense for you as the muscles and bones are getting stronger.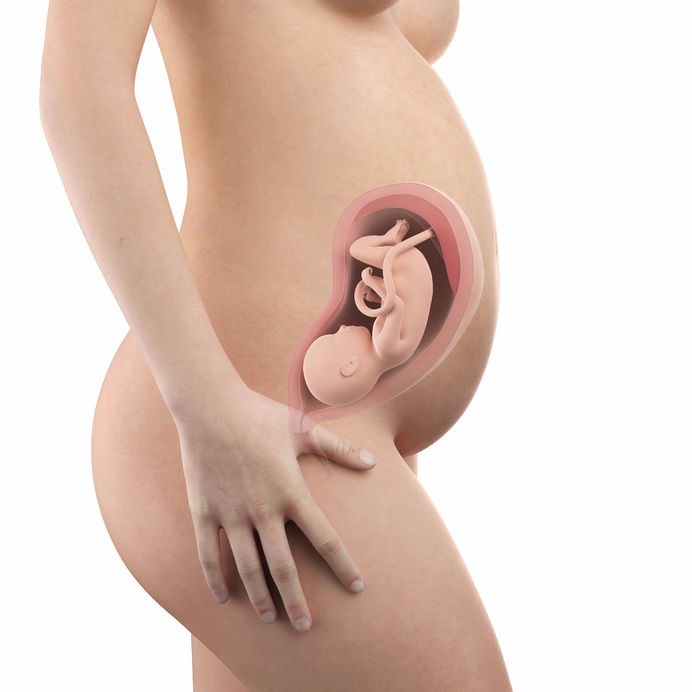 Your baby's development at this stage
Your baby is now about the size of a butternut and all the parts of the little one are maturing, from the brain creating nerve cell connections to the senses adjusting to light, sound and touch as they develop. To meet the needs of his or her nutritional demands, you will need to up your intake of folic acid, protein, vitamin C and iron.
Changes in your life as your baby grows
Your baby is now extremely active, and with all this motion happening inside of you, your doctor may ask you to take some time every day to count the kicks and will also give you special instructions to help you to do this.
This is so that you notice any changes in your baby's movements and if you notice fewer movements, then you may have to have a biophysical profile or non-stress test to monitor and check the health of your baby.
Constipation and heartburn may show their faces once again. Your digestion is often slowed by the higher levels of progesterone in your body, this will, in turn, slow down and relax all of your muscle tissue, including that of your gastrointestinal tract. This slow digestion will contribute to heartburn and constipation. Exercise and a high-fibre diet will often help with constipation.
As your uterus is continuing to grow, this may contribute to haemorrhoids forming. These are swollen blood vessels found in the rectal area and are very common for pregnant women, luckily, these clear up within a few weeks after having your baby. If these haemorrhoids cause any itching or pain, then try to soak in a warm bath or apply a cold compress to the affected area. Let your doctor know if you have any bleeding in your rectal area.
Tests and what to do at this stage
This is the time to really get your maternity leave sorted. You will need to speak to your employer about the details of this leave. It is not always required by law that you get paid while on maternity leave. Figure out exactly what questions you have for your boss or the HR department and set up a meeting with them to know where you stand in order for you to prepare.
You may want to start stocking up on supplies. When your baby is born you and your partner will not have a lot of time on your hands, so now may be the best time to start preparing, these can also amount to a large sum of money so it may be a good idea to start buying a few items a week well in advance.
These items include:
Diapers
Wet wipes
Diaper-rash cream
Laundry detergent that is baby friendly
Sanitary pads - You will bleed for a few weeks after giving birth
Healthy and quick snacks for you
Paper plates and paper towels to make for an easy clean up after eating
Lots of comfortable clothes for the baby and you
Week 30
Overview
At this week, your baby is about 39.9 centimetres long, which is 15.71 inches and weighs 1319g (46.526oz). Your belly and your baby are both growing together and you may often feel uncomfortable and sometimes awkward as your centre of balance is off.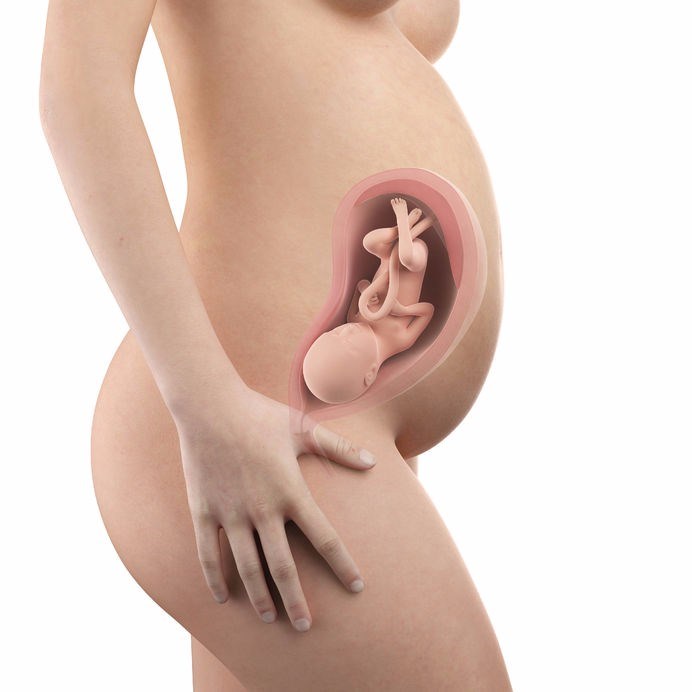 Your baby's development at this stage
Your little one is about the size of a cabbage and has about 0.7 litres of amniotic fluid surrounding him or her, this volume will soon shrink in size as your baby takes up more space in the womb. His or her eyesight is also developing and when he or she is born, they will have a vision of 20/400 (normal adults with perfect eyesight have a vision range of 20/20), which means that vision is initially blurry and only objects that are a few centimetres from of the baby can be seen for the first little while after birth. This will adjust in time as the brain and visual system mature and begin to process stimuli at greater distances.
Changes in your life as your baby grows
You may be very tired and possibly clumsy as this stage, which is perfectly normal. In carrying more weight, your balance is off, and with all the pregnancy hormones and especially due to the production of the relaxin hormone, you will notice that your ligaments are more relaxed, making your joints looser, which all contributes to you feeling a bit off balance.
Your ligaments relaxing can also result in your feet spreading permanently, this may make your shoe size go up to a bigger one. You may also be suffering from the occasional mood swing as all of these uncomfortable symptoms take their toll.
If you are suffering from bad moods on a regular basis or constantly feeling down, then speak to your doctor as you may be suffering from depression during pregnancy.
What to do at this stage
You should have been attending a child birthing class at this stage, which will end at around week 36. These classes help in educating you on the stages of labour, how to relieve any pain during pregnancy and how to recognise the signs of pregnancy. Speak to your doctor about what your pain-relief options are for labour and birth.
Week 31
Overview
At 31 weeks, your little one weighs 1502g (52.982oz) and is 41.1 centimetres in length, which is about 16 inches. You will be putting on about 450g (15.873oz) a week at this stage and you may also be experiencing Braxton Hicks contractions quite a bit now, and while they may make you feel nervous, remember that these are helping your body to prepare for labour.
These are basically 'practice' contractions and often last between 30 seconds up to two minutes. If your contractions are closer together and more intense, then you should phone your doctor immediately as you may be going into preterm labour.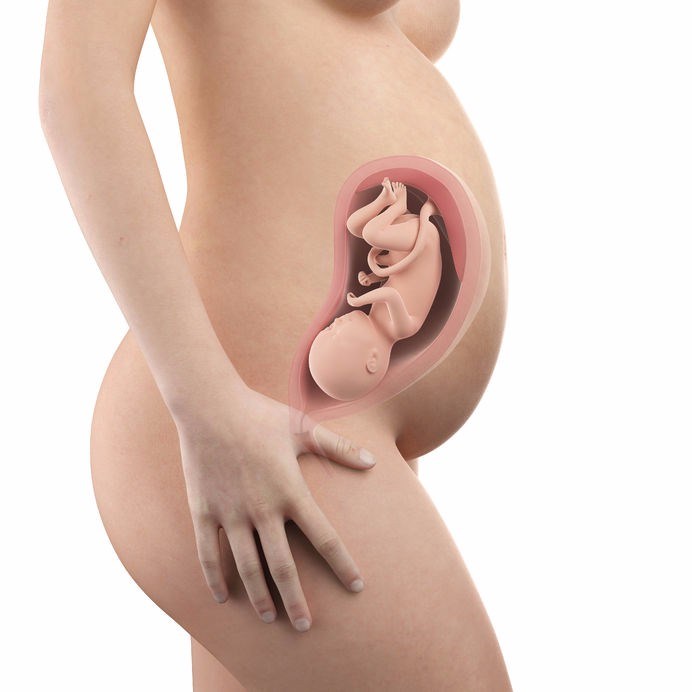 Your baby's development at this stage
Your baby is about the size of a coconut and is heading towards a growth spurt. He or she can turn their head now and his or her little legs, arms and body are plumping out nicely with a healthy layer of fat building up under the skin. You will be feeling your baby move a lot now, this is a great sign and means your baby is healthy and active.
Changes in your life as your baby grows
You may have noticed the Braxton Hicks contractions by now, these feel like your uterus muscles tightening randomly and lasting for about 30 seconds. These should be painless and infrequent. If you are experiencing more intense and frequent contractions, this may be preterm labour. Other signs of preterm labour are:
Changes in vaginal discharge
Lower back pain (being more painful than usual or especially if you haven't had it before)
Abdominal pain
You may also notice that your breasts are leaking colostrum, which is basically a 'pre-milk' form. If this is the case, then try putting some nursing pads into your bra to stop this liquid from leaking onto your clothes.
What to do at this stage
You may want to interview some midwives, labour coaches or doulas if you intend to have a natural birth as the good ones tend to fully booked in advance.
As well as this, you will want to start looking into your options for pain medication during labour. Every woman will experience pain differently and every pregnancy is different, therefore, you may want to know in advance what your options are for pain medication, otherwise, you may be looking more into the unmedicated approach to labour. Here are a few things that you may want to consider before making your decision:
By now you should have signed up for a childbirth class, this helps you and your partner know how to handle your labour pains and informs you of your birthing options which can include spinals, epidurals, systemic medication and drug-free approaches such as relaxation and breathing techniques.
The majority of women will want to have some form of pain medication for the birth of their child. The most popular form is that of an epidural, this is a continuous pain reliever that relieves the pain from your lower body and allows you to stay fully conscious.
A drug-free approach, which is the preferred method of choice for some women, is a method that controls the labour pain through breathing and other natural techniques. If you choose this route, then you should accept that pain and discomfort that will come with it.
Week 32
Overview
Your little one now weighs in at 1702g (60.036oz) and is 42.4 centimetres (16.69 inches) long. There isn't a lot of room left in your uterus but your baby will still manage to squirm and wriggle around. The fine covering of lanugo is now falling off and the hair that remains is where is it supposed to be, on the eyebrows, eyelashes and head.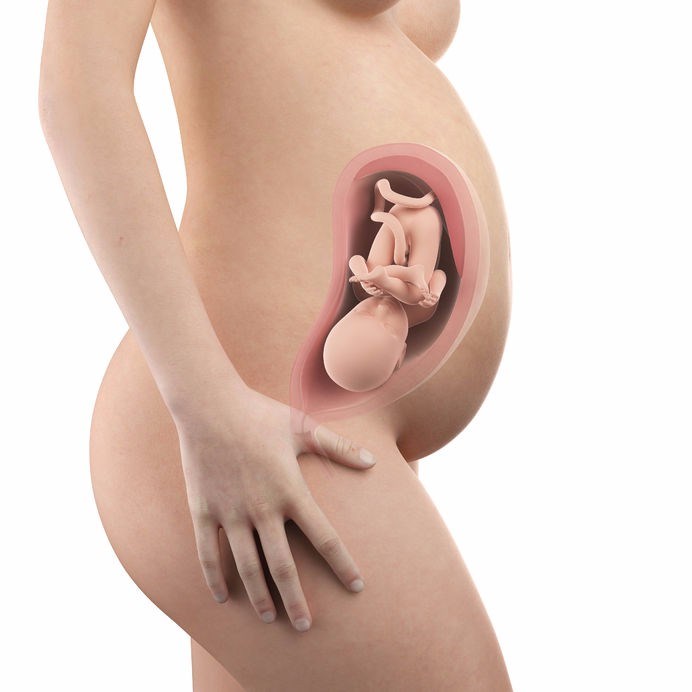 Your baby's development at this stage
Your baby is now taking up quite a bit of the space left in your uterus and the weight you are gaining should be going straight to your baby. He or she will gain about a third to even half of the weight he or she is born within the next seven weeks or so. Now being equipped with fingernails, toenails and real hair, your baby's skin is starting to become smooth and soft as he or she is plumping up in preparation for birth.
Changes in your life as your baby grows
Your blood volume will have increased to 40 or 50% more than when you got pregnant in order to accommodate for the growing needs of your body and your baby. Your uterus is now also pushing up close to the diaphragm and is starting to crowd your stomach, this may result in heartburn and a shortness of breath. It is best that you eat smaller more frequent meals to prevent heartburn and sleep on your left side with the support of body pillows.
Your lower back pain may also progress as your pregnancy is advancing. If you haven't had any back pain before, then you will need to let your doctor know if you suffer from any as this may indicate preterm labour. If this is not the case, then your hormonal changes and growing uterus are to blame. As your uterus expands, your centre of gravity shifts and your abdominal muscles are weakened and stretched, as a result, your posture changes and strain is put on your back.
What to do at this stage
If you are having one, it's best to have your baby shower around this time as this gives you time to shop for items you don't receive as gifts at the shower.
You may get hungry when you are out and about and become dizzy if you do not eat, it is, therefore, a good idea to carry a granola or energy bar around with you.
Week 33
Overview
Your baby is continuing to plump out and his or her little bones are starting to harden. Weighing in at 1918g (67.656oz) and measuring 43.7 centimetres, which is 17.20 inches in length from crown to toe.
The only bones that remain soft when the baby is born are those inside of his or her skull, this is so your baby can be pushed through the birth canal. For the first few years, these soft spots (known as sutures and the anterior fontanelle) will remain in order for the brain to grow before the skull fuses together around it.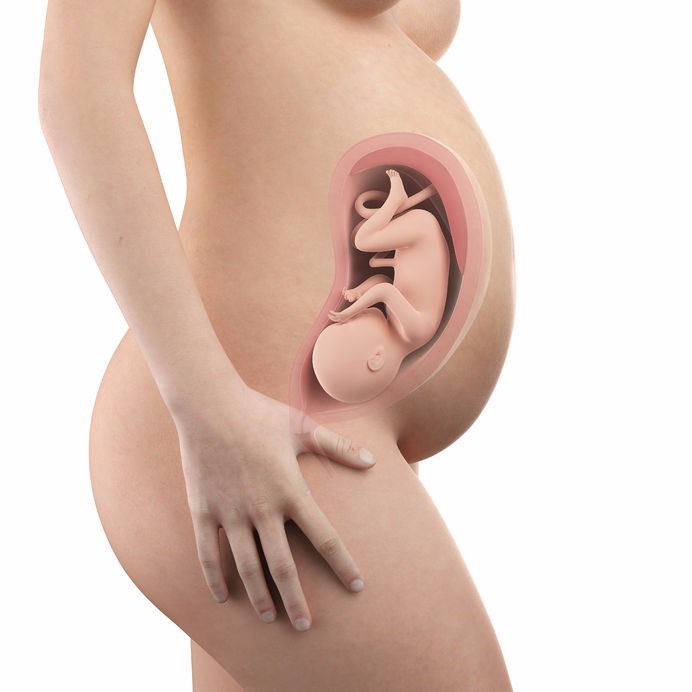 Your baby's development at this stage
Your baby is now about the size of a pineapple. With the bones in his or her skull not being fused together, this allows for them to slightly overlap and move, which will facilitate his or her passage through the birth canal. The pressure on a baby's head during birth may often be so intense that it results in the baby being born with a cone-like head. If this happens, it is not generally a cause for concern and should correct itself over time. Interestingly enough, these bones only fuse together properly when your child reaches early adulthood (when the brain has finished growing).
Changes in your life as your baby grows
You may find yourself waddling at this stage from the pressure on your uterus and the extra weight you are now carrying. You may find it difficult to find a comfortable position to sit in, and sleeping may also become a serious challenge. Don't worry if you constantly find yourself bumping into things, this is perfectly normal!
You may also be feeling some aches and numbness in your hands, wrists and fingers. As with the other tissues in your body at this stage, the ones in the wrist will often retain fluid, this increases the pressure in the carpal tunnels of the hands which results in swelling and aches.
The nerves running through the carpal tunnels may end up being pinched, this creates the tingling or numbness you may be experiencing. If you are working with your hands (even while using a keyboard) remember to take breaks and try to stretch out our hands regularly.
With your hormones being in full-swing, your sexual drive may also be increased, sex during pregnancy is generally alright for you and the baby, right up until your water breaks or you go into labour. Remember, however, to first confirm with your doctor as every pregnancy is different.
Tests and what to do at this stage
You may want to start attending a breastfeeding class at this stage if you haven't already. If you do not wish to attend a class, then watching some videos and reading up about breastfeeding can also be extremely beneficial.
Anything you have received for your baby at your baby shower should be washed and properly dried to remove any irritants on the fabric. Look for detergents that are for extra-sensitive skin and are baby-friendly.
You should also be monitoring your baby's movements on a regular basis at this stage. Your baby should be moving frequently and will have developed an activity pattern by now. If you don't notice any major changes in your baby's movements, then there shouldn't be anything to worry about.
If you want an added sense of comfort and security, then your doctor may recommend that you monitor your baby's activity on a more formal basis, doing so at least twice a day. There are a number of different ways in which this can be done, doctors will often refer to it as 'counting kicks'.
A commons approach involves choosing a specific time of day, one where your baby is at his or her most active, then, while sitting or lying down in a quiet area, time how long it takes for you to feel about 10 distinct movements, these can be kicks, twitches and general body movements, you should be feeling about 10 movements over a period of two hours. However, it often doesn't take that long as you may feel the 10 movements within the first 10 minutes. If you don't feel 10 movements within two hours, then contact your doctor.
If this is the case, then your doctor may perform a biophysical profile or a non-stress test to check on the health of the baby.
Week 34
Overview
At this stage, your baby is measuring 45 centimetres (17.71 inches) in length and weighs 2146g (75.698oz). The majority of the major organs for the nervous, respiratory and digestive system have now formed and are nearly able to work by themselves. Your little one may have already moved into the head-down position too!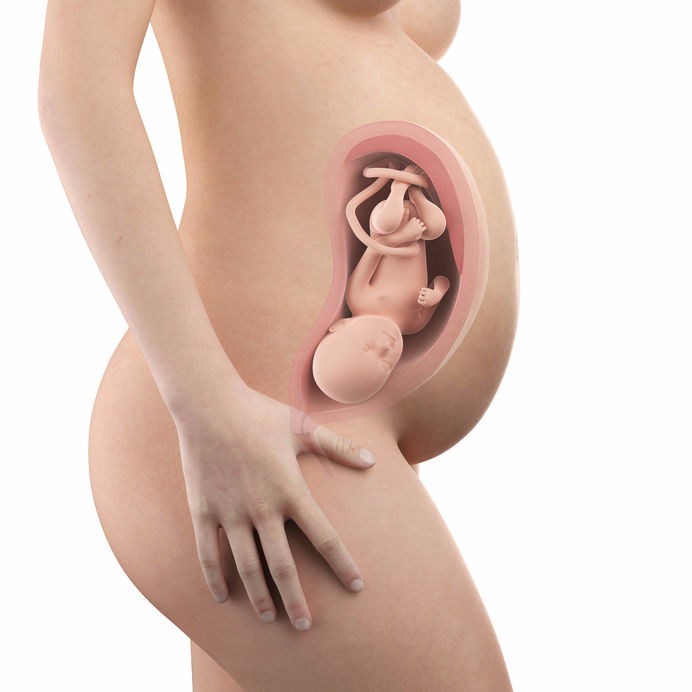 Your baby's development at this stage
About the size of a cantaloupe, your baby has formed some healthy fat layers which will help to regulate his or her temperature once he or she is born. Babies who are born between week 34 and week 37 often have no additional health issues. So, if you are stressed about preterm labour, that should help put your mind at ease. However, if your baby is premature, then they may have to have a short stay in a neonatal nursery in order to be monitored for any long-term health issues. Any health issues, if the baby is born at this stage, are normally short-term and eliminated after the baby's stay in the neonatal care.
Changes in your life as your baby grows
You may be feeling unusually tired at this stage, this is normally as a result of the physical strain your body is under and the restless nights of struggling to get comfortable and always getting up to urinate.
You may want to slow down at this stage and save up your energy for your labour. If you have been sitting or lying down for a long period of time, try not to sit up and stand too quickly as there may be blood that has pooled together in your legs and feet, this can result in your blood pressure temporarily dropping and making you feel extremely dizzy and light-headed.
If you start to notice any red and itchy welts or bumps on your buttocks, thighs and specifically, your belly, then you likely have something known as PUPPP, which is pruritic urticarial papules and plaques of pregnancy. It is a harmless condition but often results in physical discomfort. Speak to your doctor about treating any itchiness.
Tests and what to do at this stage
It may be a good idea for you and your partner to take an infant CPR class. This should be done with a certified instructor where you will learn techniques for handling any emergency situations, such as your child choking or battling to breathe. You will also be able to learn about preventing accidents and how to implement childproofing solutions.
Week 35
Overview
At this stage there isn't a lot of room left in your uterus, your baby now weighs 2383g (84.058oz) and he or she is 46.2 centimetres in length, which is about 18.19 inches. This is the period where the serious growth will begin. Your little one is also 'lightening', which is a movement where he or she settle into the lower position in the pelvis to get ready for delivery. This should be great news for your breathing as your lungs will have less pressure on them. However, your bladder may start to have more pressure on it, meaning you will be spending more time in the bathroom.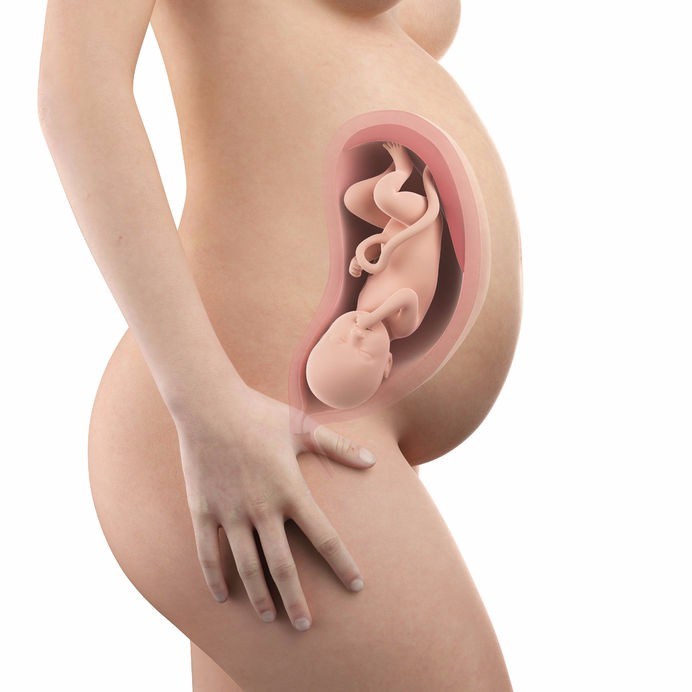 Your baby's development at this stage
Your baby is about the size of a large honeydew melon, which is pretty big! And in being larger, he or she won't be able to move around as much, and the movements that do happen should be similar to one another and form a pattern as your baby creates his or her own little routine inside the womb. The kidneys are now completely developed and the liver is starting to process waste products. The majority of the basic physical development is complete. The next few weeks will be spent putting on extra weight.
Changes in your life as your baby grows
Your uterus has now moved a little to reach up to your rib cage, this will crowd your other organs which can create heartburn, among other forms of gastrointestinal distress.
Tests and what to do at this stage
From week 35 you will start seeing your doctor at least once a week. Between week 35 and week 37 your doctor will do a rectal and vaginal culture to check for any bacterium known as group B streptococcus (GBS). This culture test is harmless and just uses a cotton swab to get a sample. If GBS is present, it is typically harmless for adults, but if it is passed to the baby during the birthing process, then this can result in more severe complications such as a blood infection, pneumonia or meningitis. About 10 to 30% of women who are pregnant have the bacteria without knowing it, therefore, it is vital that you are screened for it. This specific group of bacteria tend to come and go of their own accord, this is why you were not screened earlier on in your pregnancy, or why you will be screened again in the upcoming weeks. If you are carrying GBS, then you will receive antibiotics via an IV drip during labour. It is too risky to take antibiotics while you are still pregnant.
Now is also a great time to create your birthing plan. This will be a form that will allow you to focus on the specifics of your labour such as pain management, any preferences you may have and what you would like to happen if things do not go according to plan.
When you cook your dinners at night, freeze half of them for when your baby is born as you will find that you won't have the time to cook then.
Week 36
Overview
Weighing in at 2622g (92.488oz) and being 47.4 centimetres in length (18.66 inches), your baby is now growing at a rapid pace! In a few days, your baby will be classified as early-term, meaning your baby is nearly ready for birth. The white and waxy substance known as the vernix caseosa, which once covered the baby's body, has now, for the most part, dissolved. Your baby would have swallowed this, as well as a number of other substances, which will form a blackish-green stool, also known as meconium (for the first few stools of an infant) and be found in the first few diapers after your baby's bowel movement.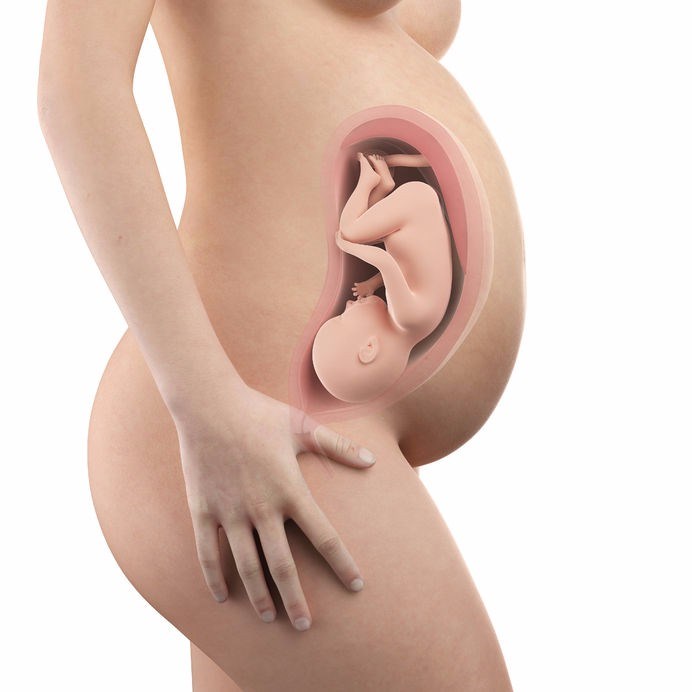 Your baby's development at this stage
Your little one is continuing to pack on weight at a great rate and is gaining weight daily, being about the size of a large romaine lettuce. At the end of week 36, you will be considered early-term, whereas full-term is 39 to 40 weeks. 41 weeks is considered 41 weeks, and if your baby is born passed 42 weeks, this is known as post-term. Your baby is probably in the head-down position at this stage, however, if your baby hasn't naturally moved into this birthing position, then your doctor may recommend that you have an external cephalic version. This means that your doctor will apply pressure to the abdomen in order to try and get your baby to turn into the head-down position.
Changes in your life as your baby grows
It may be hard to eat bigger meals at this stage, with your baby taking up more space. This means that you should opt for smaller and more frequents meals as these may be easily digested and not result in heartburn. However, when your baby drops down into your pelvis, this often lessens your heartburn.
Your Braxton Hicks contractions may also be occurring more frequently at this stage. If you notice that your contractions are more intense and last for about one minute, occurring every five minutes over the period of an hour, you may be going into labour and should immediately call you doctor, particularly if you have any vaginal bleeding, a persistent headache or unusual abdominal pain.
Even if you have had an uncomplicated pregnancy so far, you should avoid travelling far from home, this includes flying in particular (most airlines will not allow you to fly in your third trimester).
What to do at this stage
Now is a good time to meet with a few paediatricians in order for you to choose one. You may also want to consider if you are having a boy, whether you want him circumcised or not.
As your ligaments are loosening, you may be suffering from some aches and pains, try taking a long warm bath to ease the pain.
Week 37
Overview
Your baby is nearly full-sized at this stage and weighs 2859g (100.848oz), with a length of 48.6 centimetres, which is 19.13 inches. It may start to feel like you are carrying around a bowling ball in your stomach.
Your baby is preparing for labour, which should only be a few weeks away. His or her head is now moving into the birthing position in your pelvis. This position is referred to as 'engaged'. Your little one's immune system is also starting to ready itself for birth, if you decide to breastfeed, this will help boost his or her immune system and help protect your baby from any potential infections.
Your baby's development at this stage
You are getting closer and closer to your due date at this stage, however, you will only be considered full-term as 39 weeks. In the following two weeks, you baby's brain and lungs will reach maturity. If you are planning to have a C-section, then your doctor will only schedule this after 39 weeks, granted there are no current complications with your pregnancy.
A lot of babies are born with a full head of hair, and it is often the same colour as your hair, whilst other babies are born with only a few strands of hair, or rather, peach fuzz.
Changes in your life as your baby grows
As stated, you may be experiencing Braxton Hicks contractions more and more frequently at this stage. Don't be surprised if you notice an increase in your vaginal discharge. If you notice mucus that is tinged with a small amount of blood in your underwear or toilet now or in the upcoming weeks, then this may indicate that you are only a few days away from going into labour. This type of discharge occurs when your mucous (mucus) plug dislodges and your cervix begins to open, leading to the rupture of blood vessels as the cervix dilates in preparation for birth. This event is known as a bloody show and is completely normal if you are close to your due date. If you notice any heavy bleeding or spotting, then you will need to contact your doctor immediately.
It is normal to have some strange and intense dreams as these can be brought about from any anxiety you may be feeling about labour or being a parent.
What to do at this stage
You will also need to make sure that you know the results of your GBS culture test, this will allow for the results to show on your chart when you are admitted into hospital and inform staff as to whether or not you need antibiotics during labour.
Ensure you are always keeping track of and monitoring your baby's movements and let your doctor know if you notice a decrease in his or her movements.
Most of your contractions will occur after 34 weeks and are often irregular and random, these are Braxton Hicks contractions. However, if these become more regular and occur every 10 minutes or sooner, then you may be in labour, this is known as preterm labour.
Now is a good time to pack your hospital bag.
Week 38
Overview
Your baby is getting closer and closer to being classified as full-term. Now being around 3083g (108.75oz) in weight and 49.8 centimetres in length (19.61), he or she is pretty snug in the womb. A lot of his or her weight is from the layer of fat that he or she has developed to date, from now on the growth will slow down and all the organs will be working. The brain has begun to control the functioning of the baby's body, this includes the baby's ability to breathe and monitoring the rate at which the heart pumps blood. The reflexes are also very active now and include sucking and grasping – vital for your baby to latch on to your breast for breastfeeding when he or she is born.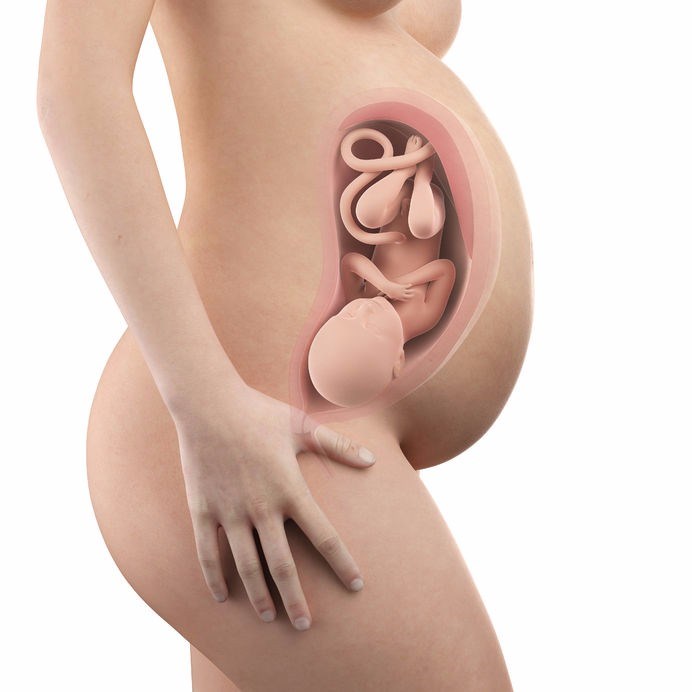 Your baby's development at this stage
Your little one has done most of his or her growing at this stage. You may be curious about the colour of your baby's eyes, if he or she has brown eyes at birth, then they are likely to stay brown. If he or she has dark blue eyes or steel grey, then they may turn to hazel, brown or green by the time your baby is nine months old, or they will stay the same colour from birth.
This is due to that fact that your baby's irises, which are the coloured areas of the eye, often gain more pigment during the months following the birth. However, the eyes do not typically get lighter or become bluer.
Changes in your life as your baby grows
For a lot of women, the following few weeks are a bit of a waiting game. This is a good time to start to get your baby's nursery ready (the walls should have been painted and the room ventilated already as these fumes can be toxic for the baby).
It is normal to experience a little more swelling in your ankles and feet, however, if this progresses and becomes excessive, then contact your doctor. If you have any symptoms of preeclampsia (high blood pressure in pregnant women), then contact your doctor immediately. These symptoms are:
Suddenly gaining weight
Puffiness around the eyes
Swelling in the face
Persistent or severe headaches
Vision changes such as blurred or double vision, seeing flashing lights, being sensitive to bright light or seeing spots
Intense pain or tenderness in the upper abdomen
Nausea or vomiting
What to do at this stage
If you haven't done this already, you may want to start reading up on caring for your baby and breastfeeding. This includes feeding, sleeping, bathing and more. You will want to be as prepared as possible as you won't have this time again once the baby is born to do your research.
Week 39
Overview
You now have a little watermelon sized baby inside of your belly, and it weighs 3288g (115.981oz) and is 50.7 centimetres (19.96 inches) in length. You are probably at the point where you have had enough of the heartburn, constant bathroom runs and backache and are really looking forward to meeting your baby right about now. Your baby could be born today or in the next few days as you may notice that your Braxton Hicks contractions are becoming more frequent. If these progress to being more intense and regular, then call your doctor.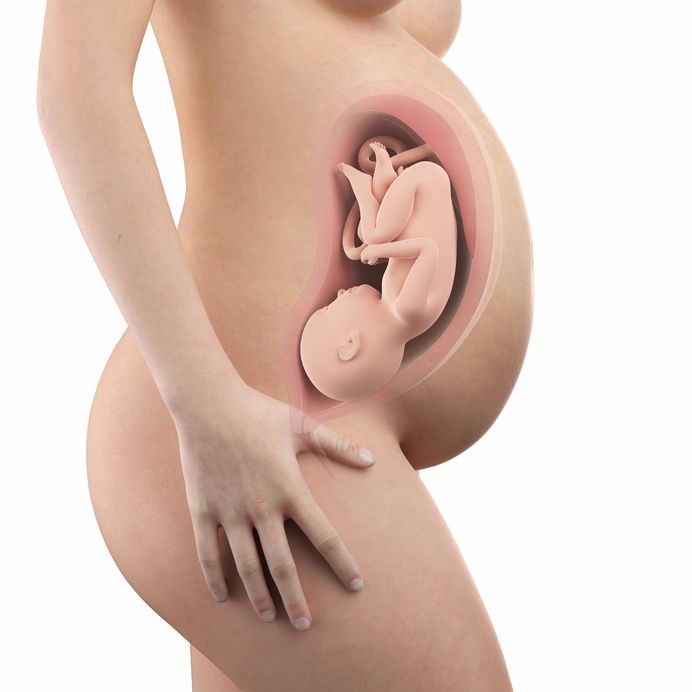 Your baby's development at this stage
Your baby is now finally classified as full-term and is continuing to build his or her fat layer to aid in controlling the body temperature once he or she or born. Your little one's outer layers of skin are starting to shed and new skin is forming underneath.
Changes in your life as your baby grows
During each weekly exam, your doctor will check on your baby's position and growth. Your doctor may also conduct an internal exam to check whether your cervix has dilated. This can also be termed 'ripened' and refers to whether the cervix as softened and thinned out (effaced).
There is still no specific way for your doctor to know exactly when you will go into labour if you do not go into labour by 42 weeks, then your doctor is likely to induce your labour when you are two weeks passed your due date.
What to do at this stage
You may be growing impatient, but whilst you are waiting, it is vital that you keep track of your baby's movements as your little one should be active right up until birth. If you think your water has broken, then go to a hospital as you may be going into labour.
When your water breaks there is sometimes a large gush of liquid, but in other cases, it may be in the form of a small amount of liquid or a slow leak. If your water breaks and your contractions do not start then it is likely that your labour will be induced. Your water breaking is the amniotic sac surrounding your baby that's rupturing. You may experience a popping sensation followed by slow trickle or gush of fluid.
What happens when labour is induced?
Induced labour attempts to start contractions in order to begin the birthing process. Basically, uterine contractions are stimulated by your doctor initially through a membrane sweep, where your doctor will sweep his or her finger around in your cervix, this should separate your membranes of the amniotic sac that surrounds your baby from the cervix.
If you do not go into labour after a membrane sweep, then a tablet or gel containing Prostaglandin, which is a hormone-like substance, will be inserted into your vagina and you will possibly be told to go home and wait until you start to have contractions. If you do not experience contractions after six hours, then you may be offered another application of gel or a tablet. If you were initially given a controlled-release pessary, this may take up to 24 hours to be effective.
If induction of labour does not work, your doctor may assess you to either conduct another induction via a balloon catheter, mechanical dilator, artificial rupture of membranes (ARM) or a hormone drip (using oxytocin, marketed as Syntocinon) or to move to delivery via a C-section (caesarean section).
Week 40
Overview
This is the week you have been waiting for! With your baby weighing around a whopping 3462g (122.119oz) and measuring in at around 51.2 centimetres (20.16 inches), you will finally get to meet him or her.
However, if your baby decides to stay in past the due date, then your labour me be induced, as discussed above.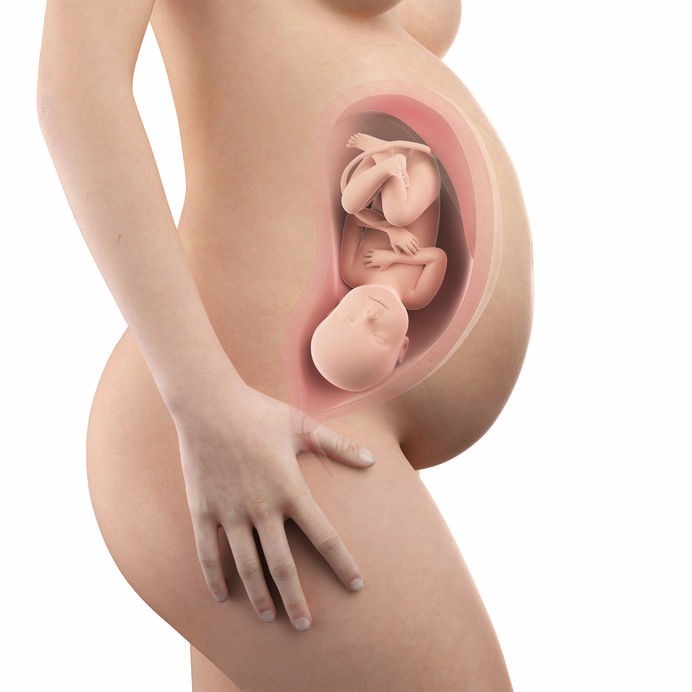 Your baby's development at this stage
Every newborn is a different size, but yours should be roughly the size of a small pumpkin by now. The bones in the skull are not fused together yet, this allows for 'moulding' when your baby is born, meaning that your baby can fit through the birth canal.
Changes in your life as your baby grows
It may be frustrating if you have gone past your due date, and a lot of women have prolonged pregnancies for no specific reason. You still have two weeks to go until you will be classified at post-term. So, try to be as patient as you can be under the circumstances, reassuring yourself that your little one will be on their way when they are ready.
Tests and what to do at this stage
You may have to have a BPP (biophysical profile) conducted. This is an ultrasound that monitors your baby's movements, breathing and muscle tone, as well as the amount of the surrounding amniotic fluid. This is vital as it is a reflection of how effectively the placenta is supporting your little one.
To monitor your baby's heart rate, a non-stress test (NST) will be done as a part of the BPP. If the foetal testing shows some adverse results, such as the amniotic fluid being too low, then you may be induced. If the issue is more serious, then you may have to have a C-section immediately.
Week 41
Overview
Your baby, having now past your due date, is weighing a hefty 3597g (126.881oz) and is 51.7 centimetres (20.35 inches) in length. Labour induction is something your doctor will start to seriously discuss with you at this time.
Your baby's development at this stage
If your baby is not born in the next few days, then your labour will be induced. The majority of healthcare providers will not allow for you to go over 42 weeks as this poses health risks for you and your baby and greatly increases the chance of stillbirth (when a baby dies in utero).
Changes in your life as your baby grows
You are likely to be extremely anxious at this stage as your due date has come and gone. There is a good chance you will go into labour naturally in the next few days, otherwise, your labour will be induced. The condition of your cervix will depict what method of labour induction is used. If your cervix is yet to soften, dilate or efface, it will be classified as unripe and not ready for labour. In this case, your doctor will either use mechanical methods or hormones to ripen your cervix before inducing labour.
These procedures can include rupturing or stripping the membranes in your cervix, known as a membrane sweep, or using drugs such as oxytocin (Pitocin) in order to jump start the contractions. If none of the above methods are successful, you will have a caesarean-section.
At the end of all of this, you should have a healthy little baby. Congratulations on making it through the wonderful and crazy ride of pregnancy, and now, we welcome you to parenthood.