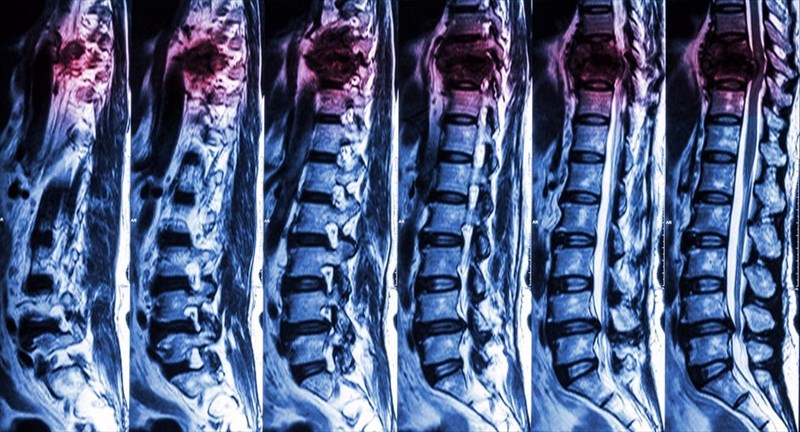 Why would an MRI be recommended?
A medical professional may need to assess various parts of the body to determine a symptomatic cause and diagnosis of a specific condition.
An MRI may be recommended to look at:
The brain and spinal cord:

Images are often performed to diagnose aneurysms of cerebral vessels, disorders of the eye and inner ear (damage to optic or auditory nerves), multiple sclerosis, spinal cord injuries, spinal stenosis, disc bulges, spinal tumours, stroke, tumours, bleeding in the brain, and brain or nerve injury due to trauma. A fMRI (functional MRI) is a type of MRI that measures metabolic changes in the brain. It is useful for examining the anatomy of the brain and determining which parts are handling critical functions (or not). Movement control areas in the brain can also be easily identified using an fMRI. It can be used to assess damage from a head injury if a person is being considered for brain surgery or may be

suffering from disorders such as Alzheimer's disease.
The heart and blood vessels:

An MRI can focus on the size and function of the heart's chambers, the thickness and movement of the walls of the heart, the extent of damage caused by heart disease or a heart attack, structural problems in the aorta (aneurysms or dissections) or inflammation or blockages in the blood vessels.
Other internal organs:

An MRI is often used to check for tumours or other abnormalities affecting areas around the abdomen and pelvis. These can include areas in or around the liver, bile ducts, kidneys, bladder, gallbladder, spleen, pancreas, uterus, ovaries or prostate.
The bones and joints:

An MRI can help identify joint abnormalities (caused by repetitive or traumatic injury) such as torn cartilage or ligaments, spinal disc abnormalities, bone infections or tumours of the bones and soft tissues, and arthritis. An MRI can also be used to tell if a bone is broken in the body if an X-ray result is not clear.
The breasts:

In addition to

a mammogram used to detect and diagnose breast cancer, an MRI may be recommended for women who have dense breast tissue. Women who are at particularly high risk for the disease may also be asked to have an MRI.