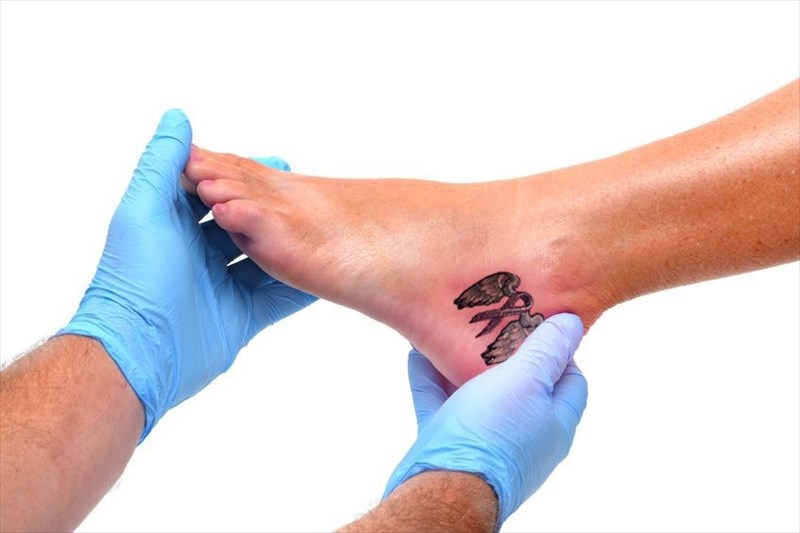 The fact of tattooing is that a needle is being used to systematically pierce your skin over and over. While choosing a reputable tattoo artist is the number one way to ensure that your tattoo experience is a safe as possible, it doesn't mean that you'll be left without the possibility of complications.
Infections caused by tattoos
The number one possible complication of receiving a tattoo is infection6. Unclean needles, a non-sterile environment or even dirty gloves could all lead to the spread of infections. These include7:
Bacterial infections
Chancroid (a disease that is usually sexually transmitted and very painful)
Mycobacteria infections (including the invasion of the skin by Mycobacterium tuberculosis, the same bacteria that causes Tuberculosis affecting the lungs).
Staphylococcus (staph) infection (including

methicillin-resistant staphylococcus aureus (MRSA

)
Syphilis
Tetanus (also known as 'lockjaw' is a serious infection that results in muscle spasms and can be deadly)
Viral infections
Hepatitis B & C (although more commonly Hepatitis C)
Warts
HIV (possible but extremely rare)
Unfortunately, if you opt to have a tattoo done by an unreliable source, the chances of contracting an infection8 are even higher.
Other possible health complications that may arise after getting a tattoo include:
Sepsis: a life-threatening complication that arises due to bacterial infection)
Infective endocarditis: While extremely rare, this infection of the heart's inner lining can occur following tattooing.
Hypersensitivity to the pigments found in tattoo ink which leads to inflammation and itching of the skin (dermatitis)
Rash
Urticaria (hives – learn more about what hives look like here)
Granuloma (swelling and inflammation around the tattoo)
Scarring and keloids (raised scars)

References
6. US National Library of Medicine. 1994. Infectious complications of tattoos: https://www.ncbi.nlm.nih.gov/pubmed/8038318 [Accessed 25 September 2018]

7. Science Direct. 2009. Infective complications of tattooing and skin piercing: https://www.sciencedirect.com/science/article/pii/S1876034109000070 [Accessed 25 September 2018]

8.US National Library of Medicine. 2006. Shift in Staphylococcus aureus clone linked to an infected tattoo: https://www.ncbi.nlm.nih.gov/pmc/articles/PMC3294734/ [Accessed 25 September 2018]